G-Braves Buried Early in Loss to Indians
Gwinnett's losing streak at five after 11-1 loss to Indianapolis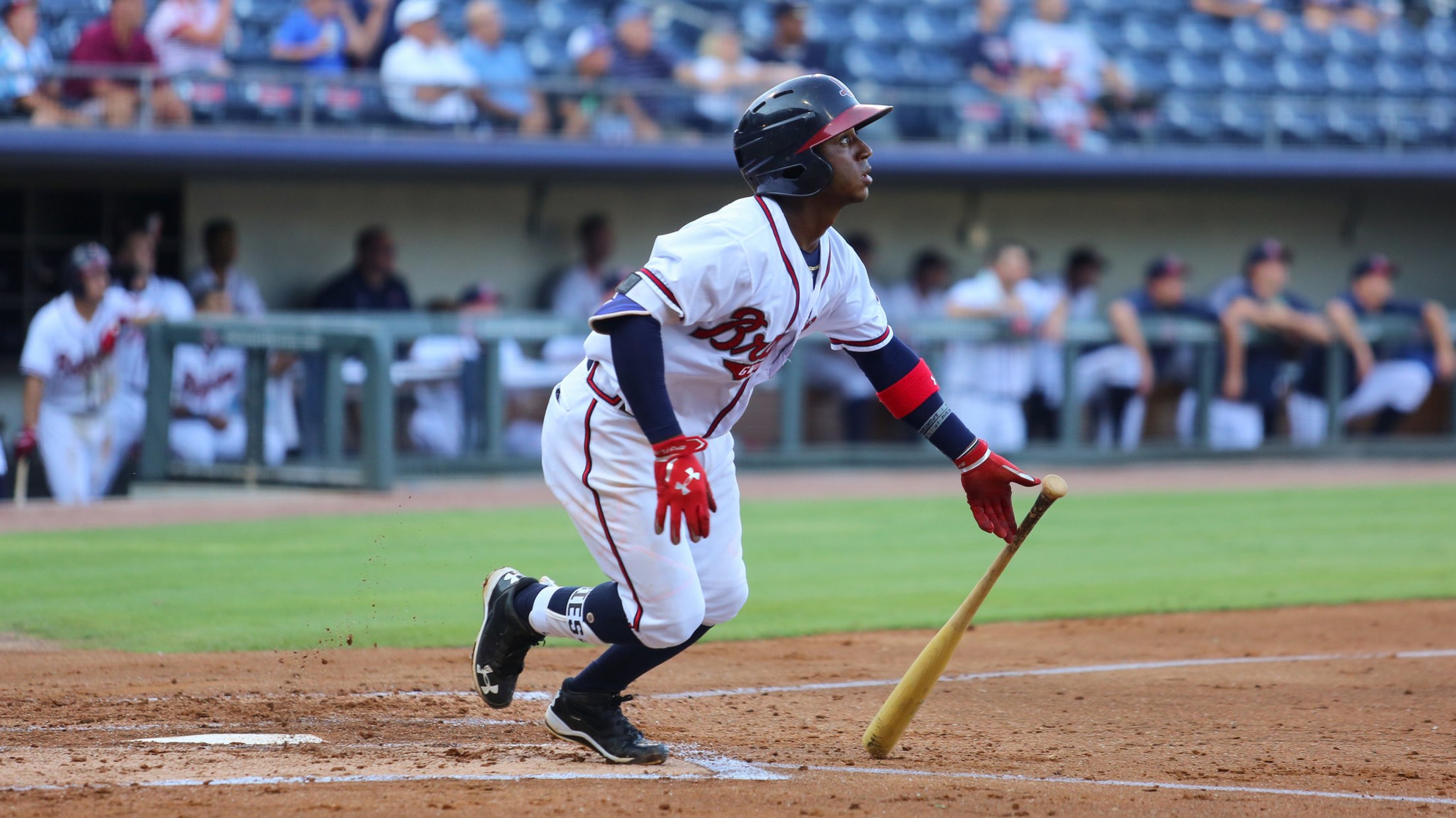 Ozzie Albies' leadoff homer was all the offense the G-Braves could provide on Thursday. (Taylor Botta)
LAWRENCEVILLE, GA - The Indianapolis Indians (54-43) scored eight runs over the first two innings on the way to an 11-1 rout of the Gwinnett Braves (47-49) in the opener of a four-game series on Thursday night at Coolray Field. The G-Braves have lost five straight games, matching their longest
LAWRENCEVILLE, GA - The Indianapolis Indians (54-43) scored eight runs over the first two innings on the way to an 11-1 rout of the Gwinnett Braves (47-49) in the opener of a four-game series on Thursday night at Coolray Field. The G-Braves have lost five straight games, matching their longest losing streak of the season.
Right-hander David Peterson made the start on short notice and was roughed up for six runs in the first inning. The first seven Indians' batters all recorded hits, with Elias Diaz and Phil Gosselin tallying RBI singles around a Danny Ortiz RBI double. Peterson also walked Gift Ngoepe and pitcher Tyler Glasnow as the first nine Indianapolis batters reached base. A passed ball charged to catcher David Freitas scored the fifth run, and Christopher Bostick capped the scoring with an RBI fielder's choice to make it 6-0.
Gwinnett answered back in the bottom of the first inning as Ozzie Albies greeted Glasnow with a solo home run 399 feet to the berm in right. Albies' eighth homer of the season was also his fifth career leadoff blast with the G-Braves.
Right-hander Evan Phillips replaced Peterson in the second inning and allowed two more runs to make it 8-1. Jordan Luplow singled, stole second and scored on a single by Gosselin. Diaz walked and came around to score on an errant pickoff throw to first base by Phillips.
Indianapolis raised the lead to 9-1 in the fifth as Eric Wood crushed a 414-foot solo homer to left off right-hander Caleb Dirks . In the eighth, Luplow belted a 393-foot two-run homer to left off left-hander A.J. Minter to make it 11-1.
Peterson (L, 1-3) alowed six runs on seven hits and two walks over 1.0 inning in his first spot start of the year. Phillips yielded two runs on three hits over 2.0 innings, Dirks gave up a run on three hits over 2.0 innings, Rhiner Cruz pitched 2.0 scoreless, two-hit innings, and Minter allowed two runs on two hits over 1.0 inning.
Infielder Matt Tuiasosopo , pitching for the first time in his 1,243rd career minor league game, struck out two and walked one in a scoreless ninth for the G-Braves.
Glasnow (W, 5-0) was effectively wild for the Indians, walking five over 6.0 innings but holding the G-Braves to a run on four hits while striking out 11. Right-handers Angel Sanchez and Johnny Barbato combined on 3.0 scoreless, one-hit innings to finish the game.
Offensively for Gwinnett, Albies finished 1-for-5 with the homer, a run scored and an RBI, Ronald Acuna doubled in a 1-for-4 night, and Freitas went 1-for-4 to extend his season-best hitting streak to nine games.
For Indianapolis, Kevin Newman went 3-for-5 with two runs scored in his Triple-A debut. Luplow went 3-for-5 with his fifth homer of the season, three runs scored and two RBIs, and Gosselin went 3-for-5 with a run scored and two RBIs.
The G-Braves and Indians play game two of the four-game series on Friday night at Coolray Field, first pitch is set for 7:05 p.m. Right-hander Kris Medlen (1-2, 5.82 ERA) is set to start for Gwinnett, while Indianapolis will counter with right-hander Clay Holmes (7-4, 3.58 ERA). Tony Schiavone has the call beginning at 6:35 p.m. on 97.7 FM "The Other Side of the River."
For tickets, call the Coolray Field ticket office at 678-277-0340 or visit GwinnettBraves.com/tickets.