G-Braves Drop Opener In Norfolk, 9-4
Kris Medlen suffers seventh loss with Gwinnett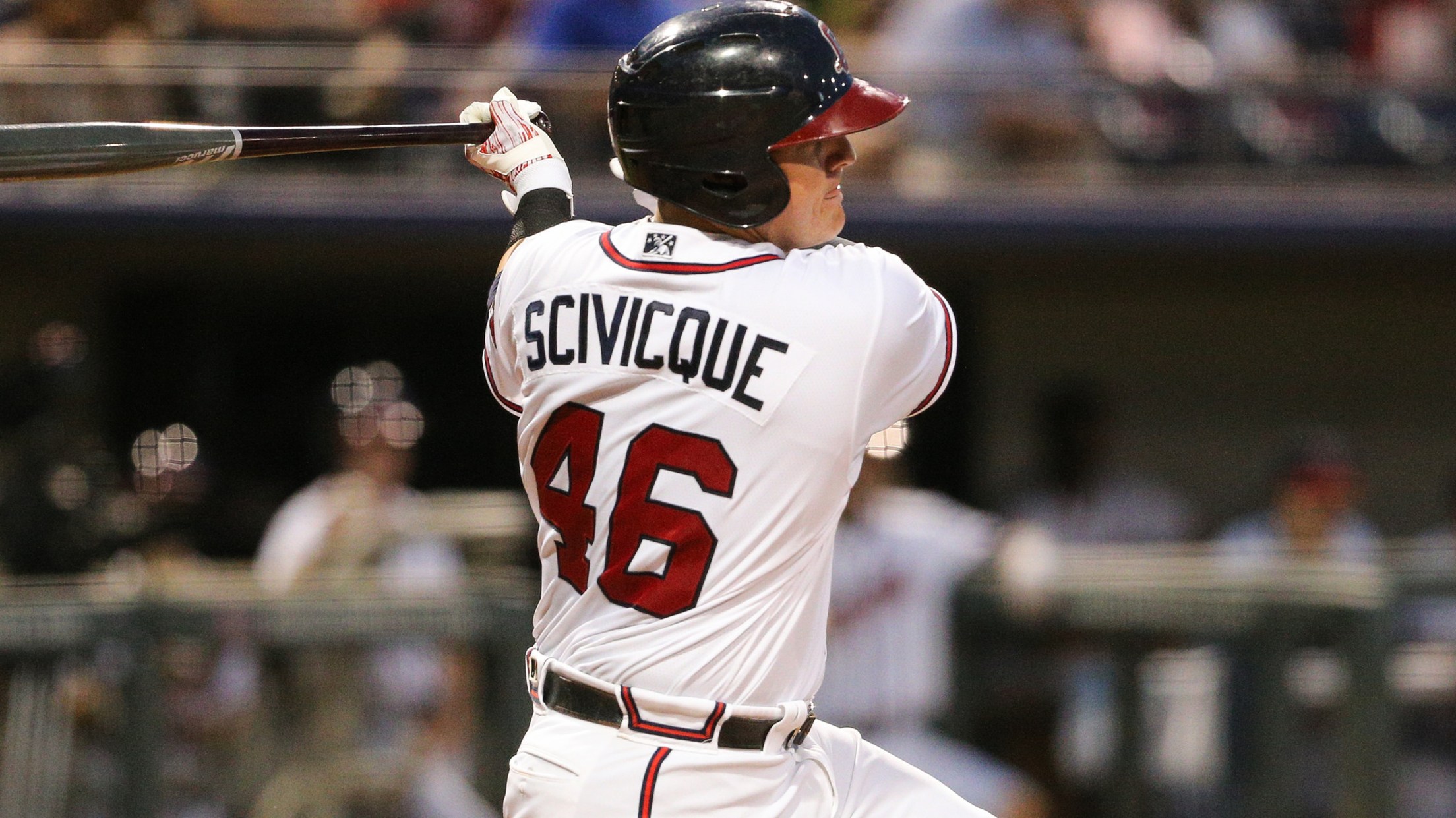 Kade Scivicque hit his first career Triple-A home run in Monday's loss in Norfolk. (Chris Roughgarden)
NORFOLK, VA-Despite collecting 10 hits, the Gwinnett Braves (67-67) dropped their third game in a row, 9-4, to the Norfolk Tides (63-72) on Monday night in game one of the four-game series at Harbor Park.The G-Braves scored a run in the top of the first as Ronald Acuña Jr.  led off
NORFOLK, VA-Despite collecting 10 hits, the Gwinnett Braves (67-67) dropped their third game in a row, 9-4, to the Norfolk Tides (63-72) on Monday night in game one of the four-game series at Harbor Park.
The G-Braves scored a run in the top of the first as Ronald Acuña Jr. led off the game with an infield single off the glove of Norfolk starting pitcher Tyler Wilson, stole second base and moved to third on a throwing error by Norfolk catcher Chace Sisco. Rio Ruiz drove Acuna home from third with a bloop double to left for a 1-0 lead. But that would be the only lead of the game for Gwinnett.
Norfolk took the lead for good with a two-run bottom of the second as with one out, Baltimore Orioles shortstop J.J. Hardy, playing in his sixth rehab game with Norfolk, reached first on a two-out error by G-Braves shortstop Sean Kazmar Jr. Jr. Starting pitcher Kris Medlen then walked Sisco and gave up a single to right to Luis Sardiñas to load the bases. Mike Yastrzemski then singled to right, plating both Hardy and Sisco for a 2-1 lead.
The Norfolk lead grew to 3-1 in the third as Pedro Álvarez stroked a two-out double to right and scored on a single to right by Hardy. Medlen then walked Sisco and gave up a three-run homer to right to Sardinas to push the lead to 6-1.
Gwinnett battled back as Kyle Kubitza lined a one-out single to right off Wilson and Kade Scivicque mashed a two-run homer to right to cut the Norfolk lead to 6-3. Gwinnett added a run in the top of the sixth to make it 6-4 as Micah Johnson singled with two outs, stole second, moved to third on a Wilson wild pitch, and scored on an infield single to third by Dustin Peterson .
The G-Braves could not get any closer, however, as Medlin was touched for two runs in the bottom of the sixth which widened the Tides lead to 8-4. Finally in the bottom of the seventh, Hardy greeted Atlanta Braves reliever Luke Jackson , pitching on a rehab assignment, with a solo homer to left for the 9-4 final.
Medlen (L, 2-7) went 5.2 innings with seven hits, eight runs, seven earned, five walks and three strikeouts. Jason Hursh worked one third of an inning with one hit. Jackson pitched two thirds of an inning with one hit, one earned run and one walk. Phillip Pfeifer tossed 1.1 scoreless innings with one walk and two strikeouts.
Wilson (W, 7-8) went 7.1 innings with nine hits, four earned runs, one walk and five strikeouts. Vidal Nuño III worked two thirds of an inning with one hit. Richard Rodríguez pitched a scoreless, hitless top of the ninth to finish the win.
Offensively, Johnson and Acuna were each 2-for-4 with a stolen base and run scored for the G-Braves. Ruiz was 2-for-3 while Scivicque was 1-for-4 with the two-run homer, his first at the Triple-A level.
The Tides were led by Hardy, who was 2-for-4 with three runs, a homer and two RBIs. Sardinas was also 2-for-4 with a three-run homer.
The G-Braves and Tides continue the four-game series on Tuesday night at Harbor Park. Left-hander Max Fried (0-0, 2.25) will be making his second start for Gwinnett while the Tides will go with right-hander Alec Asher (3-2, 3.51). First pitch is at 7:05 p.m. Air time is 6:35 p.m. with Tony Schiavone on 97.7 FM "The Other Side of the River."

The G-Braves return to Coolray Field on Friday, September 1 for game one of a five-game series vs. the Durham Bulls. First pitch is set for 7:05 p.m. For tickets, call the Coolray Field Ticket Office at 678-277-0340 or visit GwinnettBraves.com/tickets.