G-Braves Edged By RailRiders, 5-4
Gwinnett's winning streak snapped at six games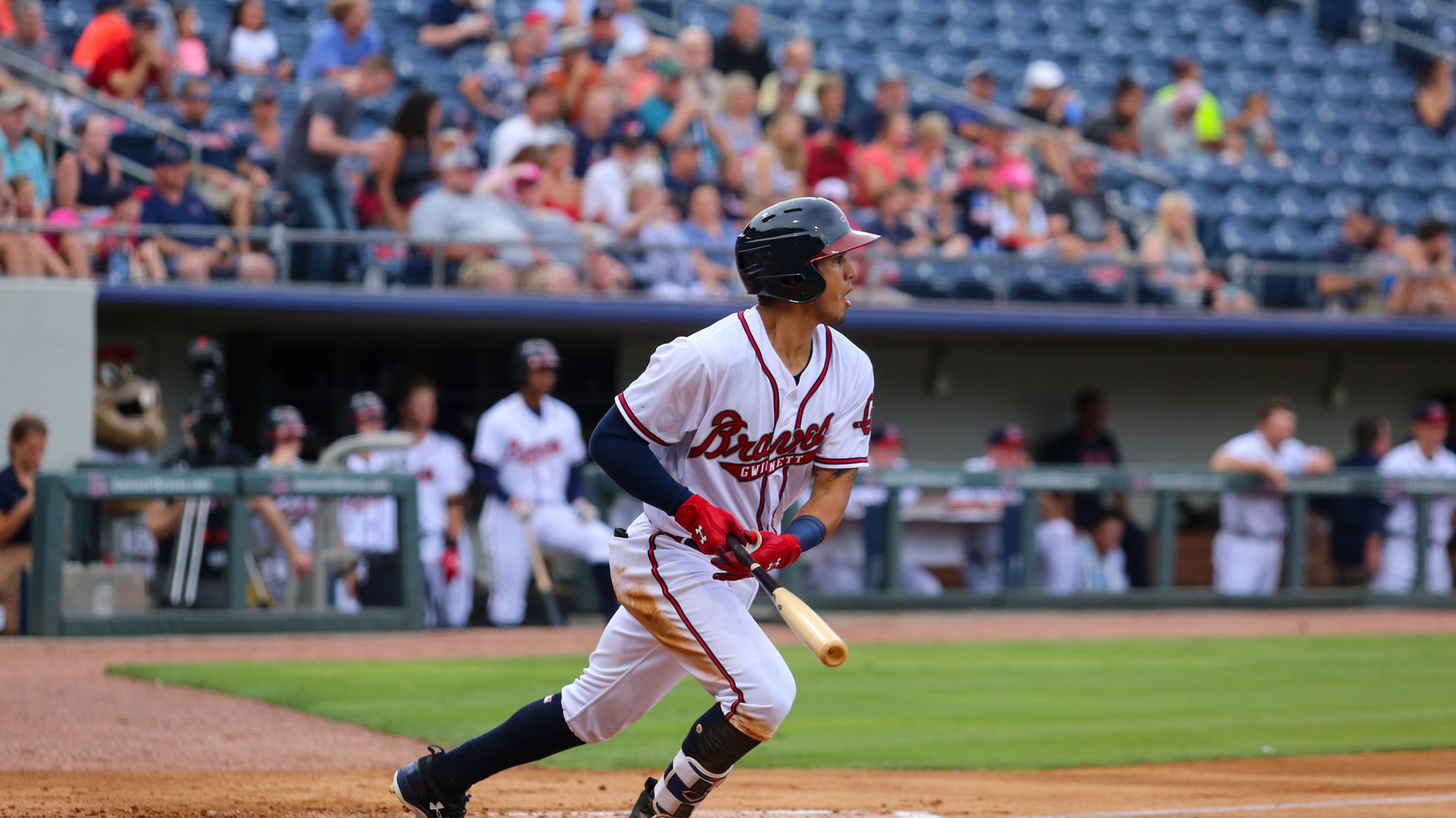 Rio Ruiz hit two home runs in Thursday's loss. (Taylor Botta)
MOOSIC, PA- On the strength of a four-run bottom of the fifth, the Scranton/Wilkes-Barre RailRiders (78-45) defeated the Gwinnett Braves (61-61) by a 5-4 score on Thursday night in the final game of the three-game series at PNC Field.Gwinnett jumped on SWB starting pitcher Brady Lail in the top of
MOOSIC, PA- On the strength of a four-run bottom of the fifth, the Scranton/Wilkes-Barre RailRiders (78-45) defeated the Gwinnett Braves (61-61) by a 5-4 score on Thursday night in the final game of the three-game series at PNC Field.
Gwinnett jumped on SWB starting pitcher Brady Lail in the top of the first as Ronald Acuña Jr. crushed the first pitch of the night deep to left for a solo homer and a 1-0 lead. Two outs later, Rio Ruiz shot a solo homer to right, increasing the lead to 2-0.
In the bottom of the first, RailRiders leadoff batter Jake Cave greeted G-Braves starting pitcher Aaron Blair with a solo homer to left, cutting the lead to 2-1.
Gwinnett pushed the lead back to two runs in the top of the fourth as Ruiz hit his second solo homer of the game, a one-out solo blast to left to make it 3-1 Gwinnett.
However, the difference was the bottom of the fifth as Blair walked Mark Payton to begin the inning and gave up a single to Eddy Rodriguez to put two men on. Donavan Solano then hit a drive to right-center that went in and out of the glove of right fielder Xavier Avery for a single to load the bases with one out. New York Yankees infielder Greg Bird, playing in his second rehab game, followed with a single to center, scoring Payton to make it 3-2. With two outs, Ji-Man Choi doubled to left, scoring both Rodriguez and Solano and giving SWB the lead at 4-3. Mason Williams laid down a bunt single to the right of the mound, pushing Bird in from third for the fourth and final run of the inning and a 5-3 RailRiders lead.
Gwinnett would close the gap to 5-4 in the top of the seventh when Matt Tuiasosopo , who had led off the inning with a single, scored from third on a wild pitch from SWB reliever Giovanny Gallegos. But Gwinnett would not get any closer.
Blair (L, 7-7) pitched 5.0 innings with nine hits, five earned runs, two walks and three strikeouts. Akeel Morris worked 1.1 scoreless innings with two hits and one strikeout. A.J. Minter went two thirds of an inning with one hit and one strikeout. Enrique Burgos tossed 1.0 inning with two strikeouts.
For the RailRiders, Lail (W, 6-4) pitched 6.1 innings with six hits, four earned runs, and six strikeouts. Gallegos worked 1.2 innings with one hit, one walk and four strikeouts. Ben Heller (S, 6) went 1.0 inning with one walk and two strikeouts.
At the plate for the G-Braves, Ruiz was 2-for-4 with two solo homers, the third two-homer game of his career. Acuna went 1-for-4 with a solo homer and finished the three-game series 6-for-14 with three homers and six RBIs.
Choi was 2-for-3 with a double and two RBIs for SWB. Cave was 2-for-5 with a homer and a run.
The Gwinnett road trip continues Friday night at 7:05 p.m. with the first of a three-game weekend series against the Buffalo Bisons. Right-hander Kris Medlen (2-5, 5.48) will pitch for Gwinnett against Buffalo lefty T.J. House (9-11, 4.27). Air time is 6:35 p.m. with Tony Schiavone on 97.7 FM "The Other Side of the River."
The G-Braves are back home on Friday, August 25 for a doubleheader to begin a four-game series against the Charlotte Knights. For tickets, call 678-277-0340 or visit GwinnettBraves.com/tickets.