G-Braves Fall in Finale vs. Norfolk
Gwinnett's four-game winning streak snapped in 3-1 loss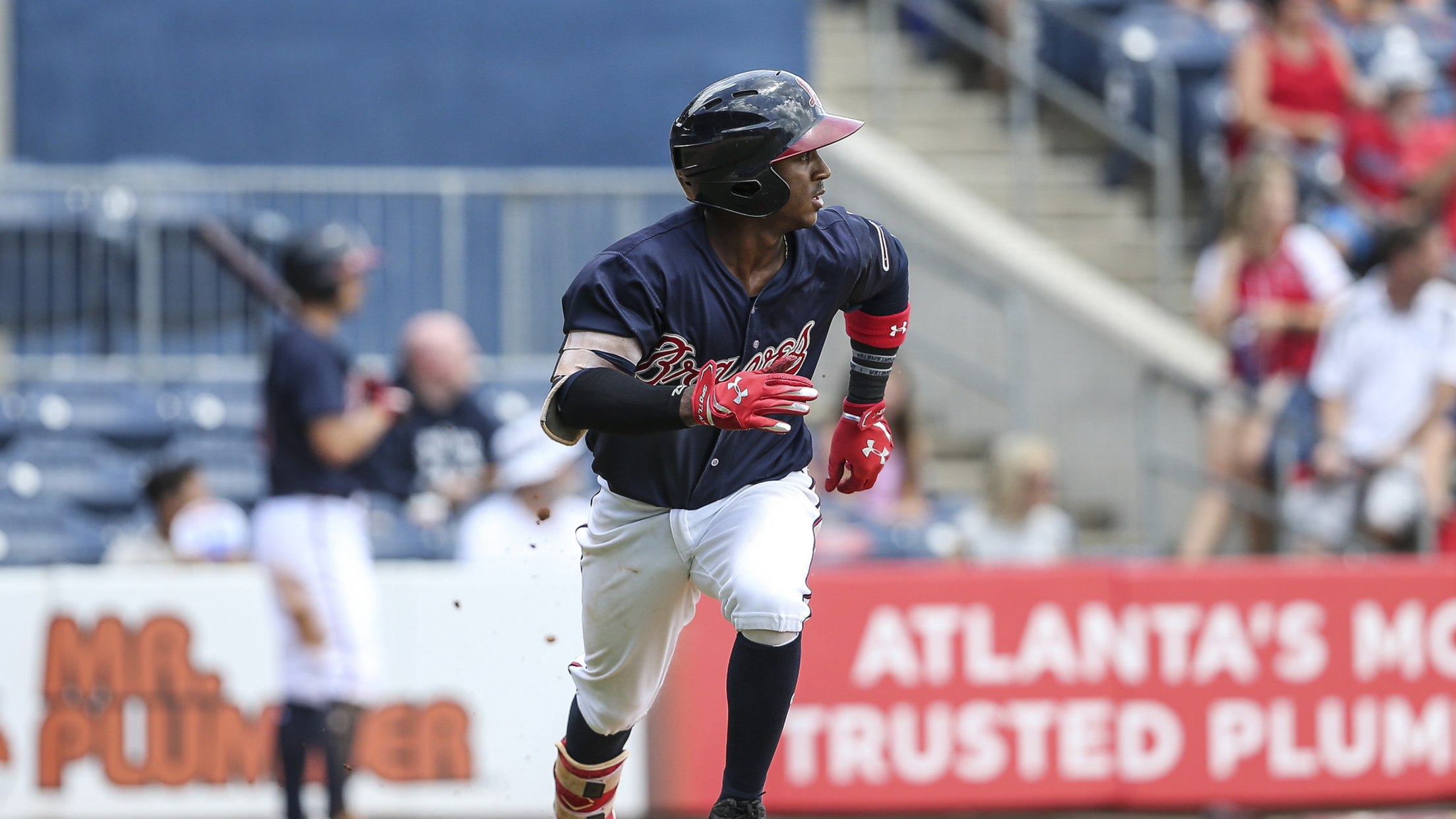 Ozzie Albies drove in Gwinnett's only run on Thursday afternoon. (Chris Roughgarden)
LAWRENCEVILLE, GA - Former Atlanta Braves' infielder Chris Johnson homered and drove in three runs to lead the Norfolk Tides (36-51) to a 3-1 win over the Gwinnett Braves (43-42) on Thursday afternoon at Coolray Field. Norfolk avoided a three-game sweep, snapping Gwinnett's four-game winning streak.Right-hander Lucas Sims took the
LAWRENCEVILLE, GA - Former Atlanta Braves' infielder Chris Johnson homered and drove in three runs to lead the Norfolk Tides (36-51) to a 3-1 win over the Gwinnett Braves (43-42) on Thursday afternoon at Coolray Field. Norfolk avoided a three-game sweep, snapping Gwinnett's four-game winning streak.
Right-hander Lucas Sims took the tough-luck loss for the G-Braves despite turning in his team-leading ninth quality start of the year. Sims (L, 6-4) tossed 7.1 innings with three runs on seven hits, no walks and eight strikeouts.
Johnson did all the damage against Sims, lining a two-run single to left-center for a 2-0 lead in the third inning and blasting a 426-foot solo homer to left-center for a 3-1 advantage in the sixth. Johnson also doubled with one out in the eighth to end the outing for Sims.
Gwinnett was held to just one run on the day, as Anthony Recker singled in the bottom of the third and scored on a two-out double off the left-field wall by Ozzie Albies .
The G-Braves threatened in the ninth as Recker dropped a leadoff double into center, but Tides' right-hander Richard Rodríguez retired the next three batters to finish the game.
Norfolk right-hander Alec Asher (W, 1-0) allowed a run on five hits over 5.0 innings, walked two and struck out two. Relievers Logan Verrett (H, 1), Andrew Faulkner (H, 3) and Rodriguez (S, 2) combined on 4.0 scoreless, three-hit innings.
Right-hander David Peterson followed Sims with 1.2 scoreless, one-hit innings in relief. At the plate for the G-Braves, Albies went 2-for-4 with a double and an RBI for his team-leading 26th multi-hit game of the season. Jace Peterson went 2-for-4 to extend his on-base streak to 20 games, and Xavier Avery went 0-for-3 with a walk to extend his on-base streak to 21 games.
In addition to Johnson, Luis Sardiñas went 2-for-4 and Sharlon Schoop went 1-for-3 with a double and a run scored for the Tides.
The G-Braves continue the homestand on Friday night with the opener of a three-game series vs. the Indianapolis Indians. First pitch at Coolray Field is set for 7:05 p.m. Gwinnett's starting pitcher has yet to be announced, while Indianapolis will start right-hander Nick Kingham (3-5, 4.50 ERA). Dave Lezotte has the play-by-play call beginning at 6:35 p.m. on 97.7 FM "The Other Side of the River."
For tickets, call 678-277-0340 or visit GwinnettBraves.com/tickets.