G-Braves Score Four In Ninth To Top Toledo, 5-4
Gwinnett wins fourth straight with late outburst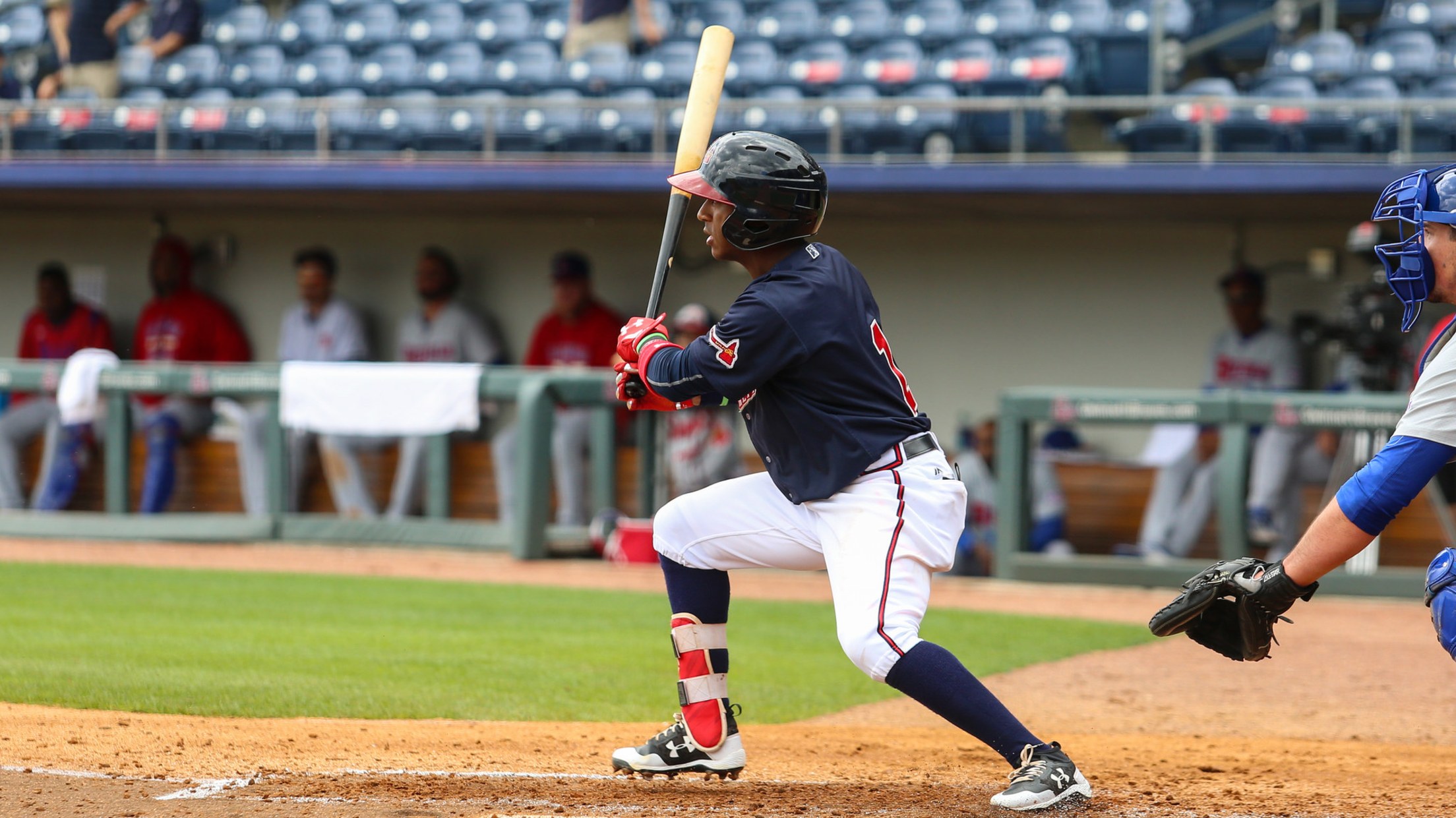 Ozzie Albies' big night at the plate propelled Gwinnett to a win on Wednesday. (Taylor Botta)
TOLEDO, OH-The Gwinnett Braves (34-30) rallied for four runs in the top of the ninth inning to edge the Toledo Mud Hens (28-35) by a 5-4 score in game two of their three-game series on Wednesday night at Fifth Third Field. Trailing 4-1 after eight, Gwinnett's rally started when Toledo closer
TOLEDO, OH-The Gwinnett Braves (34-30) rallied for four runs in the top of the ninth inning to edge the Toledo Mud Hens (28-35) by a 5-4 score in game two of their three-game series on Wednesday night at Fifth Third Field.

Trailing 4-1 after eight, Gwinnett's rally started when Toledo closer Arcenio Leon walked Matt Tuiasosopo to lead off the ninth. Carlos Franco followed with a walk and Anthony Recker blooped a single to center to load the bases with no outs. Kyle Kubitza singled to right, scoring Tuiasosopo to cut the Toledo lead to 4-2. Leon then appeared to settle down by striking out both David Freitas and Xavier Avery . However, with two outs and the bases loaded, Ozzie Albies beat out an infield single, scoring Franco from third making it a one-run game. The Mud Hens opted for Edward Mujica out of the bullpen and he worked the count to 0-2 onJace Peterson , but Peterson lined the next pitch to center scoring pinch runner Stephen Gaylor and Kubitza for a 5-4 lead, and that would prove to be the final score.

Gwinnett had scored the first run of the game in the top of the first as Albies led off the game with a single, stole second base and scored on a single to center by Dustin Peterson .

However, Toledo tied the game 1-1 in the bottom of the second by scoring an unearned run off Gwinnett starting pitcher Kris Medlen . John Hicks led off the inning by reaching second on a two-base throwing error by Franco and later scored on a single to center by Jason Krizan. The Mud Hens took their first lead at 2-1 in the bottom of the fourth when Michael Almanzar drilled a one-out solo homer to left off Medlen. The lead went to 3-1 in the bottom of the sixth when Almanzar hit his second homer of the game, a two-out solo shot to left off Medlen. In the bottom of the eighth, Toledo moved out to a 4-1 run lead thanks to a two-out RBI single to center by Omar Infante off Gwinnett reliever Andrew Albers .

But the game drastically changed in the top of the ninth as Gwinnett sent nine men to the plate and won its first game of the season when trailing after eight innings.

Medlen pitched 6.0 innings with seven hits, three runs (two earned), one walk and two strikeouts. Caleb Dirks went 1.0 inning with a walk and two strikeouts. Albers (W, 6-1) worked 1.0 inning with two hits, one earned run and two strikeouts, and ended up earning his team-leading sixth win of the season thanks to the late offensive outburst. Rhiner Cruz (S, 3) pitched the bottom of the ninth for the save with one hit and two strikeouts to finish off Gwinnett's fourth win in a row.

Aníbal Sánchez started for the Mud Hens and went 5.0 innings with four hits, one earned run, one walk and seven strikeouts. Logan Kensing (H, 4) worked a scoreless top of the sixth. Blaine Hardy (H, 1) pitched a scoreless top of the seventh with one walk and one strikeout. Bruce Rondón (H, 4) went 1.0 inning with one hit and one strikeout. Leon (L, 1-2) was credited with the loss after tossing two thirds of an inning with three hits, four earned runs, two walks and two strikeouts. Mujica (BS, 4) pitched one third of an inning with one hit, the single by Jace Peterson, and one strikeout.

Albies led the G-Braves attack with a 3-for-5 night including one run, a double and an RBI. He also stole two bases, giving him an International League-leading 17 on the season. Kubitza and Franco were each 1-for-3, and Jace Peterson was 1-for-5 with two RBIs, giving him five in the last two games.

For Toledo, Almanzar was 2-for-4 with two solo homers and Infante was 2-for-3 with an RBI.

The G-Braves and Mud Hens conclude the three-game series on Thursday night at 7:05. Right-hander Matt Wisler (1-4, 5.01 ERA) will get the start for the G-Braves. Southpaw Anthony Vasquez (2-2, 4.78 ERA) is set to start for Toledo. Tony Schiavone has the play-by-play call on 97.7 FM "The Other Side of the River" beginning at 6:35 p.m.

The G-Braves return home on Monday, June 19 to begin a seven-game homestand against the Charlotte Knights and Norfolk Tides. For tickets, call 678-277-0340 or visit GwinnettBraves.com/tickets.