G-Braves Sweep Knights in Twin Bill
Starters Luiz Gohara, Manny Barreda each earn wins in 6-3, 7-4 victories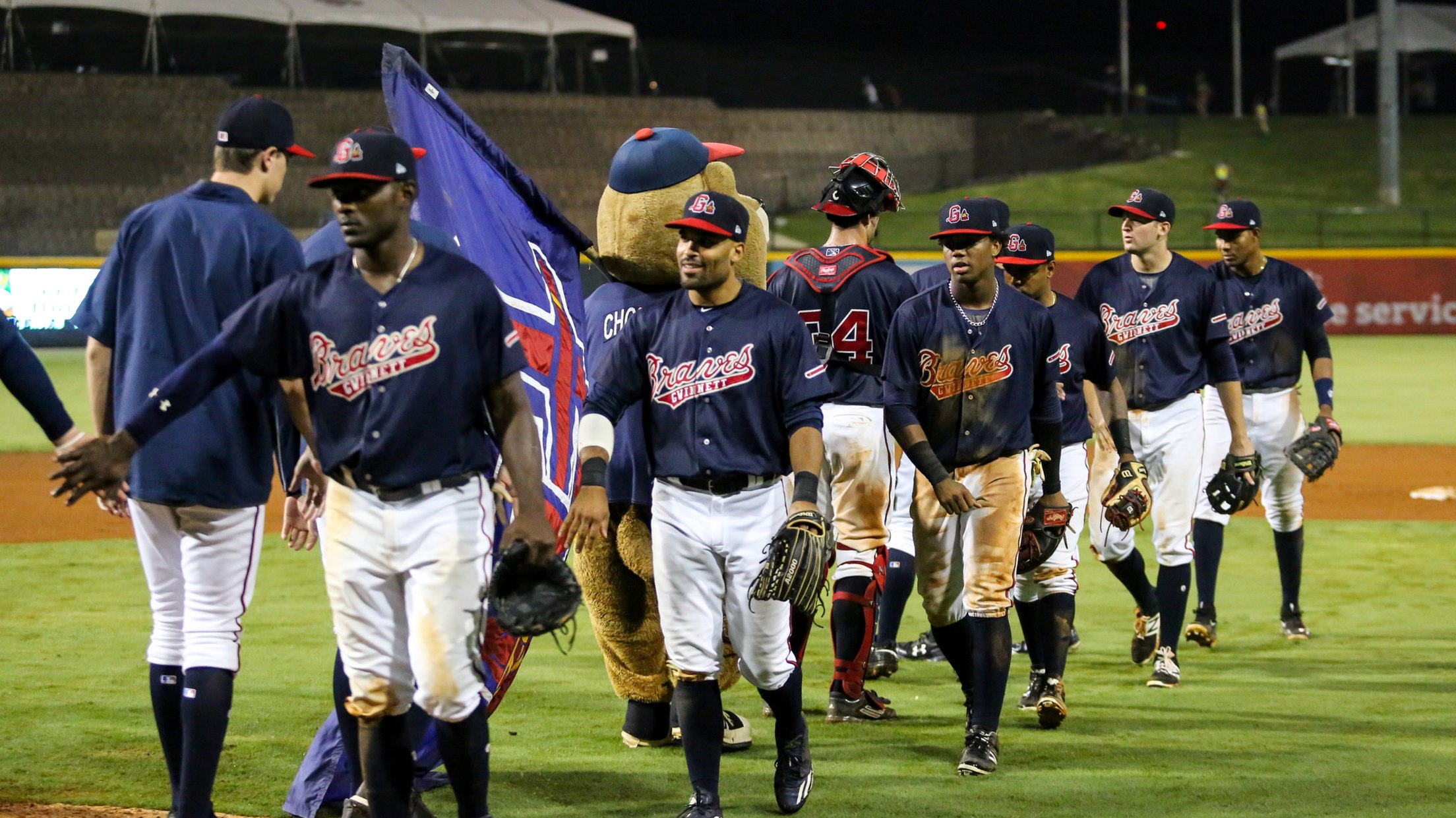 The G-Braves got strong team performances to earn two wins on Friday night. (Taylor Botta)
LAWRENCEVILLE, GA - The Gwinnett Braves (67-64) got plenty of offense to back two good starts in a doubleheader sweep of the Charlotte Knights (55-77) on Friday night at Coolray Field. Gwinnett won by scores of 6-3 and 7-4 to open the four-game weekend series.With the wins, the G-Braves have
LAWRENCEVILLE, GA - The Gwinnett Braves (67-64) got plenty of offense to back two good starts in a doubleheader sweep of the Charlotte Knights (55-77) on Friday night at Coolray Field. Gwinnett won by scores of 6-3 and 7-4 to open the four-game weekend series.
With the wins, the G-Braves have won 12 of their last 16 games dating back to August 10.
The Knights jumped out to a 2-0 lead in the opener against Gwinnett starter Luiz Gohara as D.J. Peterson, older brother of G-Braves' outfielder Dustin Peterson , lifted a two-run home run to left in the top of the second.
Gwinnett was quick to answer in the bottom of the second as Carlos Franco scored on a wild pitch and Kyle Kubitza tied the game with an RBI single. David Freitas put the G-Braves in front 4-2 with a two-run homer to left, his third of the season, off Charlotte starter Carson Fulmer (L, 7-9).
After giving up a run on a sacrifice fly in the third, Gohara (W, 1-2) was strong for the rest of his start. Over 5.0 innings, he gave up three runs, two earned, on six hits while walking one and striking out 10 to record his first career Triple-A win.
Gwinnett added to the lead in the fifth. Sean Kazmar Jr. Jr. plated Ronald Acuña Jr. with a ground ball that went for an error on shortstop Ronald Bueno, and Franco scored Xavier Avery with a single to shallow to center to increase the lead to 6-3. Akeel Morris (S, 1) made that stand as the final by pitching 2.0 scoreless relief innings with three strikeouts to earn his first career Triple-A save.
In game one, Freitas led the way by going 2-for-3 with the two-run homer while Franco went 2-for-2 with a walk, run scored and RBI.
For Charlotte, Cody Asche was 2-for-4 with a run while Peterson went 1-for-3 with a two-run home run. Fulmer suffered the loss after giving up six runs, five earned, on five hits over 4.0 innings.
Acuna's hustle on the basepaths got Gwinnett the early lead in game two. He began the first inning by reaching on an infield single and then advanced to second on a walk to Avery. Rio Ruiz then grounded into a double play, but Acuna never stopped running and came all the way home from second to score the game's first run.
In the fourth, the G-Braves broke the game open against Knights' starter Chris Volstad (L, 2-10). Sal Giardina started the scoring with an RBI single. Luis Valenzuela followed with an RBI double and Acuna added a two-run double to increase the lead to 5-0 after four innings.
Charlotte got on the board against Gwinnett starter Manny Barreda in the fifth on a two-run homer from Jake Peter. That would be all the starter gave up. Over 5.0 solid innings, Barreda (W, 2-0) allowed two earned runs on four hits while walking two and striking out six.
Leading off the bottom of the fifth, Franco crushed the first pitch he saw from Charlotte reliever Al Alburquerque 436 feet over the right-field fence for a solo home run, his 10th with Gwinnett, to increase the lead to 6-2.
Gwinnett reliever Rex Brothers balked in a run in the top of the sixth, but again the G-Braves answered. With Giardina on first, Acuna lined a single to center and got caught in a rundown between first and second. While Acuna was in the rundown, Giardina came home to score.
In the ninth, Rhiner Cruz gave up a run but was able to finish a doubleheader sweep for the G-Braves.
Acuna led the way in game two by going 3-for-4 with a double and two RBIs to extend his hitting streak to 14 games, the longest hitting streak by a G-Brave this season. In his Triple-A debut, Giardina was 2-for-2 with two runs scored and an RBI.
In game three of the series on Saturday night, Josh Collmenter (1-0, 1.00) is scheduled to make his Coolray Field debut for the G-Braves against Charlotte's Michael Kopech (1-0, 3.60). First pitch is scheduled for 6:05 p.m. Dave Lezotte has the play-by-play call on 97.7 FM The Other Side of the River beginning at 5:35 p.m.
Saturday's game, presented by Coolray Heating & Cooling, features two exciting promotions. As part of National Dog Day, fans can purchase a Coolray Field Lawn ticket and bring a dog in free. The offer is valid for Lawn seating only, and dogs are not permitted on the main concourse. Also, the first 2,500 fans through the gates will receive a limited edition bobblehead of G-Braves radio voice Tony Schivone and his Chihuahua, Bug, courtesy of Coolray Heating & Cooling. For tickets, call 678-277-0340 or visit GwinnettBraves.com/tickets.