G-Braves Top Knights 4-2 To Earn Split
Gwinnett wins rain-shortened affair to end road trip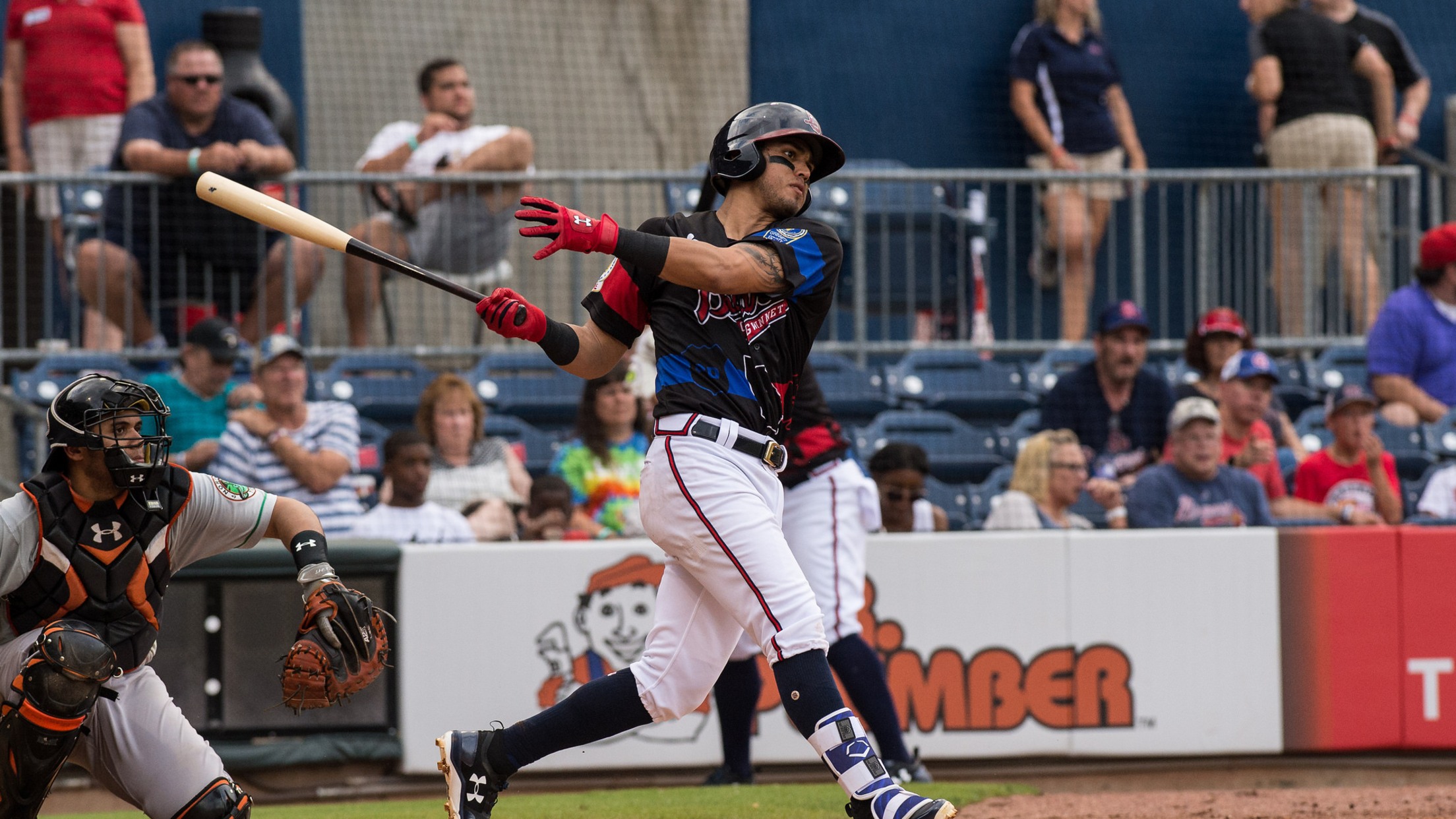 Rio Ruiz drove in three of Gwinnett's four runs in Monday's win. (Chuck Pitts)
CHARLOTTE, NC- The Gwinnett Braves (41-41), with an assist from mother nature, held on for a 4-2 win over the Charlotte Knights (36-46) on Monday night in a game shortened to six innings because of rain at BB&T Ballpark to earn a split of the four-game series. The G-Braves broke a
CHARLOTTE, NC- The Gwinnett Braves (41-41), with an assist from mother nature, held on for a 4-2 win over the Charlotte Knights (36-46) on Monday night in a game shortened to six innings because of rain at BB&T Ballpark to earn a split of the four-game series.<o:p>
<o:p>
The G-Braves broke a scoreless tie with a three-run top of the third. With one out and the bases loaded, Rio Ruiz drilled a double down the left field line, scoring Ozzie Albies , who had earlier walked, and Dustin Peterson , who had reached on a fielder's choice, for a 2-0 Gwinnett lead. Rehabbing Atlanta Braves infielder Freddie Freeman , who had earlier walked, moved to third on the Ruiz hit and later scored when Carlos Franco bounced out to first.<o:p>
<o:p>
Charlotte cut into the 3-0 G-Braves in the bottom of the third as Yoán Moncada (11) smashed a two-run homer to left off Gwinnett starting pitcher Aaron Blair .<o:p>
<o:p>
However, the G-Braves extended the lead to 4-2 with a run in the top of the fifth off Charlotte starter Chris Volstad. Peterson led off the inning with a single and moved to third on a single by Freeman, who played in his second rehab game with the G-Braves. Ruiz plated Peterson with a fielder's choice ground out to third that forced Freeman out at second.<o:p>
<o:p>
In the bottom of the sixth, with heavy rain falling, Cody Asche and Danny Hayes hit two fly ball doubles to put runners on second and third. But the umpires halted play as the game went into a delay. After 48 minutes, the game was called, giving Gwinnett the win.<o:p>
<o:p>
Blair (W, 6-4) went the entire 5.0 plus innings with six hits, two earned runs, two walks and three strikeouts. The win was his second rain-shortened complete game win of the season, which tied him for the team lead with six wins.<o:p>
<o:p>
Volstad (L, 1-4) worked the complete 6.0 innings with six hits, four earned runs, three walks and five strikeouts.<o:p>
<o:p>
At the plate, Freeman was 2-for-2 with a walk and a run. Ruiz was 1-for-3 with a double and three RBIs. Xavier Avery was 1-for-3 with a triple to extend his on-base streak to 18 games.<o:p>
<o:p>
For Charlotte, Moncada finished 1-for-3 with the two-run homer.<o:p>
<o:p>
The Gwinnett Braves return home to Coolray Field on Tuesday night to begin a six-game homestand with the first of a three-game series against the Norfolk Tides. Veteran left-hander Andrew Albers (6-3. 3.99) will start for Gwinnett against Norfolk right-hander Jordan Kipper (3-4, 4.45). First pitch is set for 7:05 p.m. Tony Schiavone has the play-by-play call on 97.7 FM The Other Side of the River beginning at 6:35 p.m.<o:p>
<o:p>
As part of the Independence Day festivities on July 4, the first 2,500 fans through the gate will receive an American Flag rally towel. During the game, the G-Braves will be wearing special patriotic jerseys. All game-used, autographed jerseys will be available for auction during the game, courtesy of Republic Services. Following the game, a spectacular Independence Day fireworks show will light up the night sky, courtesy of Republic Services. For tickets, call 678-277-0340 or visit GwinnettBraves.com/tickets.