G-Reds Hit Franchise Record Seven Doubles in 9-3 Win
Salvador Allows One Run Over Five Innings For First Win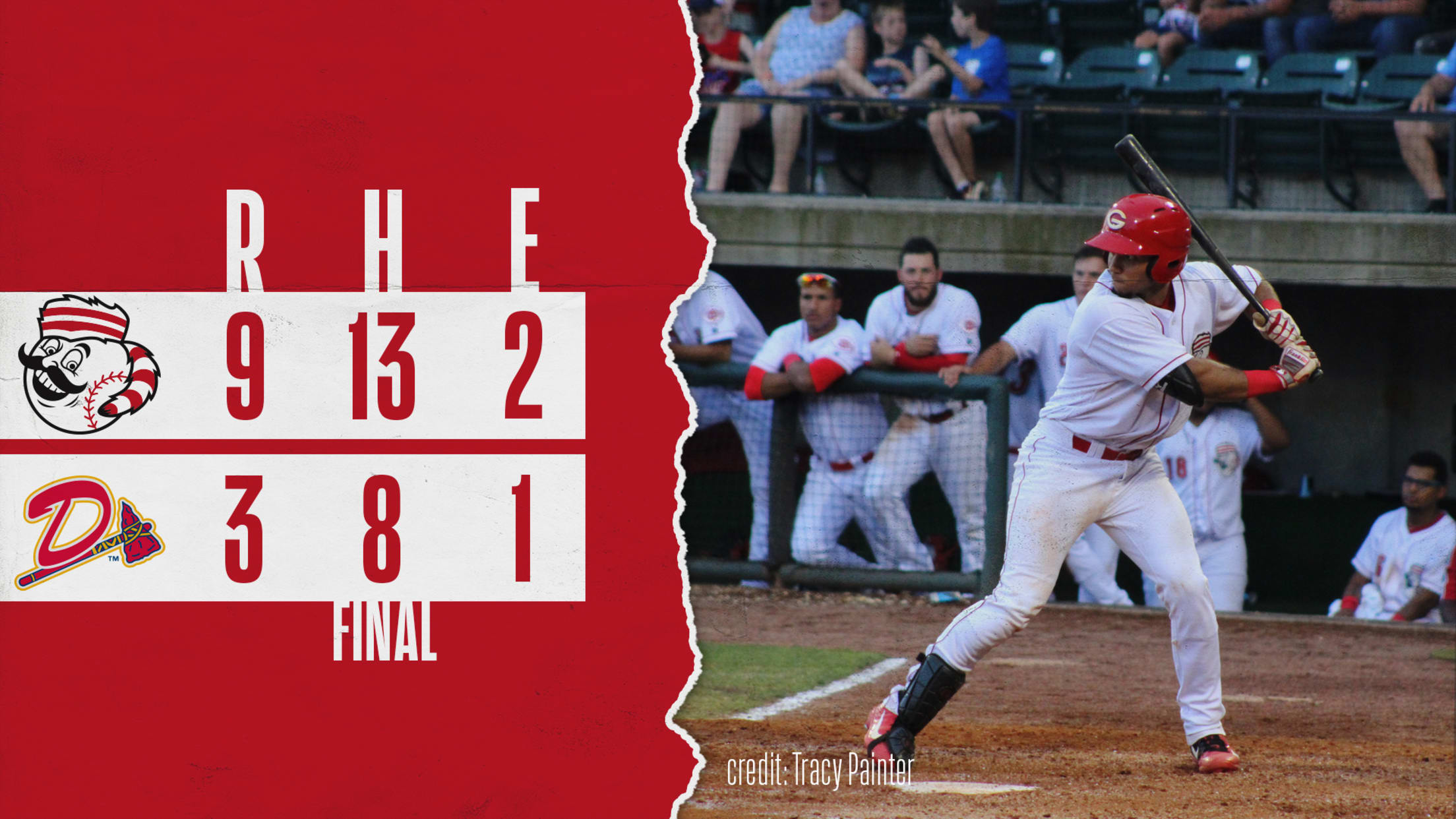 DANVILLE, VA - The Greeneville Reds (8-13) opened up their series at Dan Daniel Memorial Park with a 9-3 win over the Danville Braves (10-11) Wednesday night. The G-Reds finished with eight extra bases, including a franchise best seven doubles.Allan Cerda's RBI-double, scoring Danny Lantigua, in the top of the
DANVILLE, VA - The Greeneville Reds (8-13) opened up their series at Dan Daniel Memorial Park with a 9-3 win over the Danville Braves (10-11) Wednesday night. The G-Reds finished with eight extra bases, including a franchise best seven doubles.
Allan Cerda's RBI-double, scoring Danny Lantigua, in the top of the first inning started the scoring. In the third, A.J. Bumpass led off the inning with a double, and scored on Raul Juarez's RBI-double to put Greeneville up 2-0.
Greeneville and Danville exchanged runs in the fourth. Garrett Wolforth singled with one out in the top half, moved to second on a ground out, and scored on Carlos Reina's RBI-single. Bryce Ball led off the bottom half with a double, moved to third on a balk, and scored on Connor Blair's sacrifice fly.
Raul Juarez led off the fifth inning with a solo home run to left field off LHP Filyer Sanchez (L, 1-2) to extend Greeneville's lead to 4-1.
The Reds sent eight to the plate and scored three times in the seventh. Reina led off the inning with a double and scored on Bumpass' RBI-double. After Juarez walked and Ivan Johnson reached on an error with no one out, Lantigua hit into a fielder's choice, scoring Bumpass, to give the Reds a 6-1 lead. Cameron Warren beat out a ground ball to short for an RBI infield single, scoring Juarez, to run the lead to 7-1.
Danville scored two off RHP Tanner Cooper in the bottom half. Jose Palma drew a one-out walk, went first-to-third on Cody Milligan's double, and scored on Beau Philip's RBI ground out. Milligan scored on Willie Carter's RBI infield single.
Tyler Callihan led off the eighth with a double, and scored on Reina's RBI ground rule double to extend the lead to 8-3. Reina moved to third on a wild pitch and scored on Juarez's sacrifice fly to round out the scoring.
LHP Jose Salvador (W, 1-3) earned his first win of the season, allowing one run on four hits in five innings. Salvador also walked three and struck out five. Cooper allowed two runs on two hits and a walk in three relief innings with three strikeouts. RHP Patrick Raby tossed a scoreless ninth inning in his professional debut, allowing two hits and a walk with two strikeouts.
The bottom four hitters in Greeneville's order combined to go 9-for-14 with a home run, six doubles, five RBI's, and seven runs. Bumpass and Reina each finished with two doubles and two runs scored, while Juarez finished 2-for-2 with an RBI- double, solo home run, a walk, and a sacrifice fly.
The Reds and Braves continue their series Thursday night at Dan Daniel Memorial Park. RHP Orlando Noriega (1-1, 5.00) will start for Greeneville against RHP Peyton Williams (0-1, 10.80) with first pitch coming at 6:30 PM.
ABOUT THE GREENEVILLE REDS
The Greeneville Reds are the Rookie affiliate of the Cincinnati Reds and a member of the ten-team Appalachian League. The Reds play at Pioneer Park on the campus of Tusculum University. To learn more about the Greeneville Reds, call 423- 609-7400 or visit www.greenevillereds.com.