Alcantara Shines in Season-Opening Loss
Dominican outfielder homers in first Loons at-bat, finishes night 2-for-4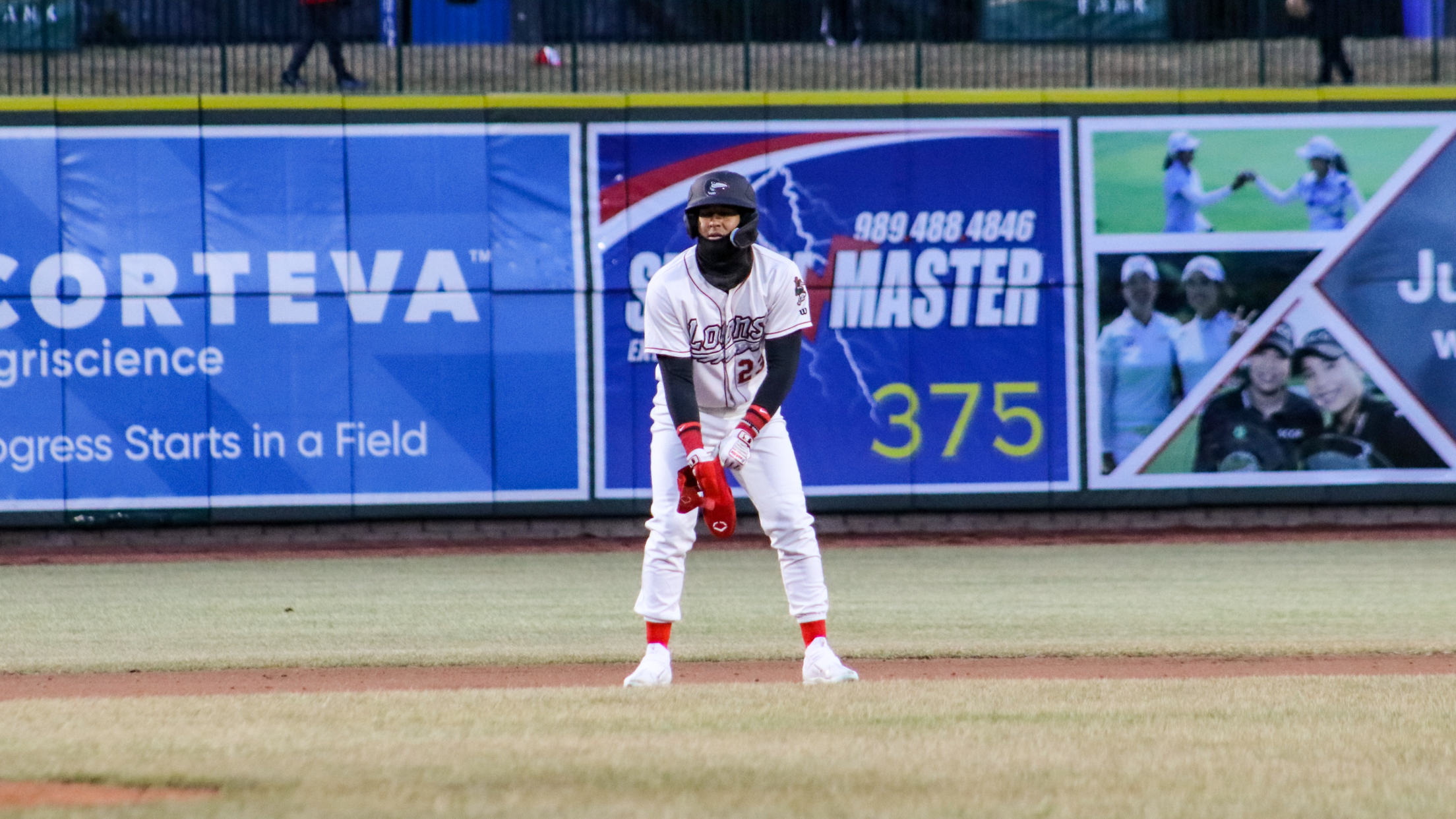 MIDLAND, Mich. – Ismael Alcantara stood in for his first at-bat in a Loons uniform, having just watched the two batters before him strike out in the bottom of the second inning. Alcantara, a native of the Dominican Republic, played in Rancho Cucamonga, Calif., all of last season, in much
MIDLAND, Mich. – Ismael Alcantara stood in for his first at-bat in a Loons uniform, having just watched the two batters before him strike out in the bottom of the second inning. Alcantara, a native of the Dominican Republic, played in Rancho Cucamonga, Calif., all of last season, in much warmer weather than the first pitch temperature Friday night at Dow Diamond: 46 degrees Fahrenheit.
None of that mattered.
Alcantara hammered the first pitch he saw in Midland far out of the ballpark, 421 feet beyond home plate, to give the Loons an early lead and to give his Great Lakes career a memorable start.
The West Michigan Whitecaps would score five unanswered runs, three in the very next frame, to dispatch the Great Lakes Loons, 5-1, on the Midwest League's opening night.
The West Michigan (1-0) starter, right-hander Carlos Guzman, tossed a sparkling four innings of work, punching out eight Loons batters and walking none. The only man to reach base was Alcantara, on the aforementioned home run.
Bullpen pitching picked up right where Guzman left off. Gio Arriera, Michael Bienlien and Gabe Sequeira combined for five scoreless innings in relief, allowed just two hits and three walks while striking out six batters. Bienlien (W, 1-0) picked up two strikeouts in two innings, surrendering a single to Alcantara as his lone baserunner and earning the win as the most effective reliever. Sequeira (SV, 1) secured his first save of the season, striking out three and allowing no hits in the game's final two innings.
The Loons (0-1) offense was highlighted by Alcantara, who went 2-for-4 with the Loons' lone run and RBI on the aforementioned solo shot. The only other hit by a Great Lakes player came via Joe Vranesh, who hit a one-out single in the fifth.
Hyun-il Choi (L, 0-1) earned the Opening Day start for the Loons, and began his evening with four strikeouts and just one hit in his first two innings. The third inning, however, is where things started to unravel. Andrew Navigato led things off with a single, and was immediately doubled in by Trei Cruz. After Parker Meadows reached on an error, Eliezer Alfonso knocked in Cruz with a sacrifice fly, followed by another RBI double, this one off the bat of Austin Murr. In his three innings, Choi surrendered four hits, three runs (two earned), walking none and striking out four.
The relief staff for the Loons was solid, with Jacob Cantleberry, Julian Smith and Antonio Knowles keeping the Whitecaps scoreless in innings four through eight. Smith was especially sharp – the left-hander surrendered just one hit as his lone baserunner, striking out two in two frames.
West Michigan, the High-A affiliate of the Detroit Tigers, put an exclamation point on its victory with two runs in the ninth inning. Meadows led off the final frame with a solo home run out to right field, on the same day his brother Austin tripled and scored the winning run for the big league club in his Detroit debut. Alfonzo would walk immediately after, and four batters later, Jake Holton singled him home.
The Loons and Whitecaps will square off again Saturday for the second game of a three-game set to open the season at Dow Diamond. Right-hander Emmet Sheehan toes the rubber for Great Lakes, up against West Michigan right-hander Dylan Smith. First pitch scheduled for 1:05 p.m. Eastern, gates open an hour before. Pregame coverage kicks off at 12:50 p.m. with the Loons On-Deck Circle, driven by Garber Chevrolet Michigan.
The Great Lakes Loons have been a Single-A partner of the Los Angeles Dodgers since the team's inception in 2007. Dow Diamond serves as the team's home and also houses the Michigan Baseball Foundation, a 501(c)(3) non-profit public charity, and ESPN 100.9-FM. For tickets or information about the Loons, call 989-837-BALL or visit Loons.com.