Romero, Pigs even series in Moosic
Defense turns franchise record four double plays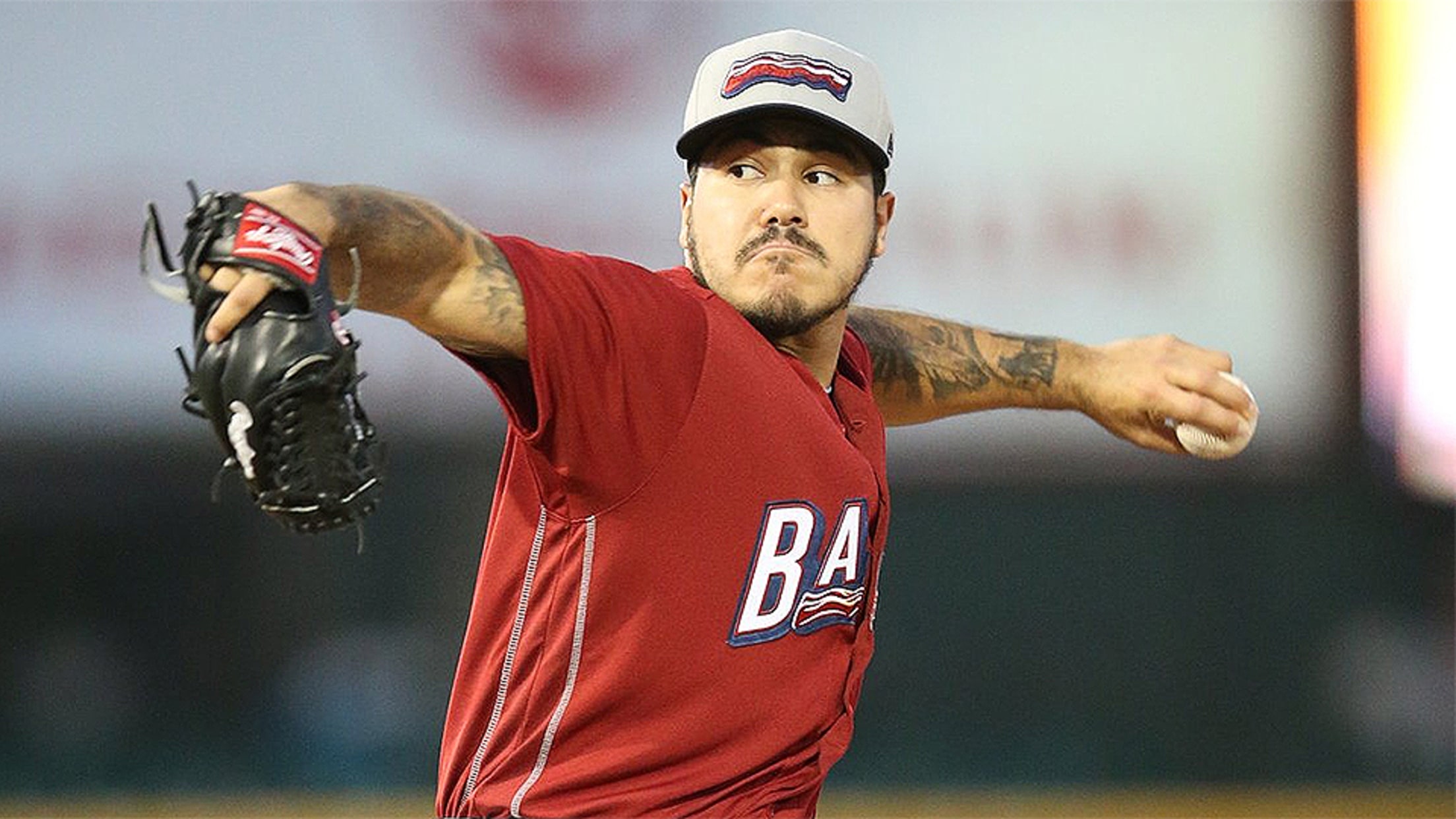 (Cheryl Pursell)
Follow @IronPigsLehigh Valley IronPigs (53-57) starting pitcher JoJo Romero (3-2) turned in one of his best starts of the season against the Scranton/Wilkes-Barre RailRiders (63-49). He allowed just two runs over six innings and did not give up a hit until the fourth inning. The Pigs turned in an 11-6
Follow @IronPigs
Lehigh Valley IronPigs (53-57) starting pitcher JoJo Romero (3-2) turned in one of his best starts of the season against the Scranton/Wilkes-Barre RailRiders (63-49). He allowed just two runs over six innings and did not give up a hit until the fourth inning. The Pigs turned in an 11-6 win over the RailRiders.

Romero did receive assistance from the IronPigs lineup as they got after RailRiders starting pitcher Brody Koerner (4-2) in the top of the third inning. Phil Gosselin hit a three-run home run that scored Austin Listi, Shane Robinson. Deivy Grullon also homered in the inning.
The Pigs scored three more runs off Koerner in the top of the sixth inning to take a 7-0 lead. Logan Morrison scored on a fielder's choice by Jose Pirela. Listi followed with an RBI single that scored Andrew Romine and Robinson hit a sacrifice fly that scored Pirela.
Romero gave up back-to-back singles in the top of the seventh inning before getting pulled from the game for Fernando Salas. Gosuke Katoh hit a three-run home run off Salas to cut Lehigh Valley's lead to 7-3.
Robinson hit an RBI double off Will Carter in the top of the eighth inning to score Pirela and give Lehigh Valley an 8-3 lead. Ali Castillo followed with a two-run single to extend the lead to 10-3. Morrison hit an RBI single off Rex Brothers to score Gosselin and give the Pigs an 11-3 lead.
Mandy Alvarez hit a three-run home run off Salas in the bottom of the eighth inning to put a dent in the IronPigs lead, 11-6. Tyler Wade hit a two-run single off Kyle Dohy to cut the Pigs lead to 11-8. Edgar Garcia entered the game to pitch with one out remaining in the game. He recorded his fifth save of the season.
The IronPigs and RailRiders wrap up their series on Sunday afternoon at PNC Field. First pitch is scheduled for 1:05 p.m.
The 2019 IronPigs season is the team's 12th as the top affiliate for the Philadelphia Phillies and 12th at Coca-Cola Park. Follow the IronPigs on Twitter at @IronPigs and like them on Facebook via Facebook.com/LHVIronPigs.
The 2019 IronPigs season is presented by Capital BlueCross.