Generals Ambush Lookouts With 13 Late Runs
Jackson rallies from 2-1 hole to even series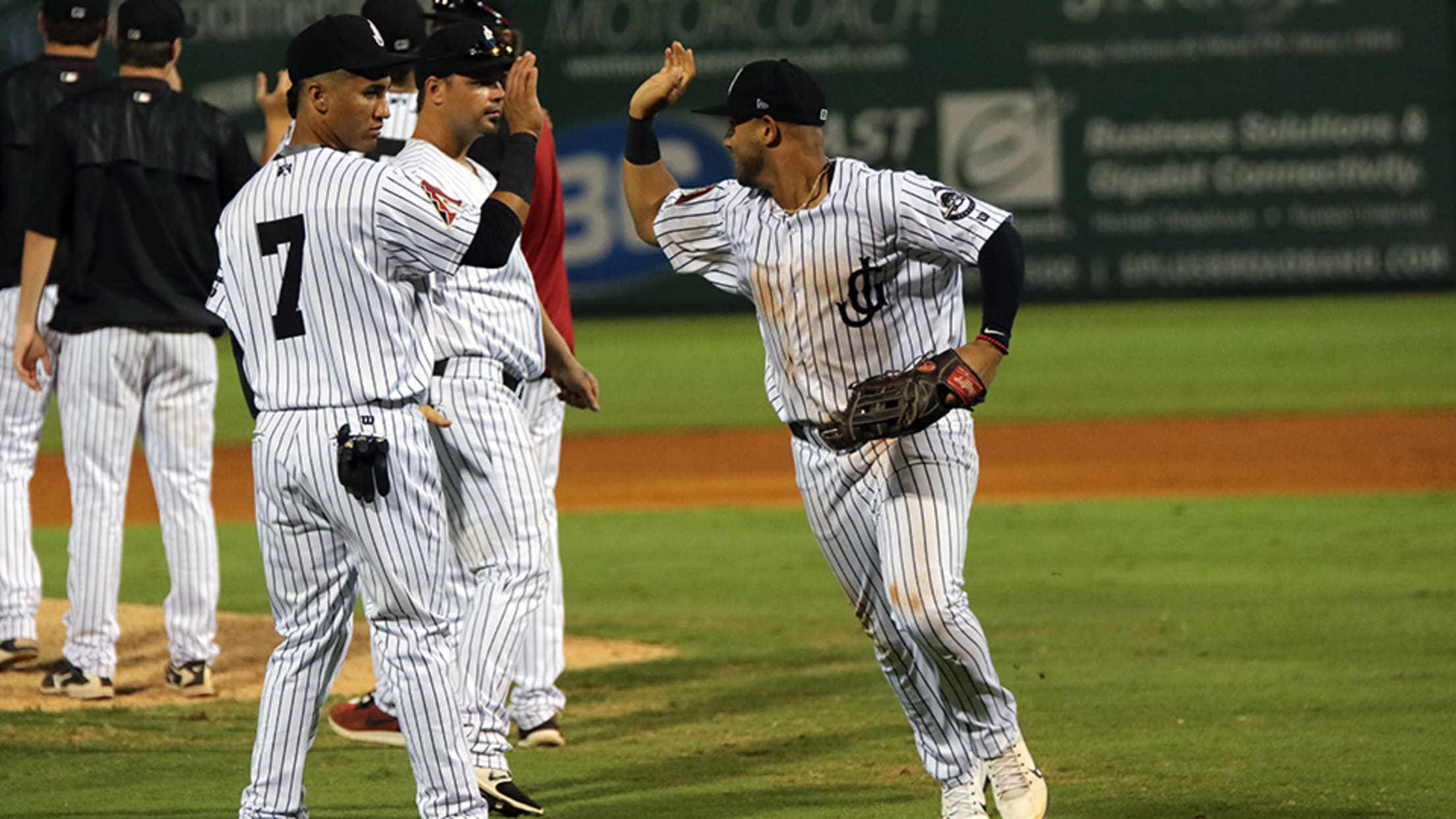 Michael Perez (L) and Jamie Westbrook (R) combined for five hits and seven RBI on Saturday, as Jackson walloped Chattanooga 14-3 with a late rally. The Generals scored 13 of their runs over the final three innings, evening the series at 1-1. (Cody Cunningham)
Chattanooga, Tenn. - After 15.2 innings of meager scoring from the Jackson Generals, first baseman Kevin Cron dug deep and stood tall. Batting with two outs in the seventh inning on Saturday night, Cron snapped off a tide-turning two-run single to center field for a 3-2 Jackson lead. The smash
Chattanooga, Tenn. - After 15.2 innings of meager scoring from the Jackson Generals, first baseman Kevin Cron dug deep and stood tall. Batting with two outs in the seventh inning on Saturday night, Cron snapped off a tide-turning two-run single to center field for a 3-2 Jackson lead. The smash by Cron uncorked a 13-run Generals onslaught on the league-leading Chattanooga Lookouts (31-11, 73-39), as Jackson (21-21, 58-54) brought home a 14-3 series-tying victory at AT&T Field.
Cron, Michael Perez, and Jamie Westbrook combined to drive in 10 Jackson runs, collaborating on a 7-for-15 effort at the plate to lead the Generals' offense. Jackson came through with a season-high nine hits in 20 opportunities with runners in scoring position.
After scoring only once on Friday night, the Generals were again held to a single run on Saturday through the first six innings by Lookouts starter Kohl Stewart. In the seventh, Jackson saw a welcome change, facing right-hander Raul Fernandez (3-2, 4.23 ERA). Marty Herum led off with a single, followed by a walk issued to Daniel Lockhart. Oscar Hernández moved the runners over with a sacrifice bunt, and Emilio Bonifácio drew a walk to load the bases. Victor Reyes struck out swinging for the second out of the inning, drawing Cron to the plate for a dramatic game-changing at-bat. The league leader in RBI lined a 2-2 offering from Fernandez into center field, plating Herum for the tie and Lockhart for the lead in the first wave of what became a massive shelling of the Chattanooga bullpen.
After Cron reached base, Perez followed with a single to right field that fished in Bonifacio for a 4-2 lead. Westbrook then bopped a groundball up the middle that Chattanooga second baseman Ryan Walker fielded behind the base. Westbrook beat the throw to first base, but the ball bounced wide of first baseman Jonathan Rodriguez, allowing Cron to score from second base for a 5-2 lead. That was the last the Generals would see of Fernandez, who was removed in favor of Randy Rosario. Kelly Dugan, the ninth General to hit in the inning, struck out to end the frame.
Mason McCullough (2-0, 1.88 ERA) had relieved Generals starter Ivan Pineyro after five innings and two runs allowed, and McCullough followed his scoreless sixth inning with a return to the hill in the seventh. He allowed a one-out single to Chattanooga's Nick Gordon, who promptly advanced to second base on a wild pitch. After Walker grounded out to move Gordon to third base, McCullough walked the dangerous Rodriguez to put men on the corners with two outs, bringing the tying run to the plate in the form of Andy Wilkins. Yuhei Nakaushiro (H, 6) entered in place of McCullough, and the left-hander got Wilkins to punch out on three pitches, slamming the door on the Lookouts' opportunity. Nakaushiro would go on to pitch a scoreless eighth inning, with Drew Muren closing the game out in the ninth for Jackson.
The Generals weren't finished on offense. In the top of the eighth, Randy Rosario managed to record only one out against Jackson, as J.R. House's lineup batted around for the second consecutive inning. Herum singled and and Lockhart walked, making a carbon copy of the start of the seventh inning. Hernandez followed with a walk of his own to fill up the bases, and Bonifacio blooped a single into right field to reel in Herum for a 6-2 advantage. Reyes, who had struck out in the previous inning, made a productive out with a sacrifice fly to right field that scored Lockhart for a 7-2 margin. Cron delivered a single to left field next, scoring Hernandez to make the count 8-2 Jackson. Perez drew a walk immediately afterward despite falling behind in an 0-2 count, and his base-on-balls filled the bases with Generals. Westbrook hammered a 1-1 offering from Rosario deep to right field, clearing the wall by plenty on his second grand slam of the season. Westbrook is the only General to go grand twice this year so far, with his previous slam coming against Mobile on May 6.
The four-run swat gave Jackson a 12-2 advantage, chasing Rosario from the mound in favor of Luke Bard. The stingy Bard recorded the next two outs in order and finished the game thereafter, despite allowing a two-run single to Michael Perez in the ninth inning that completed Jackson's scoring.
Cron, Perez, and Westbrook amassed 11 of the team's 22 total bases, with Cron and Perez together driving in five two-out runs. Lockhart tallied three runs scored, as well as his first extra base hit and RBI as a General. Herum stole his first base at Double-A, and strong defensive efforts by Lockhart at shortstop and Bonifacio in left field helped support Pineyro and the rest of Jackson's pitching staff. The Generals' victory kept them within two games of Montgomery (23-19, 60-52) in the North Division's wild card race, remaining one half-game behind Tennessee (22-20, 58-53).
Game three in Chattanooga is Sunday afternoon, with Brad Keller (8-7, 4.54 ERA) getting the start for Jackson against righty Zack Littell (0-0, 3.00 ERA). First pitch from AT&T Field is scheduled for 2:15 pm ET/1:15 pm CT, and fans can listen to all the action starting with the Pregame Show at 2:00 pm ET/1:00 pm CT on Willie 94 FM & 1390 AM.
Bidding for Jackson's special Shark Week jerseys that the team wore last Saturday will end on the night of Sunday, August 6! Game-worn and signed jerseys are being auctioned off, with proceeds going to JACOA! Bid online at generals.milbauctions.com.
The Generals return home for their penultimate series in Jackson this season August 16. The series versus the Biloxi Shuckers features a Thrifty Thursday and a Leaders Credit Union Food Truck Friday! Saturday, August 19 is Big Bang Theory Night presented by Hunt Brothers Pizza with Postgame Fireworks! The Generals will be giving away t-shirts, and one lucky fan will win a trip to Wizard World Comic Con in Nashville! Jackson's special Superhero Jerseys will be auctioned off, with proceeds going to Ashley Furniture's A Hope to Dream Foundation!
The final Fireworks Show of the year is August 26! Jackson's annual SEC Night with Postgame Fireworks is sponsored by WBBJ and Jackson Sport & Fitness! The Generals will be giving away tickets to a number of SEC Football games throughout the night! Early arrivers will take home a trucker hat, and the Memphis Grizzlies Caravan will be at the game with former Kentucky standout Andrew Harrison!
Make sure to get your tickets now to see the 20th season of professional baseball in Jackson, and the first for the team as an affiliate of the Arizona Diamondbacks! Call the team at (731) 988.5299, stop by The Ballpark or go online to jacksongeneralsbaseball.com to secure your seats now!