Generals Overwhelm Smokies Early
Herum, Keller lead charge to 11-0 victory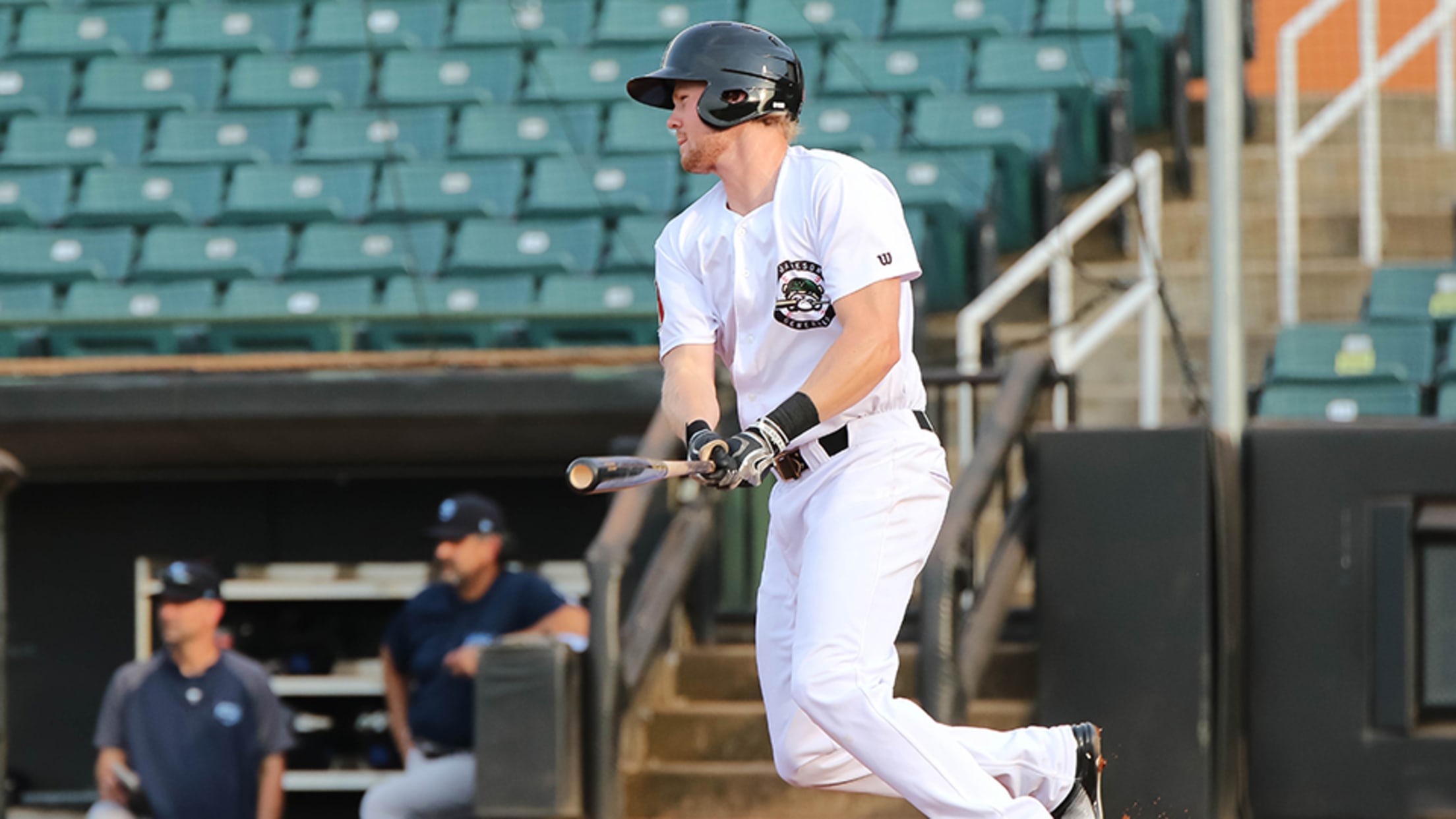 Marty Herum tied a Generals season-high with 5 RBI on Friday, helping the Generals shut out Tennessee, 11-0. The Generals' 70th win ensured a winning percentage of at least .500 for the second straight year. (Cody Cunningham)
Sevierville, Tenn. - For a leg up on their toughest opponent in 2017, the Jackson Generals turned to right-hander Brad Keller and third baseman Marty Herum on Friday night. Keller pitched well enough for his tenth win of the year, and Herum drove home five runs as the Generals (33-34,
Sevierville, Tenn. - For a leg up on their toughest opponent in 2017, the Jackson Generals turned to right-hander Brad Keller and third baseman Marty Herum on Friday night. Keller pitched well enough for his tenth win of the year, and Herum drove home five runs as the Generals (33-34, 70-67) topped Tennessee at Smokies Stadium, 11-0.
Herum, the Generals' best hitter in the month of August, lit up the Smokies (30-36, 66-69) on the first day of September, raking in four hits that included his second home run at Double-A. Keller (10-9, 4.68 ERA), presented with a 4-0 lead before taking the hill, shoved for six and two thirds innings, recording his career-high tenth win in 2017 with a season-high eight strikeouts in the effort.
After a 19-minute weather delay before the first pitch, Jackson's offense leapt off the chain at right-hander Matt Swarmer (0-2, 13.00 ERA) in the first inning. Consecutive one-out singles from Victor Reyes and Kevin Cron put two men aboard, and two batters later, Herum helped himself to an RBI single to center on the first pitch he saw, scoring Reyes for a 1-0 lead. Vladimir Frias took a similar tack, lining a single to right field that scored Cron for a 2-0 advantage. Frias then stole second base to put two Generals in scoring position, and catcher Oscar Hernández opened the sails further with a full-count, two-out single to center for a 4-0 Jackson edge.
Keller, who had taken a no-hitter into the seventh inning in his previous start, gave up a leadoff double to Charcer Burks in the bottom of the first. After a fly-out and a walk put men on the corners with one, the Jackson defense came to Keller's aid. Jason Vosler rapped a grounder down the line toward first baseman Kevin Cron, who had the presence of mind to step on first base and fire a return throw to Hernandez at home plate. The catcher spun quickly and applied the tag to a sliding Burks in time, keeping the Smokies off the scoreboard and extricating Keller from the jam.
The Generals engineered a second surge in the second inning, beginning with Keller himself. Hitless in 21 plate appearances this season, the 22-year-old Keller finally stroked his first professional hit, grounding a single through the left side of the infield to start things off. After a pair of outs, Cron strode to the dish without a home run in his past 14 contests. The league leader in long balls promptly drilled his 24th dinger of the year to left center field, pushing the Generals lead to 6-0 after two frames. Keller did his part, following up the home run with an efficient 1-2-3 retiring of the Smokies in the bottom half of the inning.
In the third inning, Herum wasted little time, attacking the second pitch in his leadoff at-bat against Swarmer. The right-hander lifted a fly ball down the right field line that carried over the head of right fielder Jeffrey Baez and beyond the wall itself, clearing the 320-foot fence for Herum's second smash at Double-A. It was Jackson's only score of the inning, but Keller made it count by nailing down the Smokies in the bottom half with a four-batter, two-strikeout frame.
Holding a 7-0 lead to begin the fourth inning, Jackson got one-out singles from Daniel Lockhart and Reyes before a flyout to right field by Cron. Kelly Dugan grounded a Swarmer pitch into the shift in shallow right field, but Tennessee second baseman Andrew Ely could not field and make the throw to first in time, allowing Dugan to reach first and load the bases. Herum, already 2-for-2 with two RBI, furthered the damage with a full-count single to left field, scoring Lockhart and Reyes for a 9-0 lead. Recalling the first inning, Frias followed suit once more, knocking a single to center field that brought home Dugan for a 10-0 Generals edge.
Keller would go on to finish six and two third innings, removed after a 102-pitch effort that qualified for his third quality start in his last four outings. Keller finishes 2017 at Jackson with 111 strikeouts and ten victories, both career-high single-season marks. His durability continues to impress, as he tallied at least 130 innings pitched in his third consecutive season.
The Generals added one further run with some sixth inning hitting from familiar sources. A one-out single by Cron put a General on base, and he moved to second on a groundout to first base. Herum, facing Tennessee's Preston Morrison, clubbed the first pitch for an RBI double to center field, putting Jackson up 11-0. With the hit, Herum tied the team-best mark in 2017 with five RBI, tying Kelly Dugan's effort against Montgomery on May 19. Herum is now hitting .309 in 40 Double-A games.
Behind Keller, Kirby Bellow skirted danger by getting a flyout from Tennessee's Andrew Ely in a two-out, bases-loaded situation in the seventh. Bellow worked a scoreless eighth inning afterward, handing the ball to Double-A debutante Mitchell Aker. The 23-year-old William & Mary alumnus pitched a 1-2-3 ninth inning, securing the Generals' league-best 16th shutout.
Beyond Herum's four-hit night, Cron collected three hits for the tenth time in 2017, while Reyes and Frias each snagged a pair of hits. Frias, Hernandez, and Cron each contributed two-RBI efforts to complement Herum, as the Generals went 7-for-11 with men in scoring position. Jackson has converted 14 of their 27 opportunities with men in scoring position in their past two games.
The Generals continue their final series of 2017 with a 7:00 pm ET start on Saturday, as right-hander Frank Duncan (1-2, 4.97 ERA) takes on Tennessee's Casey Bloomquist (1-0, 3.60 ERA). Fans can hear all the action starting with the Pregame Show 15 minutes before first pitch on Willie 94 FM & 1390 AM, as well as the Jackson Generals Baseball Network via TuneIn Radio!
Thank you to all the great fans that made 2017-Jackson's first as an Arizona affiliate-a success! The Generals open up the
2018 season at home on April 5 against Jacksonville! Call the team at (731) 988.5299, stop by The Ballpark or go online to jacksongeneralsbaseball.com to get season tickets for next year now!