Generals' Rally At Riverwalk Falls Short
Jackson drops third straight game in Montgomery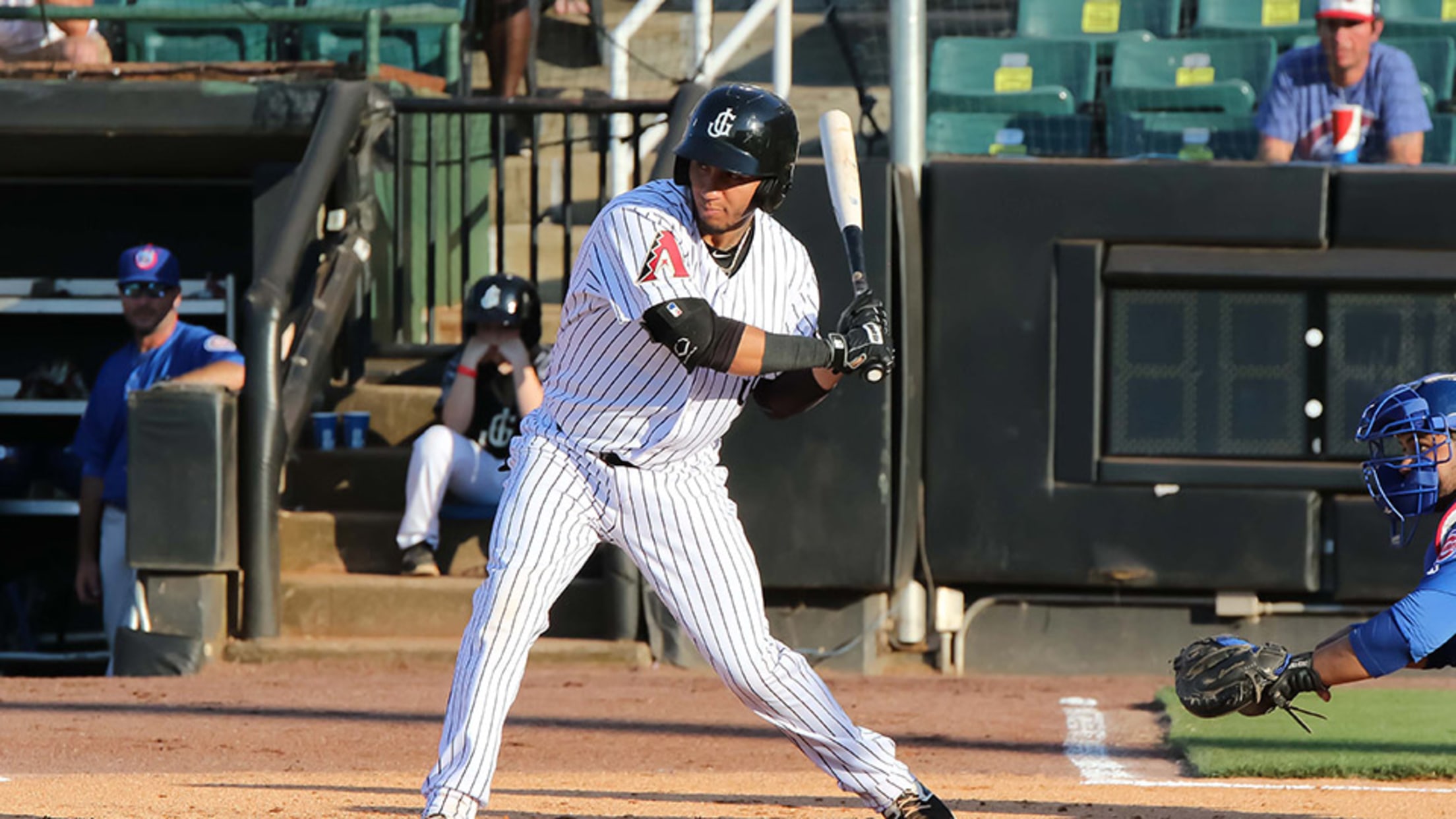 Michael Perez homered for the fourth time this season, but the Generals could not overcome Montgomery, falling 8-5 on Saturday. The loss drops Jackson six games back in the Wild Card chase. (Cody Cunningham)
Montgomery, Ala. - Despite a tied 3-3 score after three innings, the Jackson Generals (60-58, 23-24) suffered their third defeat in as many games, falling 8-5 at Montgomery on Saturday. The Biscuits took the series victory with the win, their 13th over Jackson in 18 tries this season.Kevin Cron and
Montgomery, Ala. - Despite a tied 3-3 score after three innings, the Jackson Generals (60-58, 23-24) suffered their third defeat in as many games, falling 8-5 at Montgomery on Saturday. The Biscuits took the series victory with the win, their 13th over Jackson in 18 tries this season.
Kevin Cron and Michael Perez were the core of the Generals offense, driving in four of Jackson's five runs in the contest. In defeat, the Generals dropped a full six games behind Montgomery (66-52, 29-19) in the North Division's Wild Card race.
Brad Keller's first-inning struggles allowed Montgomery to gain an early lead. The Biscuits struck for five hits in the first frame, scoring twice on Keller (8-9, 5.43 ERA). It marked the fifth straight game in which the Biscuits had scored on the Generals in the first inning.
After an Andrew Velasquez solo home run in the second made the lead 3-0, the Generals worked their way back with a three- run top of the third. Daniel Lockhart led off with a single that caromed off the leg of Montgomery second baseman Brandon Lowe, allowing Lockhart to reach second base. Two batters later, Emilio Bonifácio singled to move Jackson men to the corners, and Victor Reyes plated Bonifacio with an base hit. Kevin Cron followed Reyes with an RBI single of his own, and a sacrifice fly off the bat of Michael Perez equalized the score at 3-3. Montgomery starter Benton Moss (3-3, 3.40 ERA) retired the next seven hitters in a row, holding Jackson down in the fourth and fifth frames.
Keller kept the Generals close in the fourth inning, weathering a bases-loaded one-out situation to allow only one run. Keller gave up three singles to fill the sacks, but he recorded a strikeout of Velasquez for the inning's second out. With two strikes on Cade Gotta, the Montgomery outfielder chopped a high-hopper to third base, and he beat the throw to first by Vladimir Frias to push Montgomery in front 4-3, as a run scored from third base on the play.
The fifth was not as kind to Keller, though his defense let him down against the leadoff man. Grant Kay reached first and raced to second on an infield throwing error, and Dalton Kelly followed with an RBI single for Montgomery. Justin Williams walked to follow Kelly, and Brett Sullivan doubled to right-center field with one out to score a pair, making the Biscuits' lead 7-3. Sullivan's hit chased Keller, as Mason McCullough entered to finish the frame.
Jackson got two runs back on a two-run blast by Michael Perez in the sixth, closing within 7-5. That would be all for the Generals, as Moss finished the next three hitters in the sixth, and relievers Kyle Bird and Ian Gibaut (S, 9) did not allow a Generals run thereafter. Montgomery plated one insurance run in the ninth on a sacrifice fly, finalizing the scoreboard.
Cron went 2-for-2 with a run scored and one driven in, walking twice. Perez drove in three Jackson runs, scoring once himself. The Generals went 3-for-4 with men in scoring position, but the bottom five in the order struggled to produce, finish 0-for-19.
Right-hander Frank Duncan will make his debut for Jackson in Sunday's 5:35 pm CT start at Riverwalk Stadium. Montgomery's starting pitcher will be left-hander Logan Darnell (3-1, 3.77 ERA). Radio coverage of Friday's games will begin 15 minutes before first pitch on Willie 94 FM and 1390 AM, as well as the Jackson Generals Baseball Network via TuneIn Radio.
The Generals return home for the penultimate series in Jackson this season August 16. The series versus the Biloxi Shuckers features a Thrifty Thursday and a Leaders Credit Union Food Truck Friday! Saturday, August 19 is Big Bang Theory Night, presented by Hunt Brothers Pizza with Postgame Fireworks! The Generals will be giving away t-shirts, and one lucky fan will win a trip to Wizard World Comic Con in Nashville. Jackson's special Superhero jerseys will be auctioned off, with proceeds going to Ashley Furniture's A Hope to Dream Foundation.
The final Fireworks Show of the year is August 26! Jackson's annual SEC Night with Postgame Fireworks is sponsored by WBBJ and Jackson Sports & Fitness. The Generals will be giving away tickets to a number of SEC Football games throughout the night. Early arrivers will take home a trucker hat, and the Memphis Grizzlies Caravan will be at the game with former Kentucky Wildcat and current Grizzlies player Andrew Harrison!
Make sure to get your tickets now to see the 20th season of professional baseball in Jackson, and the first for the team as an affiliate of the Arizona Diamondbacks! Call the team at (731) 988.5299, stop by The Ballpark or go online to JacksonGeneralsBaseball.com to secure your seats now!