Gomez & Cerda Homer, But Reds Fall In Extras
Zorrilla & Serreino Combine For Three Scoreless In Relief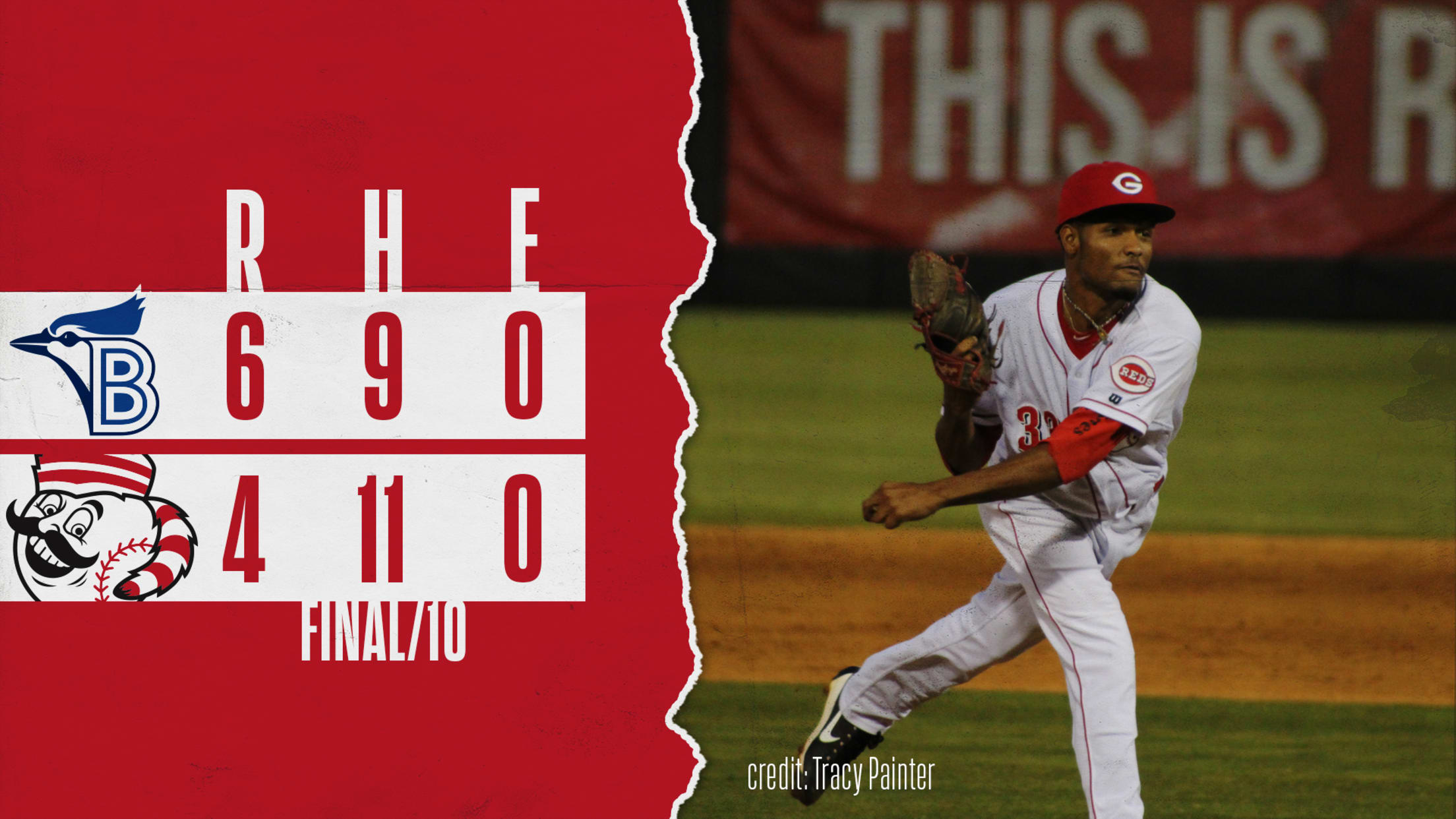 GREENEVILLE, TN - The Bluefield Blue Jays (23-23) scored two runs in the top of the tenth inning Tuesday night at Pioneer Park and defeated the Greeneville Reds (18-27) 6-4 to even up the series. The Reds trailed 4-0 after six and tied the game in the eighth before falling
GREENEVILLE, TN - The Bluefield Blue Jays (23-23) scored two runs in the top of the tenth inning Tuesday night at Pioneer Park and defeated the Greeneville Reds (18-27) 6-4 to even up the series. The Reds trailed 4-0 after six and tied the game in the eighth before falling in ten.
RHP Tyler Garbee retired the first nine Blue Jays in order before surrendering back-to-back singles to Justin Ammons and Leonardo Jimenez to open the fourth. Miguel Hiraldo hit the first pitch he saw for a three run home run to left center field.
Garbee walked Steward Berroa with one out in the fifth. Berroa stole second, and scored on Jimenez's RBI-single to extend Bluefield's lead to 4-0.
Justin Gomez hit a solo home run off RHP Lazaro Estrada, his second of the season, with one out in the seventh to put the Reds on the board. After recording the second out, Estrada walked Berryhill to extend the inning. Greeneville followed with three straight singles. The latter two, were RBI-singles from Garrett Wolforth and Tyler Callihan to cut the deficit to 4-3.
Allan Cerda led off the eighth inning with a solo home run to left field, his eighth of the year, off LHP Kyle Huckaby (W, 1-1) to tie the game at four.
RHP Tyler Gibson (L, 0-2) retired the Blue Jays in order in the top of the ninth. Wolforth led off the bottom half with a single off Huckaby, but was stranded in scoring position.
Eric Rivera pinch ran for Scotty Bradley, and led off the tenth on second base as Bluefield's bonus runner. He scored the go- ahead run on Ammons' RBI-single. Jimenez added an insurance run with an RBI-triple. RHP Yunior Hinojosa (S, 3) retired the Reds in order in the bottom half.
LHP Jose Zorrilla allowed two hits and struck out two over 1.2 scoreless innings. RHP Dan Serreino struck out one, and retired all four hitters he faced. Ivan Johnson extended his on-base streak to 19 straight games. He and Wolforth both fin- ished with two hits.
The Reds and Blue Jays will play a rubber match at Pioneer Park Wednesday night, with first pitch coming at 6:30 PM. LHP Jose Salvador (2-3, 5.19) will start for Greeneville against LHP Jimmy Robbins.
Wednesday night at Pioneer Park is All You Can Eat Wednesday.
ABOUT THE GREENEVILLE REDS
The Greeneville Reds are the Rookie affiliate of the Cincinnati Reds and a member of the ten-team Appalachian League. The Reds play at Pioneer Park on the campus of Tusculum University. To learn more about the Greeneville Reds, call 423- 609-7400 or visit www.greenevillereds.com.