Nick Gonzales sparks Hoppers to series finale win over Hot Rods
Gonzales' 4 hits moves him up to fifth in the league's batting title race; Hoppers a half-game out of playoff spot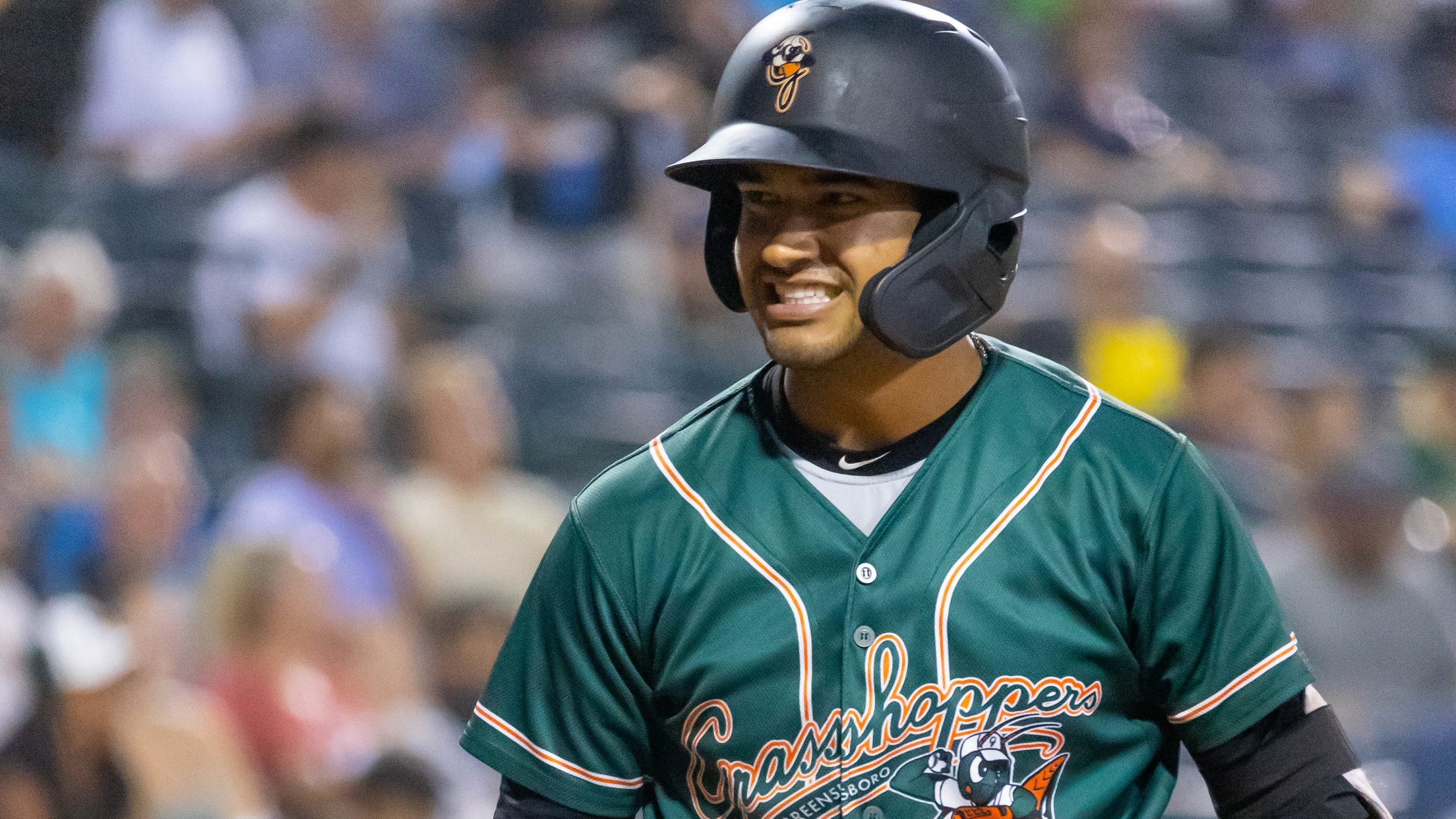 Greensboro second baseman Nick Gonzales is rated by MLB Pipeline as the No. 4 prospect in Pittsburgh's farm system. (Jak Kerley/Greensboro Grasshoppers)
GREENSBORO ― Nick Gonzales went 4-for-5 with a home run and a double, continuing a torrid August and leading the Greensboro Grasshoppers to an 11-6 victory over the Bowling Green Hot Rods on Sunday afternoon at First National Bank Field. Gonzales, a 22-year-old second baseman picked seventh overall in the
GREENSBORO ― Nick Gonzales went 4-for-5 with a home run and a double, continuing a torrid August and leading the Greensboro Grasshoppers to an 11-6 victory over the Bowling Green Hot Rods on Sunday afternoon at First National Bank Field.
Gonzales, a 22-year-old second baseman picked seventh overall in the 2020 draft, slipped from No. 1 to No. 4 in MLB Pipeline's revised rankings of Pittsburgh Pirates prospects this week.
That may have been premature.
Gonzales has batted .373 in August, continuing an upward trend to his first full season of pro ball. Gonzales broke a finger in a first-base collision back in May and went on the injured list. He struggled to regain his form when he returned from the injury, his batting average slipping to a season-low .214 on July 15.
But now the 5-foot-10 infielder with the quick right-handed swing has climbed to fifth in the High-A East with a .298 batting average. He has hit safely in 12 of his last 13 games. And in the 31 games since his average dipped to .214, Gonzales is batting .375 (48-for-128) with 10 doubles, two triples, five home runs and 20 RBIs.
In Sunday's series finale against Bowling Green, Gonzales hit an RBI double in the second inning and a solo home run in the fourth as Greensboro took a 10-0 lead.
Matt Gorski went 2-for-5 with his 14th home run of the season, and Will Matthiessen opened the scoring with his ninth homer of the year.
Gorski is 15-for-46 (.326) with four home runs, three doubles and nine runs scored in his last 13 games.
Matthiessen, meanwhile, was a thorn in Bowling Green's side this year. The 6-foot-7 outfielder/first baseman played in 10 of the Hoppers' 12 games against the Hot Rods this summer and went 16-for-42 (.381) with two home runs, five doubles, 11 RBIs and seven runs scored against the league's best team.
Yoyner Fajardo and Andres Alvarez had three hits apiece in the series finale. Both hit doubles in the game, and they combined for four runs scored and three RBIs.
Hard-throwing Colin Selby (3-1, 5.12 ERA) picked up the win in relief, allowing only a solo home run in three strong innings. Right-hander Tahnaj Thomas, rated by MLB Pipeline as Pittsburgh's No. 13 prospect, started and pitched four scoreless innings, leaving after throwing 82 pitches.
Bowling Green (67-29) leads second-place Greensboro (60-36) by seven games in the High-A East's South Division standings. The Hoppers trail North Division leader Hudson Valley (60-35) by a half-game in the race for the league's second playoff spot. The Renegades' game against Brooklyn was postponed Sunday because of Hurricane Henri, and it will be made up as part of a doubleheader Sept. 8.
The teams with the top two records, regardless of division, qualify for the 12-team league's championship series in September. Greensboro plays 12 of its last 18 games against Hudson Valley.
Notes
Bowling Green won the series four games to two, ending Greensboro's streak of 15 consecutive six-game series won or split. Since splitting their first five series of the season, the Grasshoppers are 45-21 (.682 win percentage).
Bowling Green first baseman Evan Edwards ― a Greensboro native who starred at Southern Guilford and N.C. State ― got the afternoon off in the series finale. It was a superb homecoming for Edwards, who started the other five games of the series and hit his 18th, 19th and 20th home runs of the season. Edwards, finished 7-for-21 in Greensboro with three home runs, a triple, two doubles and seven RBIs at First National Bank Field.
Among players with enough plate appearances to qualify, the Hoppers have three of the High-A East's top seven batting averages: Matt Fraizer leads the league at .314, second baseman Nick Gonzales is fifth at .298 and third baseman Jared Triolo is seventh at .292. Fraizer was promoted to Class-AA Altoona on Aug. 5 and has batted .364 in 15 games for the Curve.
Jared Triolo, who had a 20-game hitting streak snapped Thursday, has gone just 1-for-17 in his last four games. Even so, it's been a season of steady growth for the 72nd overall pick in the 2019 draft. Triolo was batting just .217 on June 2, but in 65 games since then he has batted .316 with 15 doubles, 11 home runs, 50 RBIs and 20 stolen bases. He ranks third in the High-A East with 65 RBIs this season.
In MLB Pipeline's revised list of Pittsburgh's prospects, Greensboro has seven of the top 15: No. 1 catcher Henry Davis; No. 2 pitcher Quinn Priester, No. 4 second baseman Nick Gonzales, No. 5 shortstop Liover Peguero, No. 10 pitcher Carmen Mlodzinski, No. 13 pitcher Tahnaj Thomas and No. 14 pitcher Michael Burrows.
In his career at the News & Record, journalist Jeff Mills won 10 national and 12 state writing awards from the Associated Press Sports Editors, the Society for Features Journalism, and the N.C. Press Association.