Voyagers turn textbook triple play
White Sox prospects Nunez, Sosa, Coffey end threat in third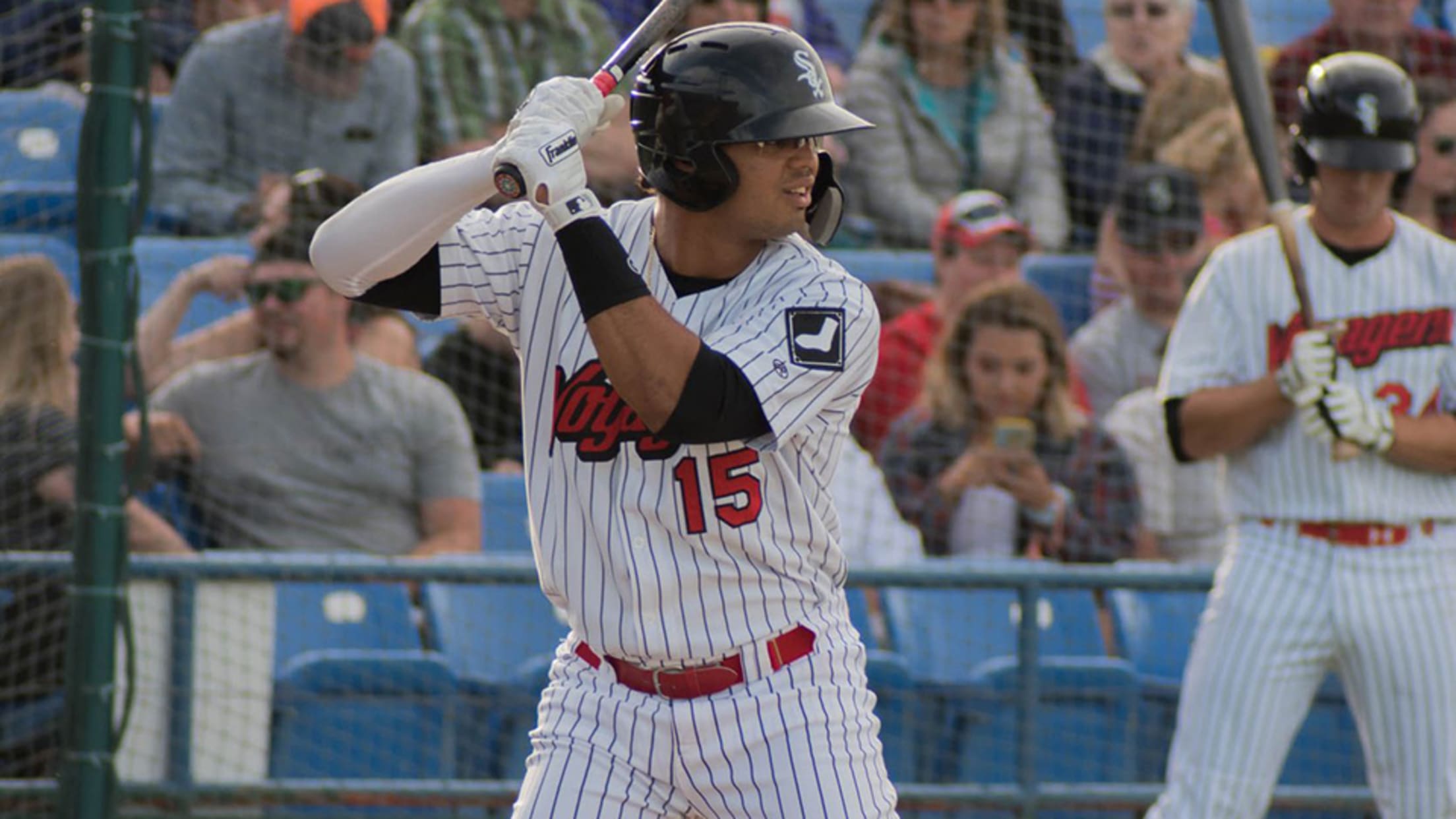 Amado Nunez ranked among the Pioneer League leaders in seven offensive categories. (Great Falls Voyagers)
For Rookie-level Great Falls, good things seem to happen when second baseman Amado Nunez gets involved.The 20-year-old leads the team in batting, extra-base hits and RBIs and had given the Voyagers an early lead over Helena on Tuesday.So when starter Codi Heuer walked Mike Alescio and gave up a base
For Rookie-level Great Falls, good things seem to happen when second baseman Amado Nunez gets involved.
The 20-year-old leads the team in batting, extra-base hits and RBIs and had given the Voyagers an early lead over Helena on Tuesday.
So when starter Codi Heuer walked Mike Alescio and gave up a base hit to Je'Von Ward to open the third inning, the thought of escaping without giving up a run seemed improbable. It took just one pitch and execution by some carefully placed infielders to get out of the inning unscathed, however.
Brewers center fielder Pablo Abreu went after Heuer's first offering and sent a liner to Nunez at second. Nunez made the snag and wheeled to shortstop Lenyn Sosa, who adjusted back to the inside part of the baseline to throw behind Ward and fired to Micah Coffey at first base to complete the triple play.
"I noticed the guy on first had gotten a pretty good jump," Coffey said. "So I thought maybe he'd come straight to first, but he turned and threw it straight to second base and I was able to make it to first in time. It all happened so fast that once it was said and done, everybody realized what had just happened.
"[The dugout] kind of was just all smiles, everybody just realizing that they witnessed something pretty special. ... It was a pretty fun moment in the dugout, everyone was laughing and smiling. Kind of a really big pick-me-up in an inning that could have gone south pretty quick."
Nunez added a sixth-inning solo shot to his RBI single in the opening frame as Great Falls held on for a 3-2 victory at Kindrick Legion Field.
Gameday box score
The native of the Dominican Republic has five homers and paces the Voyagers' offense with a .341 average, 42 RBIs, five triples 19 doubles and 72 hits, one more than Sosa, his double play partner. His first long ball this season came during a 5-for-5 performance against Missoula on Aug. 4.
"The offensive talent is off the charts," the 23-year-old Coffey said of Nunez. "What he can do when he's up at the plate is pretty special. We know that we're always in a pretty good spot when he's up."
Nunez signed with the White Sox for $900,000 in 2014 and played two seasons in the Rookie-level Arizona League before making his Voyagers debut last summer. The 6-foot-2, 178-pounder batted .183/.247/.246 with a homer and 17 RBIs over 34 games in his first Pioneer League action. He hit a grand slam against Orem on July 23 that sparked a run of back-to-back-to-back homers.
While the ability to hit has obviously been the dominant tool for Nunez, he has struggled defensively as a pro. He broke in as a shortstop but committed 40 errors over his first two seasons before being moved last year to third base, where he totaled 14 miscues. He's matched that total this season in 41 games at second base with three more errors in eight contests at first.
Coffey, the Voyagers' regular first baseman, noticed a recent improvement in Nunez's defensive profile.
"He's really been able to step it up defensively," Coffey said. "I know he struggled a little bit the first couple weeks, but he's really played a very solid second base for the last couple days."
A first-inning single was Sosa's lone hit in four at-bats, bringing his average to .292. Signed out of Venezuela for $350,000 as a 16-year-old in 2016, he played all of last year in the AZL, batting .270/.330/.358 with eight extra-base hits, 23 RBIs and 19 runs scored in 42 contests.
Coffey went hitless in three at-bats. The 30th-round pick in this year's Draft out of the University of Minnesota is batting .222 with a homer, 11 runs scored and five RBIs in 21 games with Great Falls. He was assigned to the AZL out of the Draft and batted .275/.375/.333 with four doubles and 12 RBIs in 19 contests there.
Heuer yielded three hits and a walk with four strikeouts over three scoreless frames. Nick Johnson worked around a leadoff single in the ninth for his fifth save.
Gerard Gilberto is a contributor to MiLB.com. Follow and interact with him on Twitter, @GerardGilberto4.