Hoppers win second straight to move back over .500
Sammy Siani's home run and Endy Rodriguez's 2-run double keys to 8-4 victory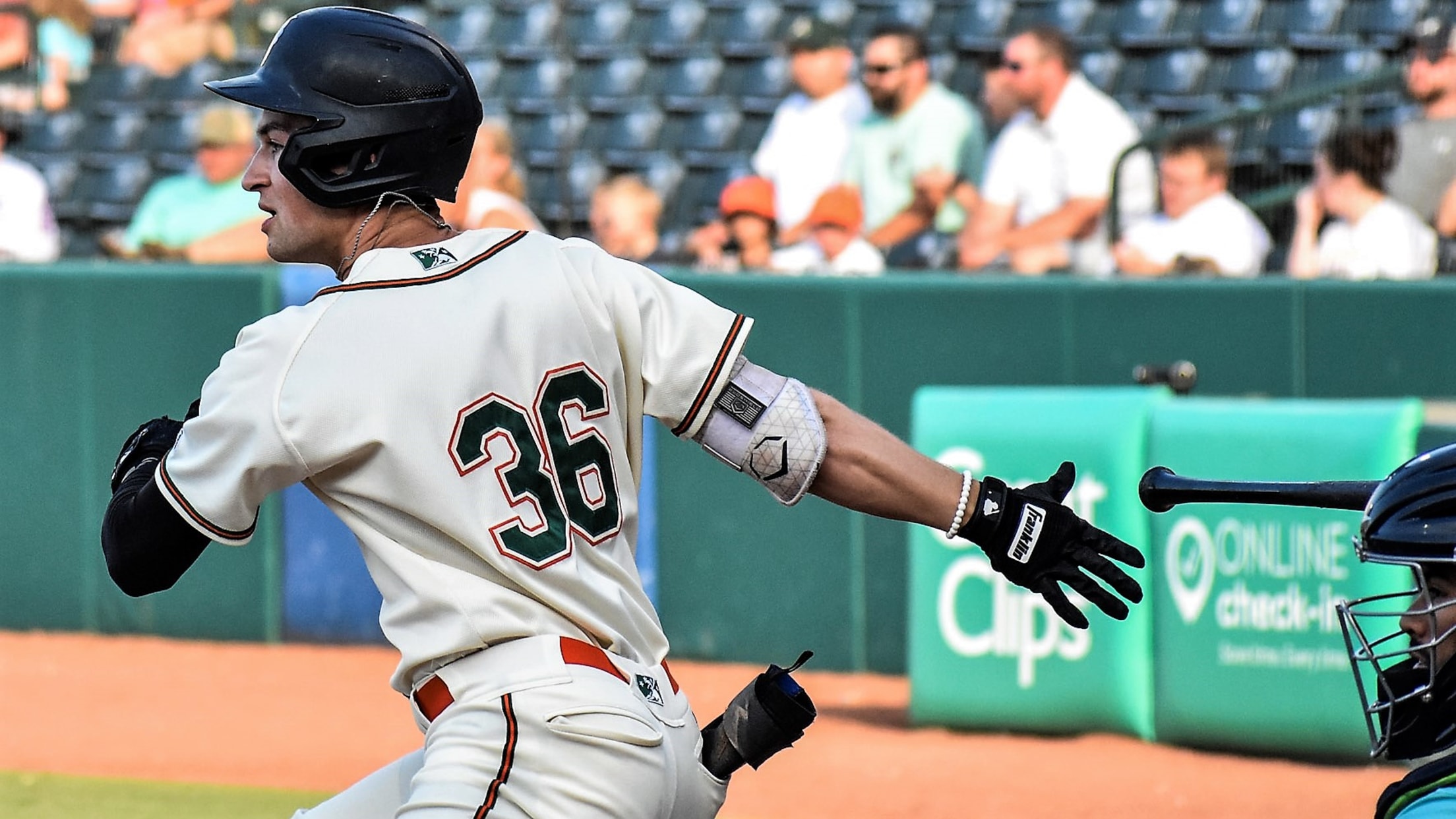 Greensboro outfielder Sammy Siani went 2-for-4 with a two-run home run Wednesday night. (Kaylen Ayres/contributed photo)
GREENSBORO ― Sammy Siani hit a two-run home run, and Endy Rodriguez's two-run double was the key hit in a rally that led the Greensboro Grasshoppers to an 8-4 victory over the Greenville Drive at First National Bank Field on Wednesday night. Siani finished 2-for-4 with two runs scored and
GREENSBORO ― Sammy Siani hit a two-run home run, and Endy Rodriguez's two-run double was the key hit in a rally that led the Greensboro Grasshoppers to an 8-4 victory over the Greenville Drive at First National Bank Field on Wednesday night.
Siani finished 2-for-4 with two runs scored and two RBIs as the Hoppers (33-43 overall) improved to 6-5 in the second half of the South Atlantic League season and pulled into a four-way tie atop the North Division standings.
Right-hander Sean Sullivan (2-4) picked up the win with five solid innings of middle relief.
The Hoppers broke a 2-2 tie by scoring five runs in the fourth inning off losing pitcher Wyatt Olds (1-6). Greensboro sent nine men to the plate against the side-arming right-hander.
Siani singled to start the inning and took second with one out when Hudson Head was hit by a pitch. Luke Brown broke the tie with an RBI single. Yoyner Fajardo chopped the next pitch over the first baseman for another run-scoring single, and Rodriguez broke the game open with his two-run double to right field.
Jacob Gonzalez capped the rally with and RBI single to score Rodriguez from second.
Fajardo and Rodriguez finished with two hits apiece, and Brown had two RBIs as the Hoppers pounded out 11 hits and went 5-for-9 with runners in scoring position.
Greenville third baseman Nick Northcut went 2-for-4 with his league-leading 23rd home run of the season to lead the Drive.
NOTES
Third baseman Dariel Lopez went 1-for-4 with a run scored. He has hit safely in 19 of his last 21 games, going 30-for-91 (.330) with five home runs, four doubles, 15 RBIs and 19 runs scored. He has nine multi-hit games in that span.
Catcher Endy Rodriguez hit his 16th double of the season. He has hit safely in 21 of his last 25 games, going 26-for-74 (.351) with nine doubles, three home runs, 18 RBIs and 13 runs scored. The versatile 22-year-old is rated by MLB Pipeline as Pittsburgh's No. 7 prospect, and he has played four positions ― catcher, first base, second base and left field ― this season.
First baseman Jacob Gonzalez went 1-for-5 with an RBI, and he has reached base in 18 of his last 19 games. Since his promotion from Class-A Bradenton on May 10, Gonzalez has reached base in 35 of 41 games, with 13 multi-hit games. Gonzalez is 48-for-157 (.306) with seven doubles, a triple, five home runs and 21 RBIs.
Designated hitter Abrahan Gutierrez was the only Hopper in the lineup not to reach base Wednesday. But Gutierrez has been hot, reaching base in 13 of his last 16 games, going 18-for-58 (.310) during that span with three doubles, a home run and 10 RBIs.
Sammy Siani, a 21-year-old outfielder, has batted .265 (22-for-83) with 14 walks, 21 runs scored and 11 stolen bases in 24 games since June 1. He had a 10-game hitting streak in June, and has raised his season batting average 27 points since Memorial Day. Siani was the 37th overall pick in the 2019 draft, a high school player selected between the first and second rounds.
In his career at the News & Record, journalist Jeff Mills won 10 national and 12 state writing awards from the Associated Press Sports Editors, the Society for Features Journalism, and the N.C. Press Association.