Grizz tame Cats 11-2 Friday night before record crowd
7th largest crowd (13,916) in Chukchansi Park history watches offensive outburst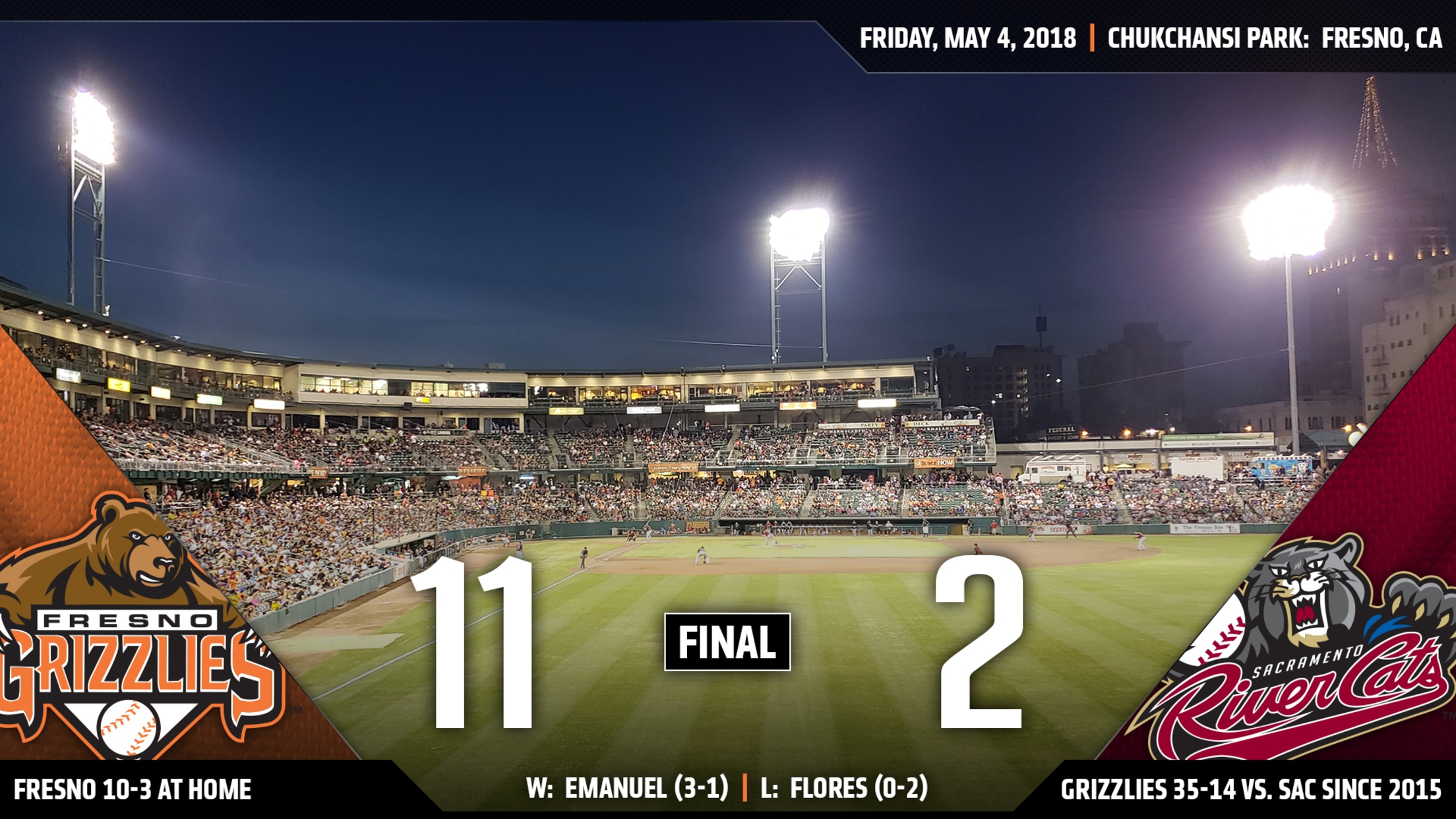 The Fresno Grizzlies (19-10) beat the Sacramento River Cats (13-15) 11-2 Friday night from Chukchansi Park. For the 10th time this season, Fresno notched double-digits on the scoreboard. Five players tallied multi-hits while four drove in two RBI. Tony Kemp (3-for-4) picked up a hit for the 11th straight game
The Fresno Grizzlies (19-10) beat the Sacramento River Cats (13-15) 11-2 Friday night from Chukchansi Park. For the 10th time this season, Fresno notched double-digits on the scoreboard. Five players tallied multi-hits while four drove in two RBI. Tony Kemp (3-for-4) picked up a hit for the 11th straight game (team-high) while stealing two bases. This gives him 12 swiped bags without being caught on the year. Kent Emanuel (3-1) brought home the win after his longest outing of the season. He went six and two-thirds innings, scattering eight hits, two runs (earned), walking two and fanning six.
Sacramento clawed the first run across in the top of the fourth with a RBI single by Chase d'Arnaud. The lead extended to 2-0 in the top of the fifth when Chris Shaw (2-for-4) spanked a double to right field.
With two outs in the home half of the fifth, the Grizzlies rallied to take a 3-2 advantage. After Drew Ferguson was plunked with the bases-loaded, Kyle Tucker (2-for-5) laced a go-ahead single to right, plating two. That would finish the line for Sacramento starter Jose Flores (0-2, loss). He went five frames, allowing five hits, three runs (earned), walking one and punching out a pair.
In the bottom of the sixth, Garrett Stubbs (2-for-5) raced around the bases and scored on a single and error by the River Cats. The lead expanded to 8-2 in the bottom of the seventh when Tyler White roped a ground-rule double to center, recording two. He would waltz home on a triple by AJ Reed. It was Reed's team-leading third triple and second straight night with that feat. Finally, J.D. Davis (2-for-4) poked a single to right, making the deficit six for Sacramento.
Fresno bumped up the lead to 11-2 with three more runs in the bottom of the eighth from an error and two walks. The nine-run lead was enough for James Hoyt, tossing a scoreless ninth.
The Grizzlies are 10-3 at home this season and 35-14 overall versus the River Cats since 2015 when the affiliation joined Houston.
Game two of the four-game set will be played Saturday night from Chukchansi Park. Fresno RHP David Paulino (0-0, 6.00) squares off with Sacramento RHP Tyler Beede (1-2, 4.57). First pitch is scheduled for 7:05 PT.