Grizzlies' 8-game win streak vs. Reno snapped on Sunday
Fresno slips to 13-5 on the season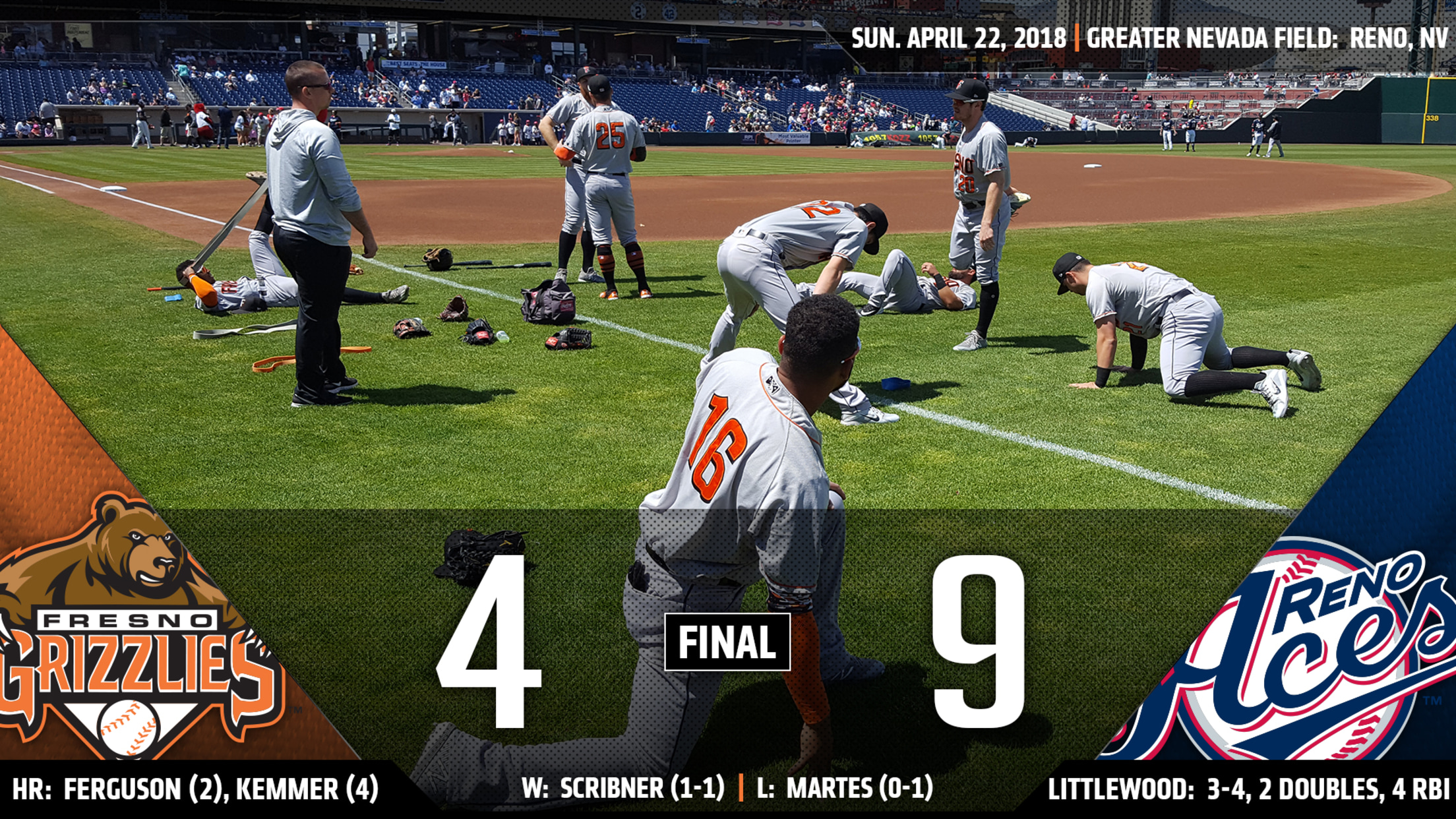 Putting their 6-0 day game record back on the line Sunday in Reno, the Fresno Grizzlies (13-5) suffered their first loss of 2018 in the sunshine to the Aces (5-13), by a 9-3 final.Kristopher Negrón (2-for-4, 2 RBI) opened the scoring for the home team, lifting a solo homer (1)
Putting their 6-0 day game record back on the line Sunday in Reno, the Fresno Grizzlies (13-5) suffered their first loss of 2018 in the sunshine to the Aces (5-13), by a 9-3 final.
Kristopher Negrón (2-for-4, 2 RBI) opened the scoring for the home team, lifting a solo homer (1) to right field in the bottom of the third. The lead was short-lived, when Drew Ferguson (2-for-3) went opposite field to right for his second home run of the season in the fourth, evening the score 1-1. Reno bounced back and re-took the lead a a half inning later however, opening their frame with a walk and four consecutive hits. RBI singles by Yasmany Tomás (2-for-5) and Negron made it a 3-1 game.
Jack Mayfield (2-for-4) led off the fifth with a double, and later scored on a Jon Kemmer RBI groundout, trimming the Aces' lead to 3-2. It was 6-2 after the home half, when Reno scored three times on four hits. Marcus Littlewood's two-run double was the big blow.
Fresno starter Francis Martes (0-1) lasted 4.2 innings (11 H, 6 R, 6 ER, 2 BB, 3 K), on his first decision of the year.
Kyle Tucker (2-for-4) ripped a one-out double in the sixth, and scored a batter later on a J.D. Davis (2-for-3) RBI single, to pull within three runs.
Reno starter Troy Scriber (1-1) worked 5.1 innings (5 H, 3 R, 3 ER, 1 BB, 1 K) to pick up the win.
Still leading 6-3 in the seventh, Reno added another on Cody Decker's sixth homer, a solo shot to right. Littlewood (3-for-4, 4 RBI) added his second two-RBI double of the day two batters later, putting the game out of reach. Kemmer added his fourth home run of the season in the ninth, a 437-foot solo blast to right field.
The finale of the three-game set is Monday, at 11:35 a.m. PT. The Grizzlies are 4-2 on the road trip thus far, and are going for their fifth consecutive series win to start the season in the rubber match at Greater Nevada Field in Reno.