Grizzlies act offensive again in Las Vegas finale, win 18-5
Reed (2 HR, 5 RBI), Tucker (HR, 5 RBI) & Kemmer (2 HR) finish barrage of 19 Fresno homers and 61 runs in four-game series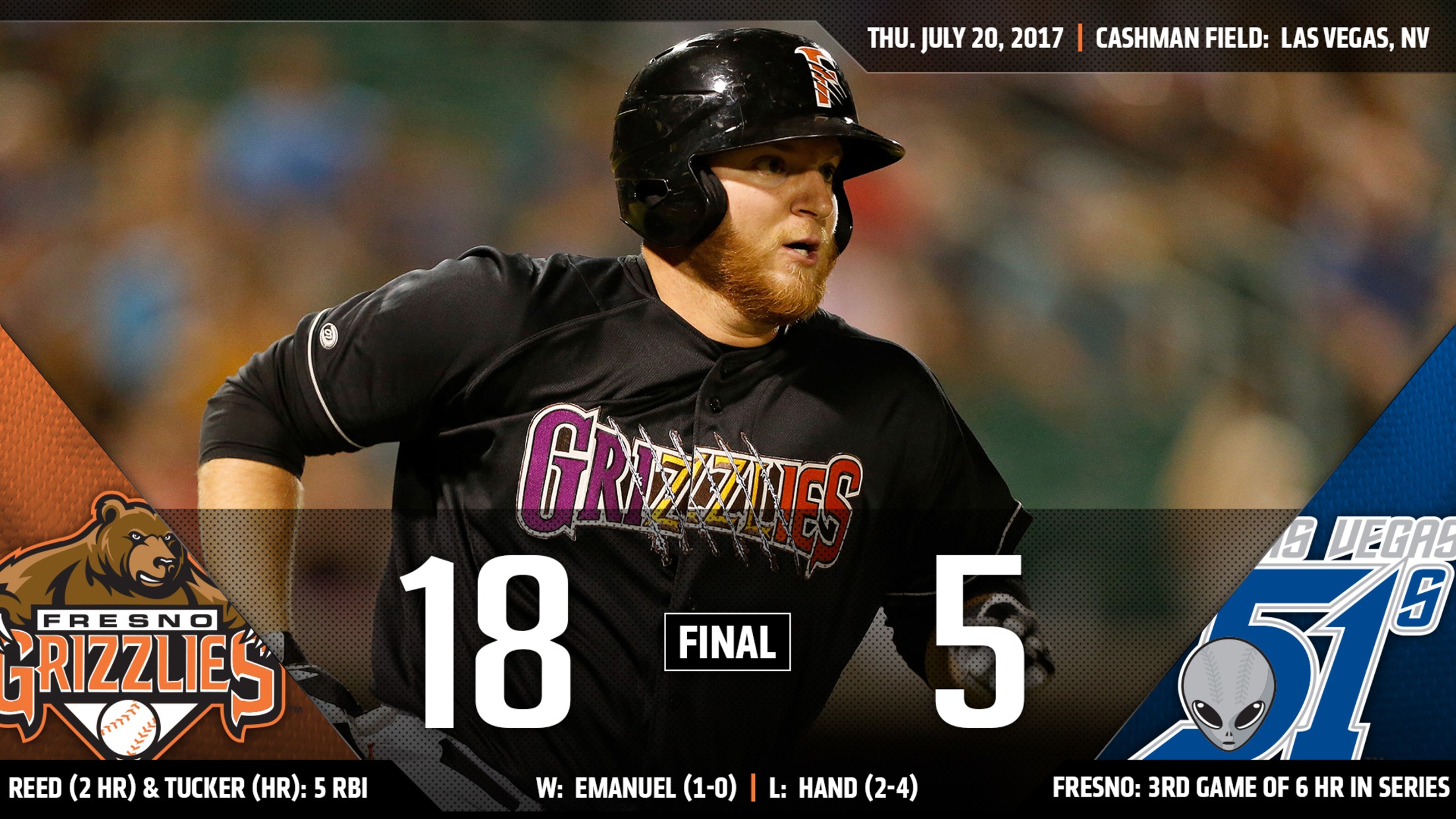 In taking three of four games from the Las Vegas 51s (37-61), the Fresno Grizzlies (56-42), scored a combined 61 runs on 66 hits, with 19 home runs in the series. With an 18-5 win at Cashman Field on Thursday night, the Grizzlies kept pace with the Reno Aces (beat
In taking three of four games from the Las Vegas 51s (37-61), the Fresno Grizzlies (56-42), scored a combined 61 runs on 66 hits, with 19 home runs in the series. With an 18-5 win at Cashman Field on Thursday night, the Grizzlies kept pace with the Reno Aces (beat Salt Lake 7-2 at home), remaining just one game back in the Pacific North Division. After trailing 3-0 after an inning, Fresno scored in the next six consecutive frames en route to the victory, 18 unanswered runs. For the third time in the four-game series, the Grizz hit six home runs in a game, equaling their season high, a feat they've accomplished five times in 2017
With 149 home runs as a club, Fresno continues to lead all of Minor League Baseball in longballs by a healthy margin. El Paso is second to Fresno in both the Pacific Coast League and MiLB, with 131 as a team. The Grizzlies are averaging nearly six and a half runs per game this season (6.38, 625 runs in 98 games), following this week's outburst.
Trailing 3-0 in the second, Reid Brignac smacked a two-out solo homer (12) to right-center to get the Grizzlies on the board. The game was tied 3-3 an inning later when Preston Tucker (3-for-4, 5 RBI) lined a two-RBI single to right, scoring Jon Kemmer (3-for-5, 2 RBI) and Derek Fisher (stolen base) who had singled earlier in the inning.
Still tied in the fourth, Fresno took a 5-3 lead when Fisher (3-for-3, 2 RBI), on his third hit of the night, drove in Max Stassi (single) and Tony Kemp (walk) on a two-run single up the middle. Fisher then swiped his second bag of the night, and his steal of second allowed Kemmer (walk) to score on a steal of home.
Leading 6-3 in the fifth, Fresno tacked on two more with an A.J. Reed homer to right-center (18). His sixth homer of July made it 8-3, before a six-run sixth made it 14-3 Grizzlies. Kemmer drilled an opposite-field solo shot to left with one out (12), before the table was set for a three-run bomb to right by Tucker (17), his third hit of the night. Paired with his two-run single earlier, Tucker increased his club-leading RBI total to 73, with a season-high five RBI. The onslaught continued with a Stassi (2-for-6, 2 RBI) two-RBI double to the centerfield wall.
In his first career Triple-A start, left-hander Kent Emanuel (1-0) settled down to toss five innings after a rocky three-run first. He scattered just five hits, with three (earned) runs. He walked six and struck out four. Las Vegas starter Donovan Hand (2-4) was chased from the game after four innings, allowing six (earned) runs on eight hits, with two walks and two strikeouts.
Tucker is on pace for 106 RBI this season, which would tie the third-best single-season effort in franchise history. Scott McClain holds the record, driving in 108 runs for the 2008 Grizzlies as a San Francisco Giants farmhand. The most recent 100 RBI season for Fresno was Matt Duffy's 104 in 2015 (fourth all-time), which is also the high for a Houston Astros affiliated player in Grizzlies history.
The home runs continued to fly in the seventh with the fifth and sixth homers of the night for the visitors. Kemmer (13) lifted his second solo shot of the game to the opposite field in left, before a three-run clout off the bat of Reed (2-for-5, 5 RBI) to right, his second dinger of the night and 19th of the year, to finish the Fresno scoring for the evening. Reed joined Tucker with a personal 2017-best five RBI. Kemmer and Reed now make it seven players with a two-homer game for the Grizzlies this season, joining Colin Moran, Max Stassi, Preston Tucker and Tyler White. Reid Brignac and Teoscar Hernandez have done it twice.
Kemp did not register a base hit in the game, concluding a 24-game hit streak. The streak stands as the longest in Grizzlies history as a Houston Astros affiliate (since 2015), and it's the longest streak in all of Triple-A baseball this season.
Fresno begins an eight-game homestand Friday with RHP Dean Deetz (2-3, 9.74) on the mound, opposite Round Rock RHP David Ledbetter (2-1, 3.29) in the opener of a four-game series. Game time is 7:05 p.m. at Chukchansi Park. The Grizzlies are now 21-4 since June 23, and 38-13 since May 25. Fresno has won 12 of their last 13 road games.