Grizzlies begin post-break with an 8-5 loss at Sacramento
Opener of four-game set as rivals vie for division lead this weekend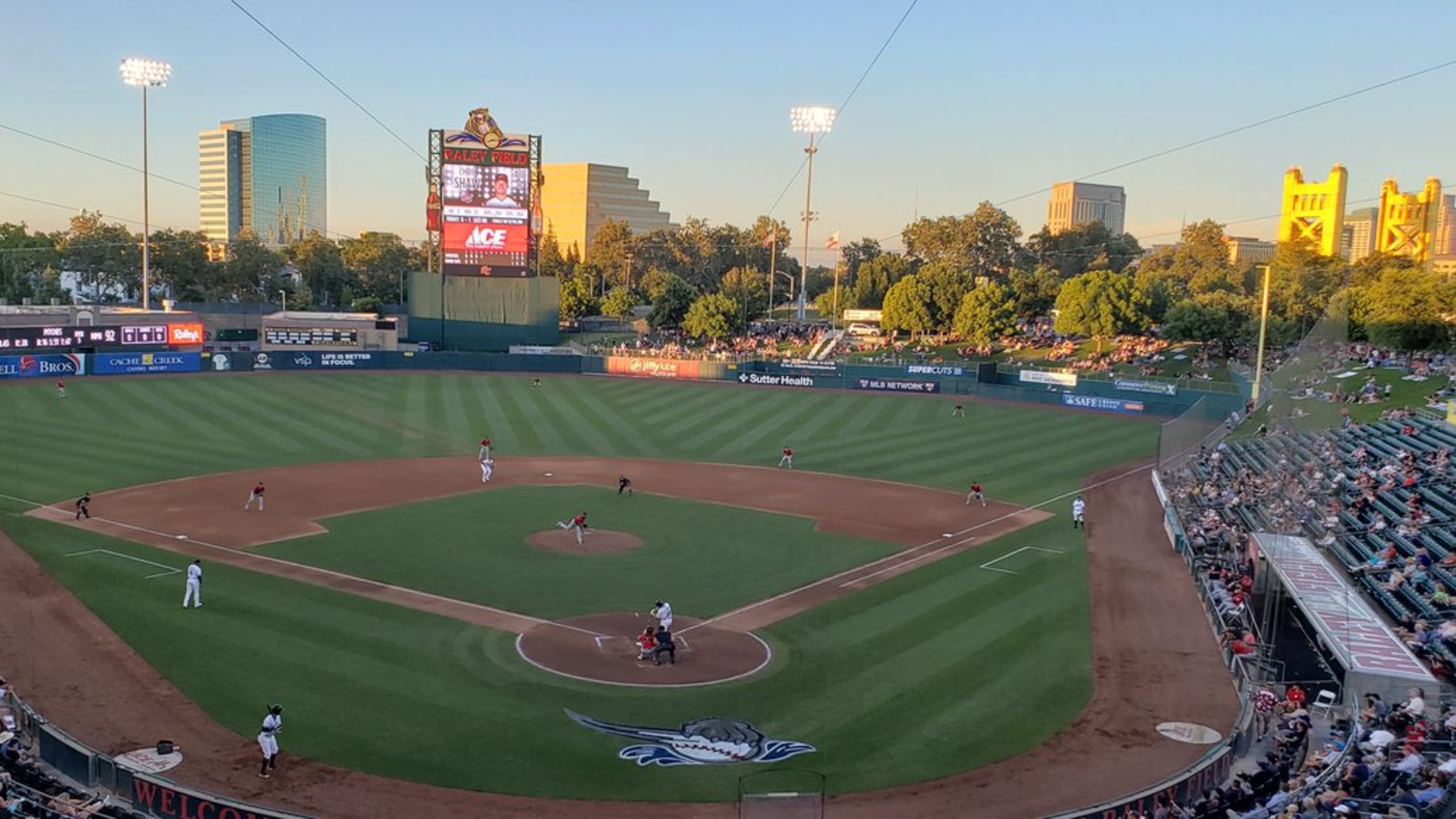 Sacramento, Calif. (Thursday, July 11) - The Fresno Grizzlies (46-45) endured a rare road loss to the Sacramento River Cats (47-43) on Thursday evening; Fresno dropped to 28-9 at Raley Field in West Sacramento since the beginning of the 2015 season (3-2 in 2019). The River Cats moved a game
Sacramento, Calif. (Thursday, July 11) - The Fresno Grizzlies (46-45) endured a rare road loss to the Sacramento River Cats (47-43) on Thursday evening; Fresno dropped to 28-9 at Raley Field in West Sacramento since the beginning of the 2015 season (3-2 in 2019). The River Cats moved a game and a half ahead of the Grizzlies in the Pacific Northern Division standings, as the post-all-star break schedule commences in the PCL.
The River Cats bit first, when a Steven Dugger RBI single in the third inning staked the home side to a 1-0 lead. A lead which was short-lived, when three Fresno singles in the top of the fourth was punctuated by a Taylor Gushue RBI to tie it.
Leading 3-1 in the fifth, Sacramento tacked on another, when Mike Gerber singled home Duggar (walk, stolen base). Trailing 4-1 in the sixth, the Grizzlies tightened things up when Alec Keller stroked a two-run double to right field with one out and the bases loaded, reducing the deficit to a run.
The Fresno momentum was momentarily squelched in the seventh when Sacramento plated three runs, thanks to a Joey Rickard RBI double and a two-run single by Chris Shaw. But in the visitor half of the eighth, a Matt Reynolds leadoff double to the gap in left was the prelude to Gushue's eighth homer of the season, belted to right center to make the score 7-5. That was before a Dugger RBI double in the eighth rounded out the Sacramento scoring to put the game out of reach; former Grizz Jandel Gustave retired the side in order in the ninth for his sixth save.
Top Performers: Fresno Grizzlies (Washington Nationals)
• C Taylor Gushue (2-4, HR, 3 RBI)
• CF Andrew Stevenson (3-5, 3 2B)
• PH Alec Keller (2B, 2 RBI)
Top Performers: Sacramento River Cats (San Francisco Giants)
• CF Steven Duggar (3-4, 2B, 2 RBI, 2 R, BB)
• SS Abiatal Avelino (2-4, 2B, RBI, 2 R)
• RHP Jandel Gustave (1.0 IP, 0 H, 0 BB, 1 K, save)
ON THAT FRES-NOTE: Thursday was a tough-luck night for Fresno centerfielder Andrew Stevenson. The lefty doubled three times, but was stranded at second base on each occasion.
Thursday also snapped a streak of seven consecutive non-regulation games between the Grizzlies and Sacramento. The clubs' most-recent scheduled nine-inning game had been on May 8, a 4-1 Grizzlies win at Raley Field. The clubs played 10 innings on May 9, a 7-4 Fresno victory, and 10 again on May 10, a 7-6 River Cats win. May 17 featured two seven-inning contests in a doubleheader split at Chukchansi Park following a rainout on May 16 (Game 2 eighth and ninth innings were extras), before SAC swept a doubleheader on May 19, after another rainout on the 18th. Fresno outlasted Sacramento 4-3 in 10 innings on May 20 in the clubs' most-recent meeting before Thursday.