Grizzlies can't hang on in 6-5 loss (10) at Memphis
Redbirds rally down 5-0 after four innings; A.J. Reed (3-for-5, double, 3 RBI) has hit safely in 10 of 11 games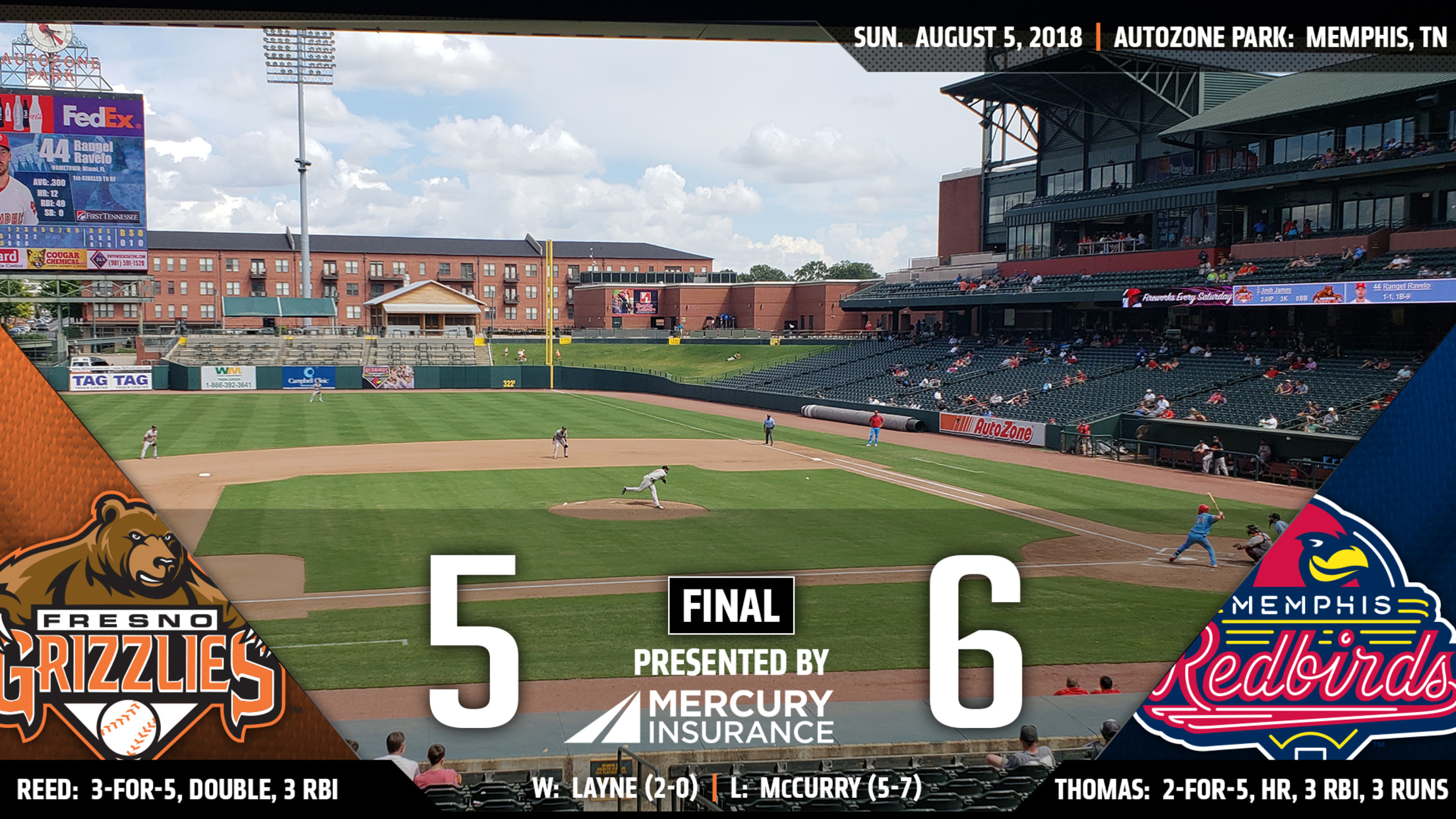 The Fresno Grizzlies (64-49) fell to 1-4 on their seven-game road trip through Tennessee, surrendering a 5-0 fourth inning lead on Sunday before dropping a 6-5 decision in 10 innings to the Memphis Redbirds (71-42). The Grizzlies slipped to 4-6 in extra innings this season (1-3 road).Fresno struck in the
The Fresno Grizzlies (64-49) fell to 1-4 on their seven-game road trip through Tennessee, surrendering a 5-0 fourth inning lead on Sunday before dropping a 6-5 decision in 10 innings to the Memphis Redbirds (71-42). The Grizzlies slipped to 4-6 in extra innings this season (1-3 road).
Fresno struck in the first inning after Myles Straw (2-for-6) led the game with a ground ball single to right field, before stealing his professional baseball-leading 55th base, and his 20th with the Grizzlies (in 22 attempts). He scored from third following a groundout and an AJ Reed (3-for-5) RBI knock to center, for a 1-0 lead.
Still leading 1-0 in the third, Jamie Ritchie ripped a two-out double down the right field line, scoring two for a 3-0 Fresno advantage. It was 5-0 Grizzlies in the fourth, when Reed crushed his second hit of the day, a double off the wall in center that scored both Straw and Taylor Jones following singles. Straw stole his second base of the day (56 overall, 21 in Fresno in 23 attempts), and Reed leads all of Triple-A with 87 RBI.
Redbirds starter Connor Jones lasted just two and a third innings, giving up five hits and walking three. All three runs allowed were earned, and he struck out five.
Memphis cut the lead to two in the home half of the fifth, when Lane Thomas (2-for-5) went deep to the left field alley with two out and two on, his second homer since joining the Redbirds.
Fresno starter Josh James worked a quality start, tossing six innings with all three (earned) runs coming on the homer. He allowed just three hits total and one walk, striking out seven. In just 14 Triple-A starts (77.1 IP), James has struck out 116 batters, which for the time being ties him for second in the PCL.
With the Grizzlies on top 5-3 in the eighth, Memphis rallied to tie the score on three consecutive one out base hits by Thomas, Rangel Ravelo (3-for-5) and Justin Williams, which snapped a consecutive scoreless innings streak for Grizz reliever Dean Deetz at 16.1 IP.
Knotted 5-5 in the bottom of the 10th, Ravelo led off with a bloop into right field, which scored Thomas from second base (extra inning tiebreaker rule), with Thomas sliding in to beat a play at the plate for the winning run.
As neither starter factored into the decision, Tommy Layne (2-0) picked up the win by pitching the final third of an inning in the 10th for Memphis, while Brendan McCurry (5-7) took the loss for Fresno, despite a solid outing striking out four in an inning and two-thirds. When the automatic runner at second scores in extra innings, it's an unearned run on the pitcher.
Game three of the four-game set is scheduled for Monday evening at AutoZone Park, at 6:35 p.m. CT / 4:35 p.m. PT. Probable starters are LHP Kent Emanuel (3-2, 5.20) for Fresno, opposite RHP Chris Ellis (3-3, 4.07) for Memphis.