Grizzlies complete the comeback, defeat Rainiers 13-9 for first home win of the season
Tony Kemp (3-for-3) reaches base five times, driving in two runs and scoring twice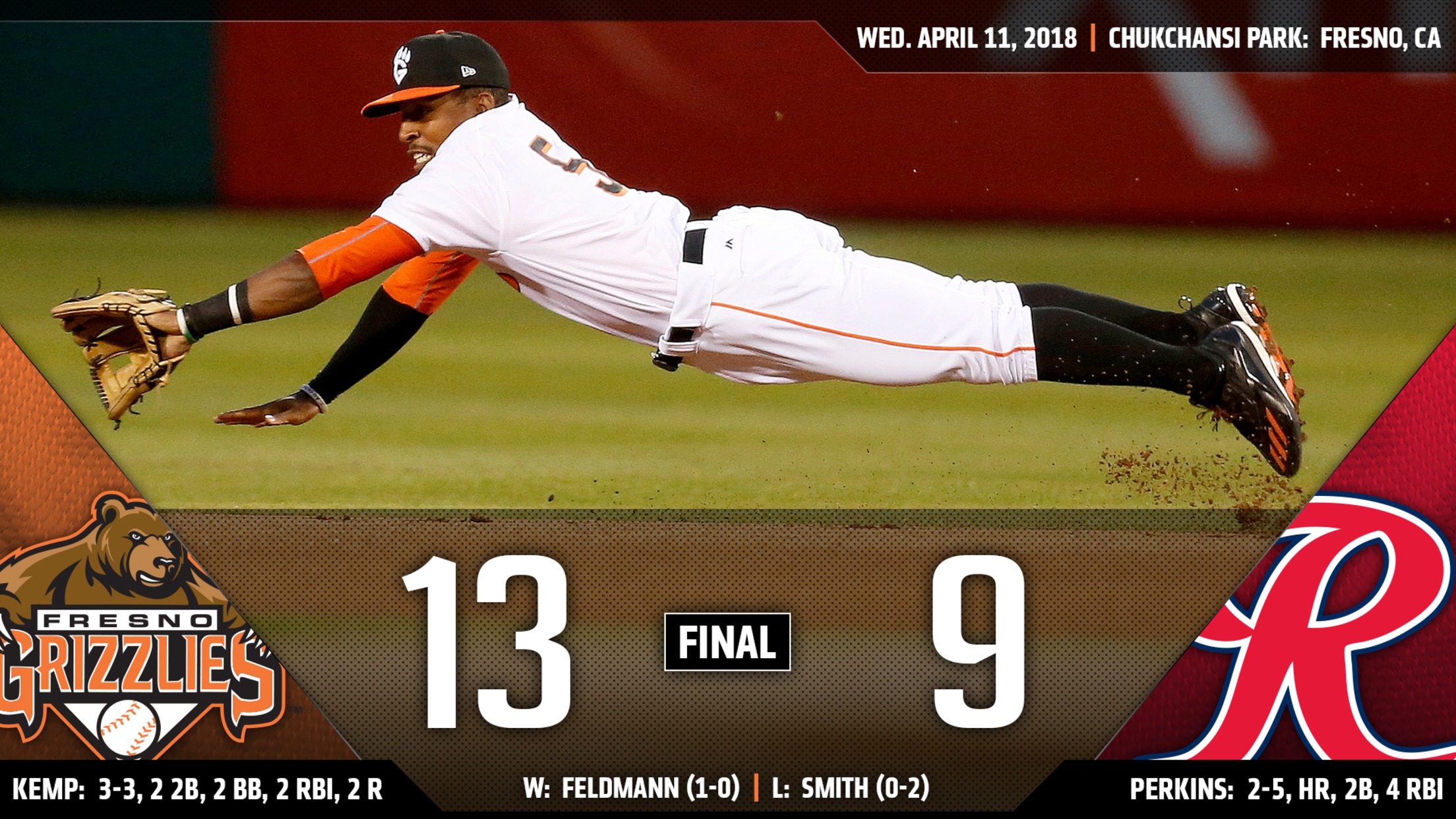 After a goose egg on opening night, the Grizzlies' bats came out of hibernation, coming back to defeat the Tacoma Rainiers 13-9 Wednesday night from Chukchansi Park. Fresno trailed 9-3 after five and a half innings, before making their move. The six-run comeback win matched the 2017 total when Fresno
After a goose egg on opening night, the Grizzlies' bats came out of hibernation, coming back to defeat the Tacoma Rainiers 13-9 Wednesday night from Chukchansi Park. Fresno trailed 9-3 after five and a half innings, before making their move. The six-run comeback win matched the 2017 total when Fresno beat Tacoma 12-9 after trailing 7-1.
The Rainiers took a 1-0 lead in the top of the first after a sacrifice fly from Kirk Nieuwenhuis to left field. The lead didn't last long as Tony Kemp took matters into his own hands. He led the bottom of the first off with a walk and stole his third base of the season. A sacrifice fly and wild pitch allowed Kemp to trot home.
Tacoma made it 4-1 in the top of the second with four hits, including a rocket double by Zach Vincej. The three-run lead decimated to a one-run game in the bottom half of the inning as Antonio Nunez (2-for-4) smacked a double down the left field line, knocking in Tim Federowicz (3-for-4) for his first Triple-A RBI. He scored one batter later when Kemp beat out an infield hit.
Cameron Perkins made it 6-3 Rainiers in the fifth when he powered a two-run shot to deep center. The homer completed Fresno starter Trent Thornton's (no-decision) line. He went four and one-third innings, allowing five runs (earned), on seven hits, one walk and striking out three. Tacoma added to their lead with three more runs in the top of the sixth thanks to a Nieuwenhuis single and a Perkins ground rule double.
In the bottom of the sixth, Fresno started to catch fire. After an error and two singles, Alejandro Garcia smoked the third straight single to center, plating two. Then three batters later, Drew Ferguson laced a double to right, cutting the lead to 9-8.
Advancing an inning later, Garcia reached on an error by Fresno State alumni Danny Muno, allowing the tying run to cross home. Then, Nunez followed Garcia with a slash to center, sending two more runs to the plate. Kemp continued the barrage with a bash to right, giving Garcia an easy ride to score. Finally, a bases loaded walk finished Tacoma's troubles. The 13-9 lead was enough for Grizzly reliever Brendan McCurry as he slung two scoreless innings to finish the game.
Fresno newcomer Brendan Feldmann picked up the win in his first Triple-A game. He lasted two innings, throwing a perfect seventh. On the other side, Josh Smith (0-2) suffered the loss. He lasted two and one-third innings, giving up 10 runs (two earned) on eight hits. Rainiers' starter Aríel Miranda (MLB rehab) did not decide in the decision. He tossed four innings, allowing only three runs (earned), on five hits, three walks and striking out a pair.
Tomorrow's rubber match between the two clubs will feature Fresno RHP Cy Sneed (0-0, 9.82) and Tacoma RHP Erasmo Ramírez (MLB rehab). First pitch is scheduled for 7:05 PT from Chukchansi Park.