Grizzlies defeat River Cats 9-5 Wednesday night
Sacramento-area native Max Stassi knocks two doubles in win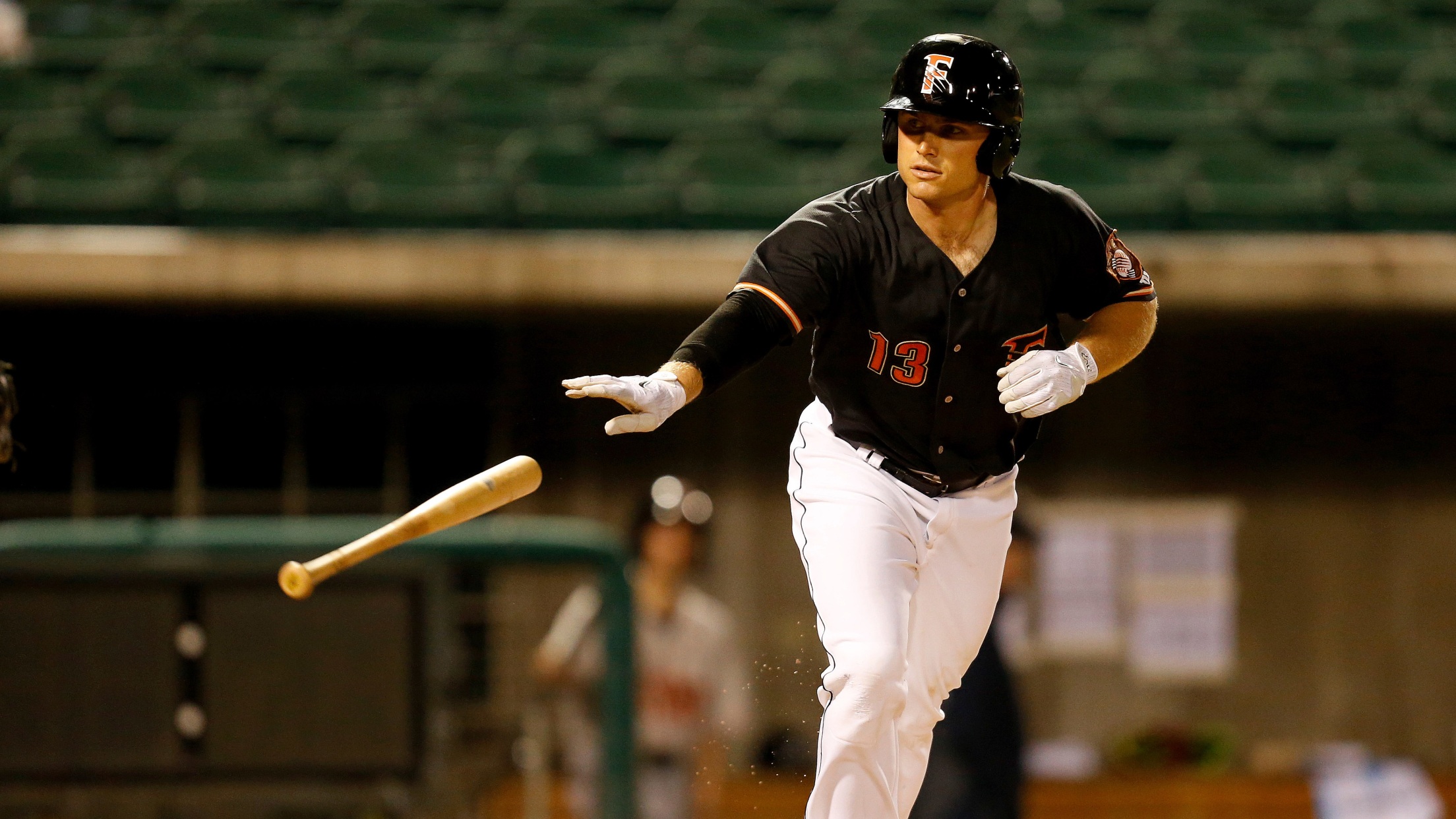 (Kiel Maddox)
The Fresno Grizzlies (12-15) evened the four-game series against the Sacramento River Cats (9-17) in game two with a 9-5 victory Wednesday night at Chukchansi Park.The Grizzlies scored in the first inning for the 11th time in 27 games to take an early 3-0 lead. A.J. Reed crushed a three-run
The Fresno Grizzlies (12-15) evened the four-game series against the Sacramento River Cats (9-17) in game two with a 9-5 victory Wednesday night at Chukchansi Park.
The Grizzlies scored in the first inning for the 11th time in 27 games to take an early 3-0 lead. A.J. Reed crushed a three-run home run to right that scored Preston Tucker and Derek Fisher. His fourth homer of the season put him on a six-game hit streak where he is 12-for-22 (.545). In the second, Sacramento scored on a bases loaded walk to Orlando Calixte to make the score 3-1.
A 10-batter bottom of the second for the Grizzlies increased their lead to 7-1. A RBI single from Jack Mayfield (2-for-4) scored Max Stassi (2-for-3) who doubled to start the inning, followed by a bases loaded walk to Tyler White that scored Andrew Aplin. Tucker ended the scoring with a two-run double that drove in Tony Kemp (2-for-5) and Mayfield while there were still no outs in the inning.
The River Cats cut the Grizzlies' lead to 7-4 in the third with a three-run home run by Chris Marrero. His first homer of the season was hit to right to score Ryder Jones and Mac Williamson (2-for-5). Fresno took a 9-4 lead after the fifth which started with Stassi's second double of the game that scored Jon Kemmer who singled. Mayfield then scored Stassi with his second RBI on the night.
For the win in his Grizzlies debut, Casey Coleman (1-0) tossed 91 pitches in five innings and allowed four runs on seven hits and three walks with four strikeouts. With reliever Keegan Yuhl on the mound in the eighth, a bases loaded walk to Jones cut the Grizzlies' lead to 9-5. Yuhl allowed the one run on two hits and a walk with three strikeouts over two innings.
Tyler Rogers (2-3) earned the loss for Sacramento allowing nine runs (six earned) on ten hits and two walks with four strikeouts in four and a third innings. The River Cats bullpen only allowed one hit and two walks with two strikeouts in their relief innings.
The Grizzlies and the River Cats meet for the third game of the series on Thursday at 7:05 p.m. Probable starters are RHP Dan Slania (0-3, 9.17) for Sacramento and RHP David Martinez (0-3, 6.65) for Fresno.