Grizzlies defeat Vegas 8-1 as Rogelio Armenteros improves to 7-0 on the season
Fresno is 22-2 since 2017 in starts made by Armenteros (6 IP, 3 H, 1 ER, 1 BB, 7 K); Derek Fisher homers and drives in four runs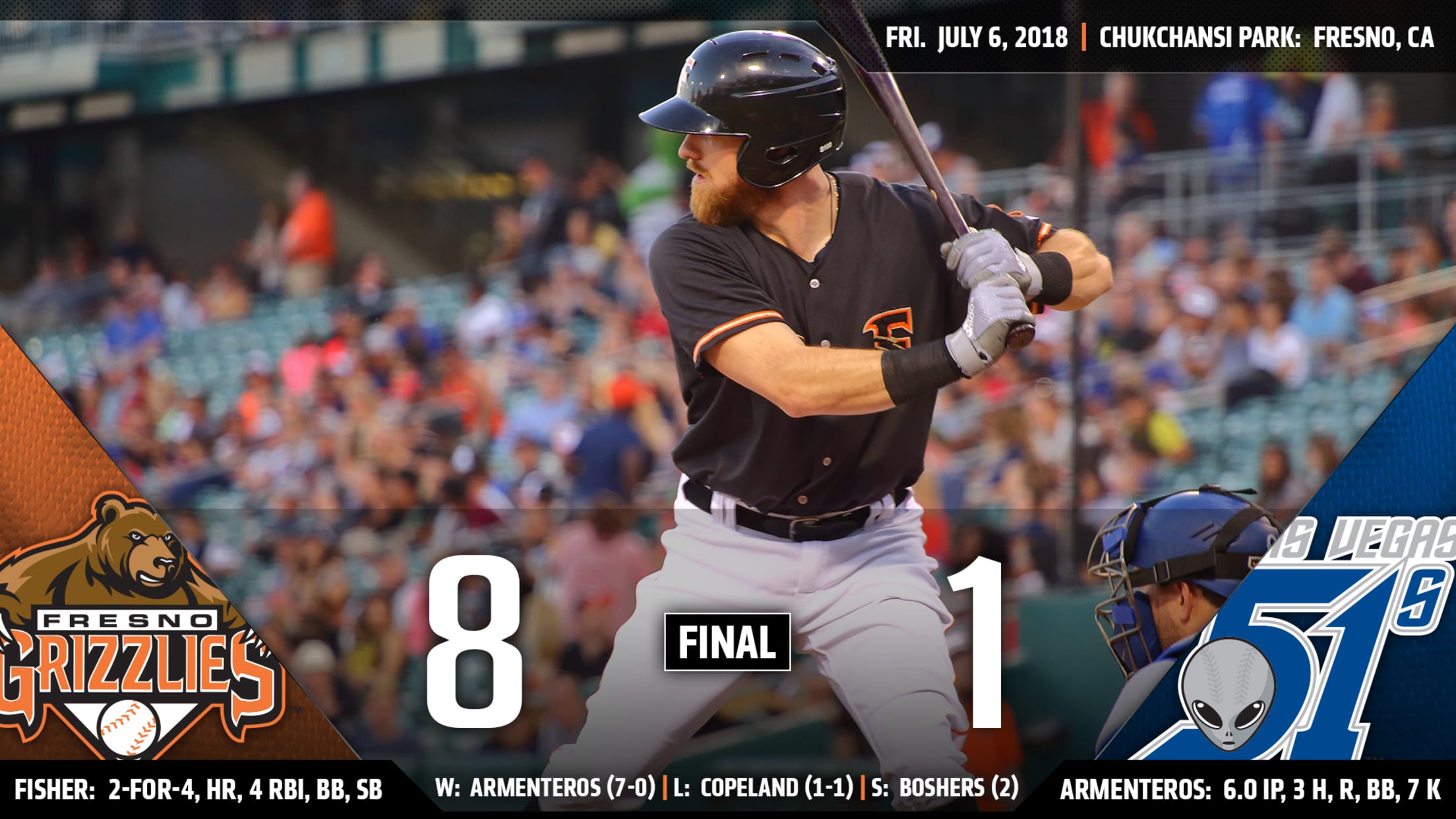 The Fresno Grizzlies (51-36) conquered the Las Vegas 51s (41-47) 8-1 Friday night from Chukchansi Park. Grizzlies starter Rogelio Armenteros (7-0) enjoyed the support en route to the victory. He hurled six innings, giving up three hits, one run (earned), walking one and punching out seven. On the year, Armenteros
The Fresno Grizzlies (51-36) conquered the Las Vegas 51s (41-47) 8-1 Friday night from Chukchansi Park. Grizzlies starter Rogelio Armenteros (7-0) enjoyed the support en route to the victory. He hurled six innings, giving up three hits, one run (earned), walking one and punching out seven. On the year, Armenteros has struck out 78 in 74 frames. Fresno improved to 22-2 in starts made by him since 2017.
In the bottom of the third, the Grizzlies took a 2-0 advantage when Derek Fisher (2-for-4) hammered a two-run moonshot to center field. It was his fifth homer of the season. Fisher pushed the lead to 3-0 in the bottom of the fifth when he spanked a single to left, adding Nick Tanielu.
Matthew den Dekker (2-for-3) trimmed the deficit to 3-1 in the top of the sixth when he yanked a solo dinger to right field. It was his 10th big fly of the year.
Las Vegas starter Scott Copeland (1-1) suffered the loss. He has pitched two games at Triple-A this year, both against Fresno. He worked six innings, scattering three hits, three runs (one earned), walking three and fanning three.
Fresno extended the advantage to 6-1 in the home half of the seventh. AJ Reed beat out a double play ball, knocking in Antonio Nunez (double). That was Reed's 70th RBI of the season, tops in Triple-A. Then, Taylor Jones smoked a triple to the right-center gap, plating a pair.
A couple of miscues by the 51s in the bottom of the eighth gave the Grizzlies an 8-1 lead. That would be enough for reliever Buddy Boshers to close the door and secure his second save. He whiffed three in three frames.
Myles Straw swiped two bases on the night, giving him a professional baseball best 47 steals. 12 of the 47 have come at Triple-A (20 games).
Both teams finish the set with a doubleheader Saturday evening from Chukchansi Park. First pitch is scheduled for 5:05 PT. Fresno righty Josh James (2-4, 3.42) and Las Vegas RHP Nabil Crismatt (0-0, 0.00) are the probable matchup for game one. In the nightcap, Grizzlies RHP Brock Dykxhoorn (2-1, 3.38) and 51s righty Harol Gonzalez (0-0, 0.00) are booked to pitch.