Grizzlies drop 3-2 decision at Vegas
Tony Kemp extends hitting streak to 16 games; Josh James goes 5 innings in debut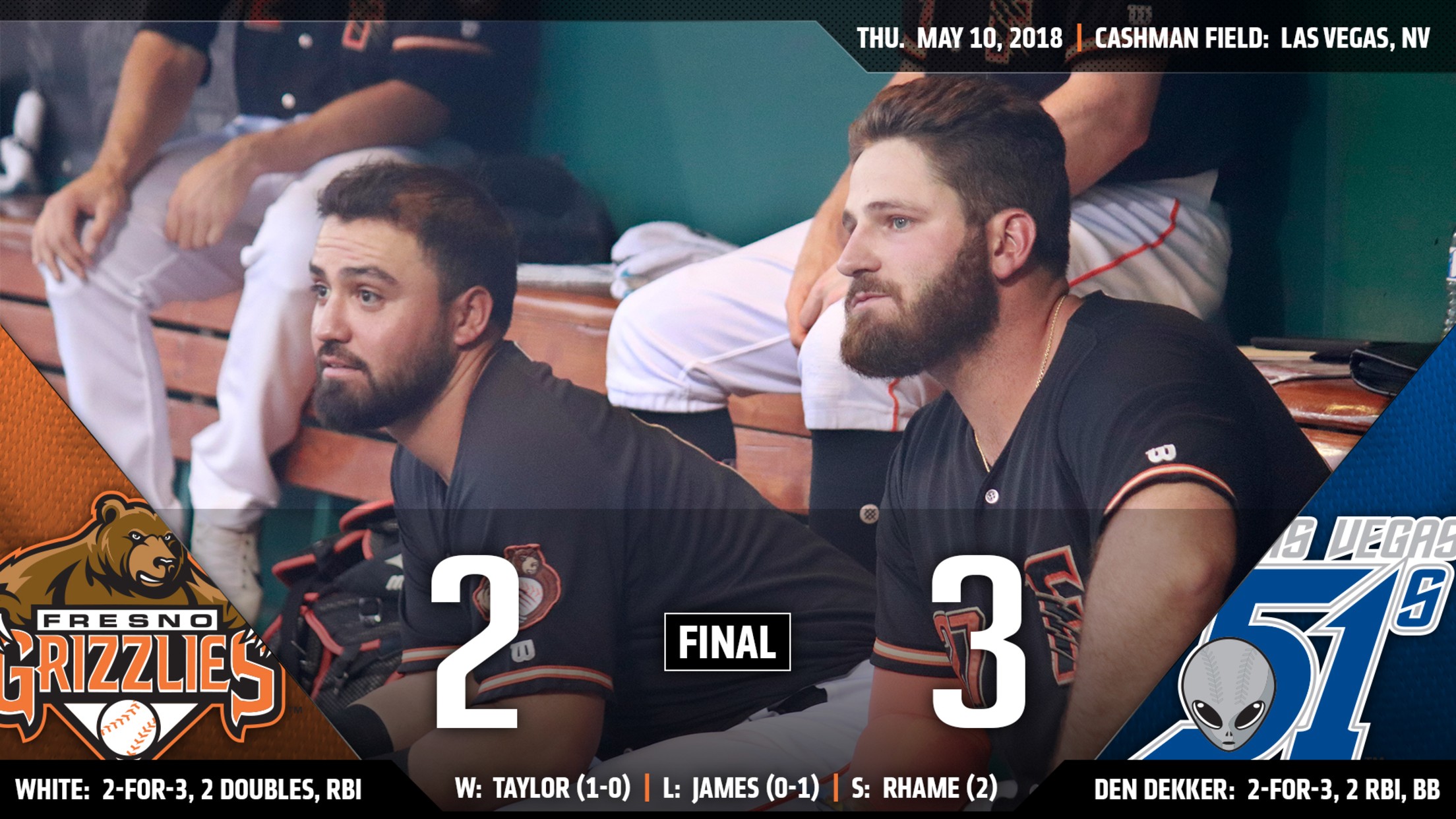 The Las Vegas 51s (13-22) defeated the Fresno Grizzlies (21-14) 3-2 Thursday night from Cashman Field. After pouring on 25 runs in two games, the Grizzlies' bats went silent in game three. Las Vegas starter Logan Taylor (1-0) earned the win after hurling five innings, scattering five hits, two runs
The Las Vegas 51s (13-22) defeated the Fresno Grizzlies (21-14) 3-2 Thursday night from Cashman Field. After pouring on 25 runs in two games, the Grizzlies' bats went silent in game three. Las Vegas starter Logan Taylor (1-0) earned the win after hurling five innings, scattering five hits, two runs (earned), walking two and striking out four. Reliever Drew Smith added two and one-third innings, punching out three for the 51s. Fresno starter Josh James (0-1) took the loss in his Triple-A debut, tossing five innings. He allowed three runs (earned), on four hits, while walking three and fanning seven.
Tyler White (2-for-3) gave the Grizzlies a 1-0 lead in the top of the fourth when he laced a double to center, knocking in Drew Ferguson (2-for-4).
Las Vegas grabbed a 3-1 advantage in the home half of the fifth. Phillip Evans blasted a solo shot to left, his sixth longball of the season. Then, Matthew den Dekker (2-for-3) drove in a pair with a single.
Kyle Tucker cut the deficit to 3-2 in the top of the sixth after a sacrifice fly to center.
The one-run affair was enough for Jacob Rhame, whiffing the final two batters of the game and picking up his second save.
Tony Kemp singled in the sixth inning, extending his hit streak to a team-high 16 games. Matt Ramsey held Las Vegas scoreless for two innings, adding three punchouts.
With the loss, Fresno drops to 3-4 in one-run games and 0-3 on the road.
Both teams are back at it Friday night for the finale of the four-game series. First pitch is scheduled for 7:05 PT from Cashman Field. RHP David Paulino (0-0, 3.38) gets the nod for the Grizzlies while RHP Scott Copeland (0-0, 0.00) makes his 51s' debut.