Grizzlies drop another high-scoring affair in Albuquerque, 12-11 in 10 innings
Fresno drilled a season-high six homers in defeat, including two each from Teoscar Hernandez and Reid Brignac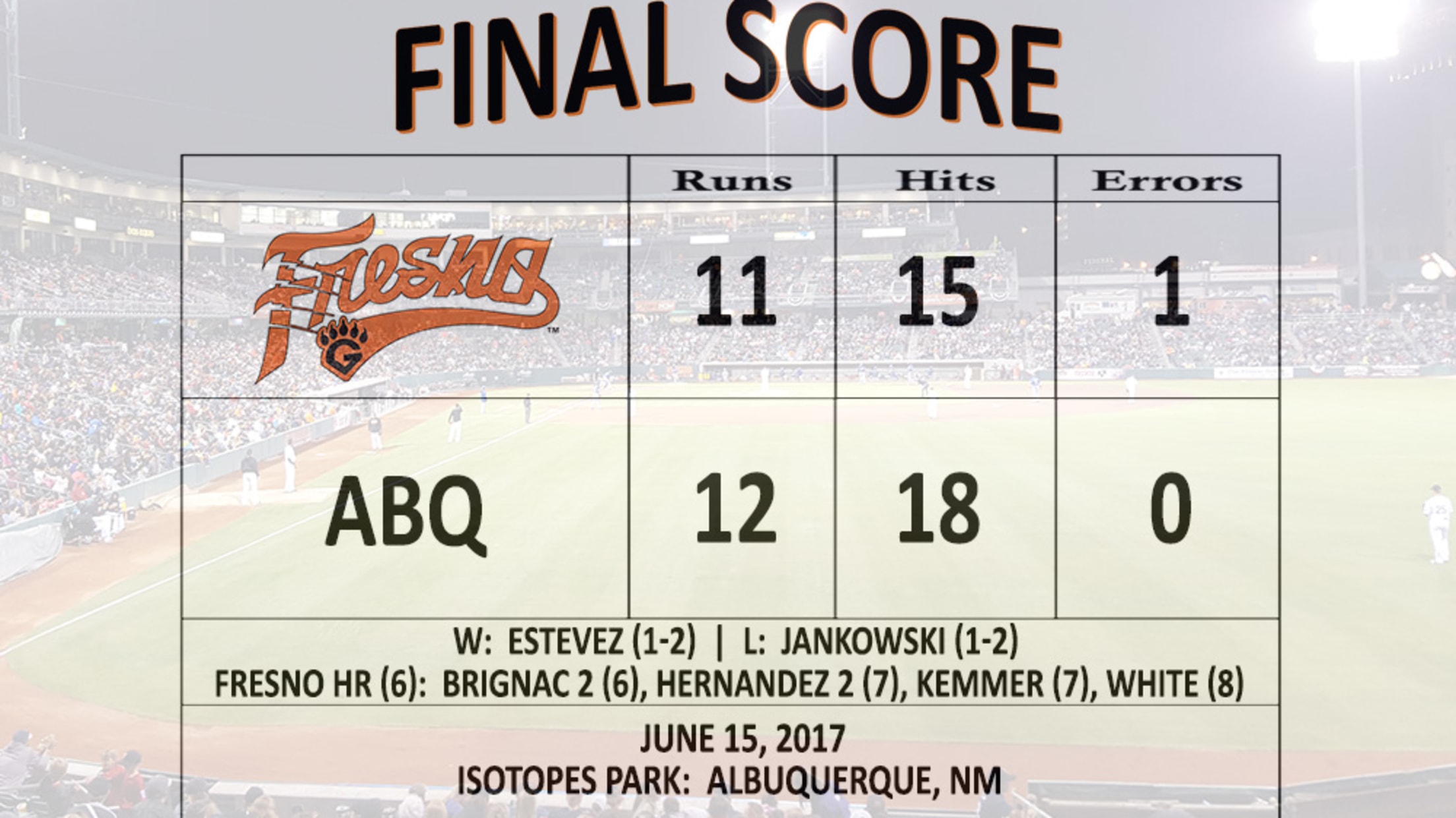 The Fresno Grizzlies (32-35) allowed a six-run lead to slip away Thursday night in Albuquerque, falling to the Isotopes (33-33) by a 12-11 final in 10 innings. Dropping to 1-2 in extra innings this season, Fresno has yet to play in the 11th in 2017 and Thursday was the club's
The Fresno Grizzlies (32-35) allowed a six-run lead to slip away Thursday night in Albuquerque, falling to the Isotopes (33-33) by a 12-11 final in 10 innings. Dropping to 1-2 in extra innings this season, Fresno has yet to play in the 11th in 2017 and Thursday was the club's largest blown lead in a loss this season. With this three-city trip wrapping up tomorrow, the Grizzlies are 6-4 since hitting the road on June 5 and are 9-5 this month.
Albuquerque's Mike Tauchman (4-6, HR, 3 RBI) opened the scoring with a first inning RBI single, but Fresno starter Kyle Smith, making his Triple-A debut, got out of a bases loaded jam from there with a pair of strikeouts and a groundout. Tauchman added a second RBI in the second frame, with the third of three consecutive two-out singles for the Isotopes and a 2-0 lead.
Fresno stormed back to take a 6-2 lead, scoring in the third (once), fourth (twice) and fifth (three times). Reid Brignac (2-for-4, 2 HR, 2 RBI) lifted his fifth homer of the season out to right top 3, before Colin Moran and A.J. Reed each chipped in RBI singles in the fourth. Teoscar Hernández (3-for-5, 2 HR, 4 RBI) drilled his sixth homer in the fifth, way out to left, a three-run shot. Tyler White (two singles) and Preston Tucker (walk, single) each scored twice apiece in the fourth and fifth. White (4-for-6, HR) not only reached a nine-game hit streak, the current club-high equaling Tony Kemp who was off, but it was also his ninth consecutive multi-hit game. In his hit streak, White is batting .525 (21-for-40) with four home runs, six doubles, 12 RBI and 12 runs scored. Moran and Tucker have now hit safely in nine of 10 games.
The Isotopes fought back in the fifth, with a Ryan McMahon (4-for-4, 2 HR, 4 RBI) solo homer (2), and a Tauchman triple which scored on a Noel Cuevas sac fly, reducing the Grizz lead to 6-4. Fresno starter Kyle Smith lasted 4.2 innings in his Triple-A debut, allowing four earned runs on eight hits with two walks and four strikeouts.
Brignac added his second solo homer of the night in the sixth, to the exact same spot as his first on the Isotopes Park grass berm in right field for a 7-4 Grizzlies advantage. Fresno totaled three homers in the frame, after Jon Kemmer (2-for-5, 2 RBI) connected on his seventh, a two-run shot to left (Alejandro Garcia single), followed by a White solo shot to left-center, his eighth for a 10-4 lead.
Albuquerque starter Barry Enright went five and a third, allowing eight earned runs on eight hits. He struck out two and walked two. Neither starter would factor into a decision.
After a 10-batter, four-run Isotopes sixth, they tied the game 10-10 in the seventh on McMahon's second homer (3) of the game, his second blast to centerfield. In the ninth Hernandez untied the game with his second dinger of the evening (7). For Fresno, it was the second time this season they've homered six times in a game, and the second time on this road trip, having done it June 10 at El Paso in a 9-5 win. In that game they had a pair of players go yard twice as well, Moran and White.
In the home half of the ninth, Tauchman tied the game 11-11 with his fourth hit and third RBI of the night. In the 10th Albuquerque loaded the bases against Jordan Jankowski (1-2), setting the stage for Rafael Ynoa's game-ending RBI on a walk. Carlos Estévez (1-2) picked up the win in relief, tossing the 10th. The 33 combined hits by each club was a season-high in a Fresno game this season, edging out the 32 combined at El Paso on June 9.
The four-game series and this season-long 11-game road trip for the Grizzlies concludes tomorrow, when the Fresno Tacos play their first ever road game, against the "Albuquerque Green Chile Cheeseburgers" in a one-night promotion in Albuquerque. Game time is 6:05 PT (7:05 MT), with probable starter Trent Thornton (3-2, 4.04) lined up for Fresno.