Grizzlies extend season-long win streak to 10 games
Kemmer and Stassi both go 3-for-4 in 4-2 victory over Sacramento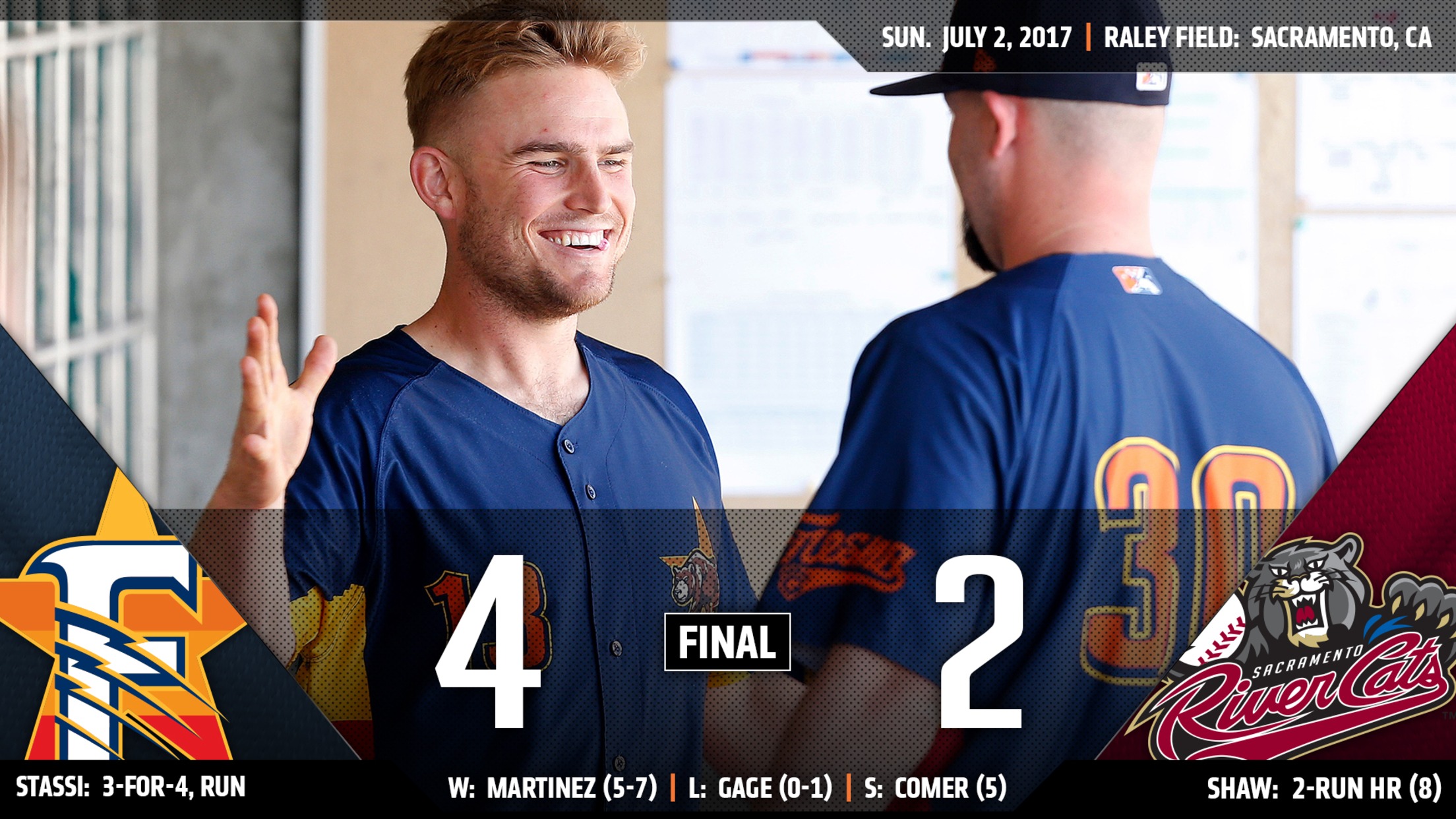 The Fresno Grizzlies (45-38) have won their 10th straight game with a 4-2 comeback win over the Sacramento River Cats (32-49) on Sunday afternoon at Raley Field. With 12 hits in the game, it is also the seventh consecutive win in that span that the Grizzlies have had 10 or
The Fresno Grizzlies (45-38) have won their 10th straight game with a 4-2 comeback win over the Sacramento River Cats (32-49) on Sunday afternoon at Raley Field. With 12 hits in the game, it is also the seventh consecutive win in that span that the Grizzlies have had 10 or more hits in a contest. It's Fresno's fourth win streak of 10 or more in franchise history since the 1998 inaugural Grizzlies season where they had a 10-game win streak (May 16-26) and a franchise record 11-game win streak (June 5-16). The 2015 Pacific Coast League and Triple-A Champion Grizzlies tied the franchise record 11-game win streak on August 11-21 of that year.
The River Cats jumped to an early 2-0 lead in the first when Chris Shaw hit his eighth home run of the season and second in back-to-back games against the Grizzlies. Jarrett Parker walked to get on and scored on the two-run shot to right center.
In the fourth, Tyler White drove in Colin Moran with a RBI double to put Fresno within one. The Grizzlies took the lead in the fifth after Jon Kemmer (3-for-4) tied the contest when he scored on a Teoscar Hernández sacrifice fly. Max Stassi (3-for-4) singled to get on and scored the go-ahead run on a Preston Tucker RBI single to take a 3-2 lead.
Fresno secured their 10th straight win in the ninth after Kemmer doubled to get on and scored on a Reid Brignac RBI single to make the final score 4-2. With the double, Kemmer has reached base safely in eight of nine at-bats in this series to be batting .857 early in the month of July.
Grizzlies starter David Martinez (5-7) secured his seventh quality start in eight games by allowing just two runs on four hits through 7.1 IP. It was also his longest outing of the season after pitching seven innings twice. He walked three and struck out five in the win. Reliever Kevin Comer picked up his fifth save of the season with two strikeouts through the final inning and two thirds. Comer has saved three of the last four Fresno wins.
River Cats LHP Matt Gage (0-1) suffered the loss in his Triple-A debut allowing three runs on eight hits. He did not allow a walk and struck out one in five innings. Sacramento relievers allowed just one run on four hits through the final four frames. They combined to allow one walk and struck out three.
The Grizzlies will look to sweep the four-game series in Sacramento in the series finale on Monday at 7:05 p.m. It would be their second consecutive series sweep and tie a franchise record of 11 straight wins. RHP Rogelio Armenteros will make his Triple-A debut for Fresno following RHP Kyle Smith's (1-0, 8.76) start against River Cats LHP Andrew Suárez (2-1, 3.57).