Grizzlies fall 8-5 in mountain matinee
Colorado Springs sweeps Fresno despite Fisher (14) and Centeno (12) extending hit streaks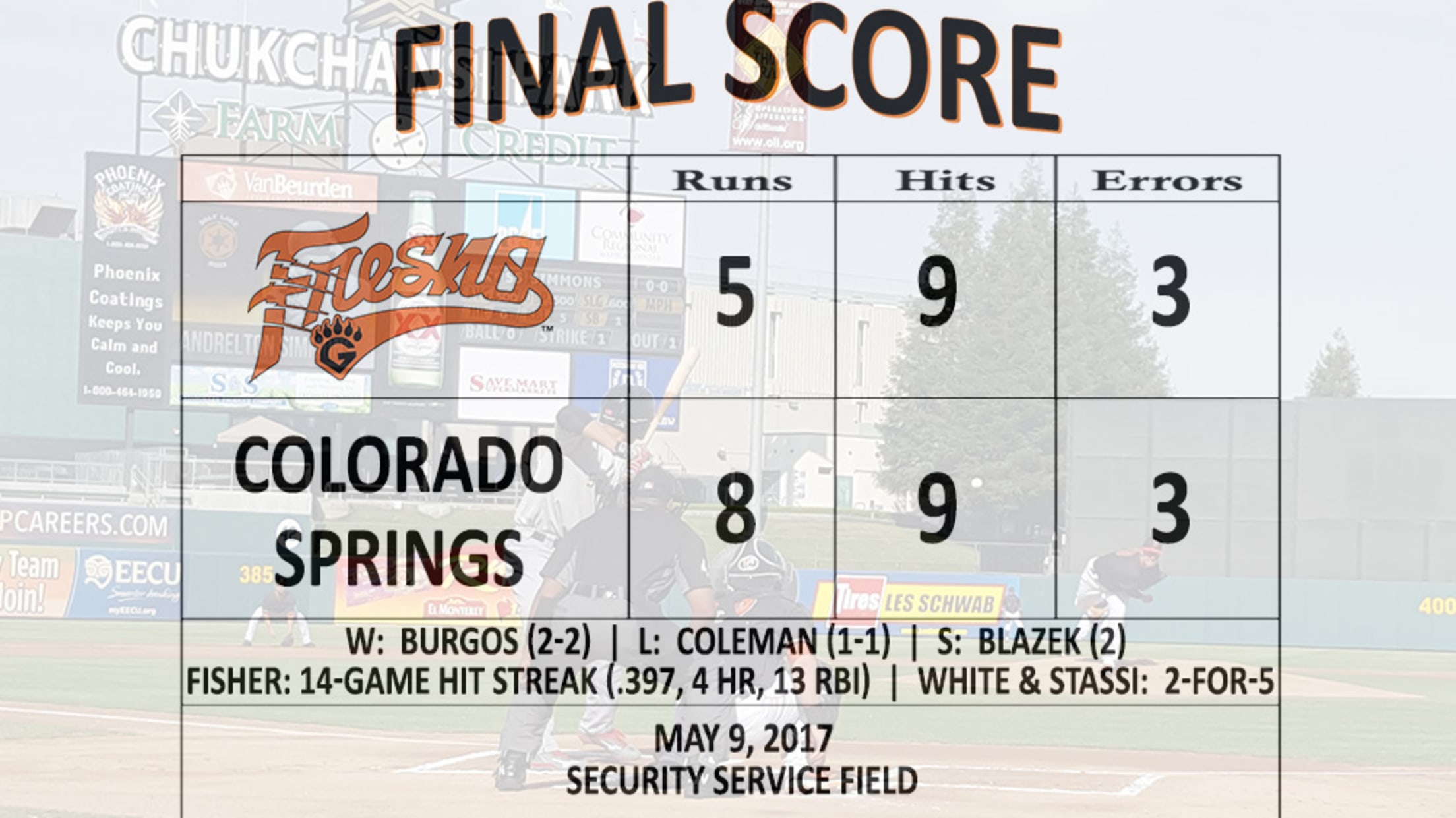 Enduring their first four-game sweep of 2017, the Fresno Grizzlies (13-20) fell to the Colorado Springs Sky Sox (20-8) by an 8-5 final in Tuesday's day game, dropping to 4-12 on the road this season. After an off day Wednesday, Fresno will continue this stretch of 16 games against the
Enduring their first four-game sweep of 2017, the Fresno Grizzlies (13-20) fell to the Colorado Springs Sky Sox (20-8) by an 8-5 final in Tuesday's day game, dropping to 4-12 on the road this season. After an off day Wednesday, Fresno will continue this stretch of 16 games against the American Conference, the eastern half of the Pacific Coast League, on Thursday in Oklahoma City.
The Grizzlies manufactured an early 2-0 lead, sending eight batters to the plate in the second. With the bases loaded, Tyler White (single, 2-for-5) scored on a fly ball to right field off the bat of Juan Centeno, with an error charged to Kirk Nieuwenhuis. Before stranding the bases loaded, Andrew Aplin's RBI walk gave Fresno the two-run lead.
Colorado Springs sent eight batters of their own to the plate in the home half of the second, scoring three times. A two-run double to right by former Grizz Tyler Heineman, who also had a three-hit game Sunday against his former club, and a RBI single lined to center by Kyle Wren (3-for-4) did the damage.
It was 4-2 Sky Sox in the fourth on an Ivan De Jesus RBI single, scoring Eric Sogard (single, 2-for-4) after he stole second and reached third on an error. In the fifth it was 6-2 after a Brett Phillips leadoff double; Phillips scored on an error off the bat of Nieuwenhuis, who would later score on a wild pitch.
Fresno starter Casey Coleman (L, 1-1) would exit shortly thereafter, allowing six runs (five earned) on seven hits in 4.2 innings pitched, with two walks and seven strikeouts. The seven punch-outs equaled the individual season-high for a Grizzlies pitcher; Francis Martes also fanned seven April 16 at Salt Lake.
Colorado Springs starter Hiram Burgos (W, 2-2) went five innings, scattering six hits. Neither of his two runs was earned, striking out three with three walks.
The Grizzlies stormed back in the sixth, scoring three times to cut the lead to one. After Centeno scored on a single and error, Derek Fisher's RBI single scored Jack Mayfield, extending Fisher's hit streak to 14 games. That Fresno-best streak this season is now just one shy of Tyler White's 2016 top Grizz streak, 15 games from July 2-19. Fisher is batting .397 during the streak with four homers, six doubles and 13 RBI. A Preston Tucker sac fly made it a 6-5 game, Tucker's club-leading 24th RBI.
The Sky Sox responded yet again in the home half of the sixth, taking advantage of three Fresno walks (one intentional). Phillips drove in a run with a bases loaded free pass, and Sogard scored on a pass ball to make it 8-5, finishing the day's scoring. Sky Sox right-hander Michael Blazek picked up his second save, firing a perfect ninth with two strikeouts.
Despite the defeat, the Fresno catchers keep on raking; Centeno extended his hit streak to 12 games on Tuesday, and Max Stassi (DH, 2-for-5) enjoyed his fourth two-hit game in five. Stassi has hit safely in five in a row, and in 10 of his last 11 games. Both were in the lineup for a second straight day.
Probable starters for Thursday's series opener against the Oklahoma City Dodgers include RHP David Paulino for the Grizzlies; the Houston Astros top prospect is slated to make his first start of the season following an injury in spring training. OKC will counter with RHP Fabio Castillo (1-1, 4.91) in the first of a four-game set at Chickasaw Bricktown Ballpark.