Grizzlies fold 4-2 Monday night versus Aces
Tyler White extends 2018 on-base streak to 42 games; Reymin Guduan strikes out three in two scoreless frames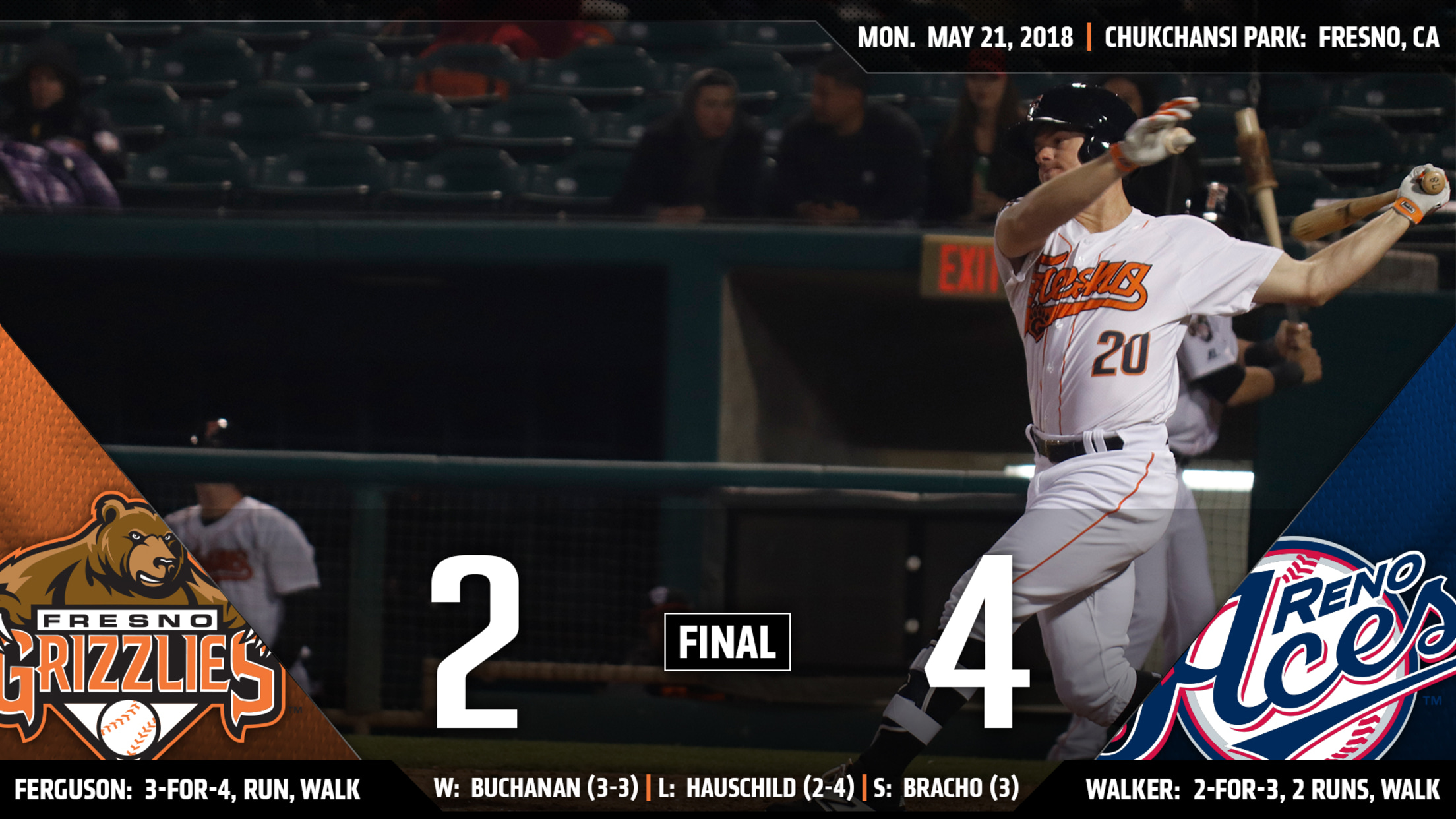 The Reno Aces (19-26) beat the Fresno Grizzlies (27-18) 4-2 Monday night from Chukchansi Park. With the loss, the Grizzlies drop to 9-3 in the first game of the series, 5-3 in two-run affairs and 0-12 when scoring less than three runs. Former Grizzly Jake Buchanan (3-3) earned the win
The Reno Aces (19-26) beat the Fresno Grizzlies (27-18) 4-2 Monday night from Chukchansi Park. With the loss, the Grizzlies drop to 9-3 in the first game of the series, 5-3 in two-run affairs and 0-12 when scoring less than three runs. Former Grizzly Jake Buchanan (3-3) earned the win after seven innings of work. He scattered seven hits, two runs (earned), walking a pair and punching out two. On the other side, starter Mike Hauschild (2-4) suffered the decision after working seven innings too. He allowed nine hits, four runs (earned), walking two and fanning three.
Fresno grabbed a 2-0 lead in the bottom of the first thanks to an AJ Reed RBI single to right and a Nick Tanielu force out to first base.
Reno cut the deficit to 2-1 in the top of the fourth when Christian Walker (2-for-3) scored on a force out to second base. The Aces would knot the game at two in the top of the fifth when Rey Fuentes tripled to the right field gap, plating Kristopher Negrón (3-for-4). Three straight hits to open the top of the seventh gave Reno a 3-2 advantage. Negron was the recipient of the RBI. In the top of the eighth, Ildemaro Vargas added another Aces' run with a RBI single.
The 4-2 lead was enough for Silvino Bracho, who struck out a pair en route to his third save.
Drew Ferguson (3-for-4) reached base four times and scored once. Tyler White extended his 2018 on-base streak to 42 games with a single in the eighth. Reymin Guduan went two scoreless frames, striking out three.
Both teams are back in action Tuesday night for game two of the four-game set. First pitch is scheduled for 6:35 PT with pre-game starting at 6:05 on milb.streamguys1.com/fresnogrizzlies. Fresno RHP Rogelio Armenteros (2-0, 3.86) and Reno RHP Kris Medlen (0-5, 5.59) are the probable starters.