Grizzlies make Dodgers blue on Saturday
Seven different Fresno batters smack a double in 6-4 win at OKC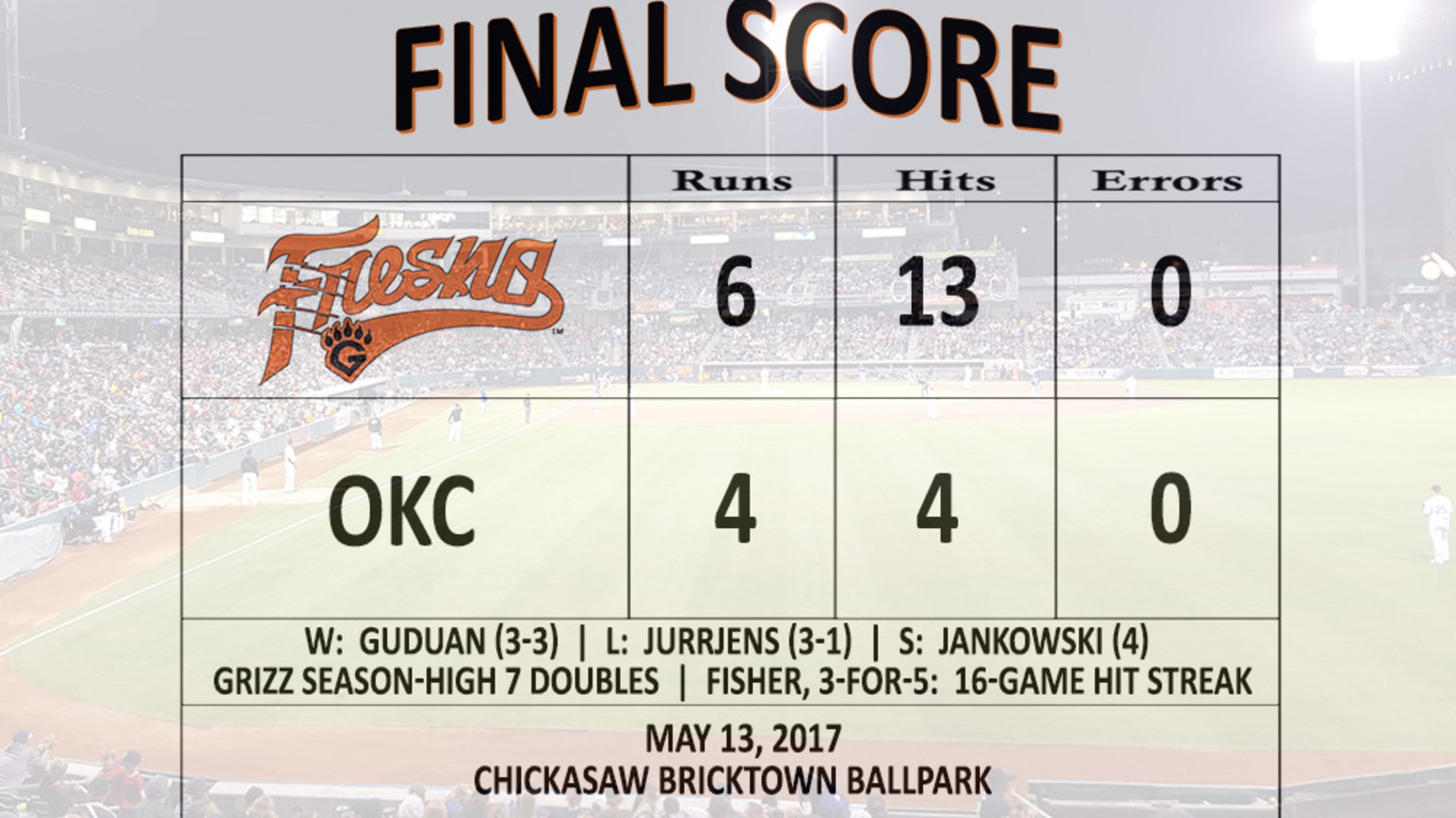 p.p1 {margin: 0.0px 0.0px 0.0px 0.0px; font: 12.0px 'Helvetica Neue'; -webkit-text-stroke: #000000}p.p2 {margin: 0.0px 0.0px 0.0px 0.0px; font: 12.0px 'Helvetica Neue'; -webkit-text-stroke: #000000; min-height: 14.0px}span.s1 {font-kerning: none}The Fresno Grizzlies (15-21) put themselves in position to win their first road series of the season on Sunday, with a 6-4 victory Saturday
The Fresno Grizzlies (15-21) put themselves in position to win their first road series of the season on Sunday, with a 6-4 victory Saturday night over the Oklahoma City Dodgers (17-17) at Chickasaw Bricktown Ballpark. The win was the seventh in eight games for the Grizzlies against the Dodgers, dating back to the 2015 season. The four hits allowed by Fresno on Saturday was a season-low and every Grizz batter had at least one hit.
OKC jumped out to a 1-0 lead in the first, when Max Muncy tripled and later scored on a wild pitch. In the second, Ike Davis sent his third homer of the season over the right field fence for a 2-0 Dodger lead.
For Fresno in the first, Derek Fisher (3-for-5) singled to right field, extending his hit streak to 16 games. It's the longest streak for the Grizzlies since 2015, when Joe Sclafani (18 games) enjoyed the longest Fresno hit streak of the Houston Astros affiliation. Fisher surpassed Tyler White's 2016 club-high of 15 games on Saturday. Since the streak began on April 25, Fisher has raised his overall average from .254 to .336, and is batting .408 during the streak (29-for-71).
Still trailing 2-0 in the fourth, consecutive two-out RBI doubles to center tied the game. A.J. Reed (2-for-3) scored White all the way from first after a one-out walk, before Reed cruised home on Reid Brignac's double. The Grizzlies un-tied the game an inning later, when Tony Kemp (walk) and Fisher (single) reached base to leadoff the inning. Both scored on a one-out Preston Tucker two-run double into left field, for a 4-2 advantage.
It was an abbreviated night for each starter, with OKC's Jair Jurrjens (L, 3-1) throwing four and two-thirds innings allowing eight hits and two walks. All four runs were earned, with three strikeouts. Fresno's Mike Hauschild went four innings, allowing just two hits and two walks with four strikeouts. Both runs against him were earned.
The Grizzlies added to their lead in the sixth, scoring a third run with two out. Juan Centeno doubled to left, extending his hit streak to 13 games, before scoring on Kemp's RBI single to right, making the score 5-2. Centeno has also hit safely in 16 of 18 starts behind the plate this season and is batting .354.
Fisher and Kemp's second hits kept them tied for the club lead in multi-hit games this season with 13, and the two RBI from Tucker made him the first Grizzly to reach 10 multi-RBI games in 2017. Fresno also ripped a season-high seven doubles on Saturday night, surpassing the six they hit May 1 at Reno in an 11-7 win. Teoscar Hernández ripped a leadoff double to left field in the seventh, before White followed suit with a double to left, making it a 6-2 game with runs in four consecutive innings for the Grizzlies.
Things tightened up in the eighth a bit when the Dodgers' O'Koyea Dickson blasted his eighth homer of the season, a two-run shot that cut the Fresno lead in half, 6-4. Jordan Jankowski earned his fourth save and second of the series in the ninth however, working around a walk and an intentional walk; a strikeout stranded both runners to end it. Lefty Reymin Guduan (3-3) picked up the win for Fresno with two innings of scoreless, hitless relief following Hauschild.
The series finale at Chickasaw Bricktown Ballpark in the clubs' final regular season meeting of 2017 will be Sunday at 12:05 PT / 2:05 CT. Probable right-handed starters are Houston Astros top prospect Francis Martes (0-0, 4.50) for Fresno and RHP Trevor Oaks (0-1, 3.94) for Oklahoma City.