Grizzlies prevail in Oklahoma City 5-3
11 hits help Fresno to win their first series opener of the season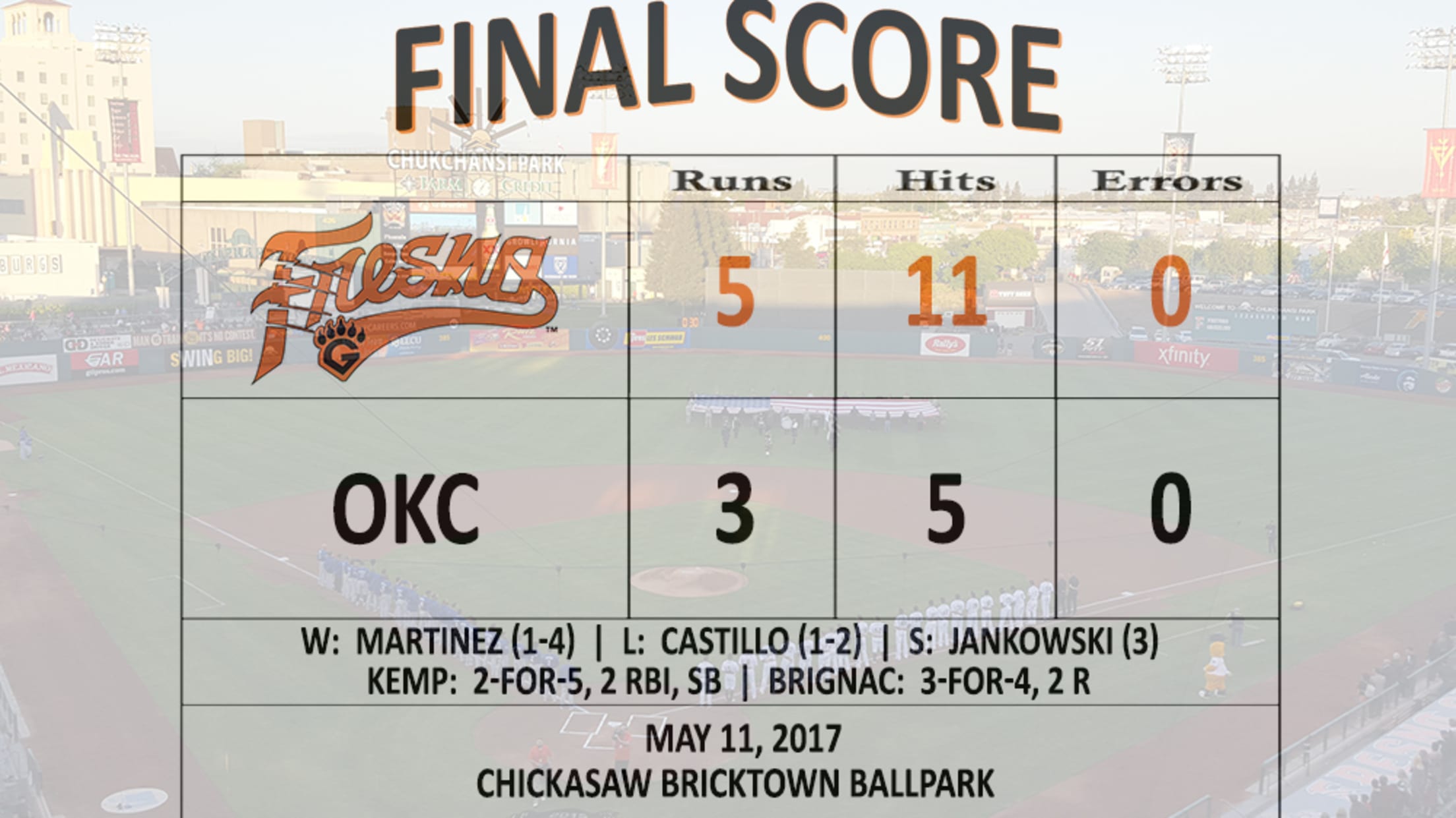 For the first time in the 2017 season, the Fresno Grizzlies (14-20) won the first game of a series by defeating the Oklahoma City Dodgers (16-16) by a score of 5-3 in a game that was delayed an hour and forty-one minutes due to rain. Prior to Thursday night, Fresno
For the first time in the 2017 season, the Fresno Grizzlies (14-20) won the first game of a series by defeating the Oklahoma City Dodgers (16-16) by a score of 5-3 in a game that was delayed an hour and forty-one minutes due to rain. Prior to Thursday night, Fresno had lost all eight series openers they played. The win also snapped a four-game losing streak for the club.
The Grizzlies took a 1-0 lead in the first when Tyler White hit a sacrifice fly that scored Jon Kemmer who doubled to get on. Three more runs in the second, the Grizzlies best offensive inning (37 runs), put Fresno ahead 4-0. A RBI single from Tony Kemp (2-for-5) scored Max Stassi and a two-run single by Preston Tucker scored Reid Brignac (3-for-4) and Andrew Aplin. Tucker leads the team with 26 RBI.
David Paulino threw 63 pitches in three scoreless innings in his first start of 2017 for the Grizzlies on a MLB rehab assignment. He only allowed one hit and four walks while striking out four batters. Teoscar Hernández (2-for-4) also returned to the lineup for the Grizzlies Thursday night.
With reliever David Martinez (1-4) on the mound for Fresno in the fourth, Darnell Sweeney knocked his third homer of the year to left to put Oklahoma City on the board 4-1. In the fifth, Willie Calhoun (3-for-5) hit his fifth long ball of 2017 to right to make the score 4-2.
Fresno put a run back on the board in the top of the sixth when Brignac scored on a fielder's choice ball that allowed Kemp to reach first. With the score 5-2 in advantage of the Grizzlies, Oklahoma City added another run in the form of a home run in the bottom half of the inning. Bobby Wilson blasted his sixth of the season to center to make the final score 5-3.
Oklahoma City starter Fabio Castillo (1-2) tossed five innings and allowed four runs on seven hits and three walks with three strikeouts for the loss, while Fresno reliever Jordan Jankowski earned his third save of the season with two perfect innings to end the game. For Martinez in relief, it was his first win of the season.
The Grizzlies and the Dodgers continue a four-game series at Chickasaw Bricktown Ballpark on Friday night at 5:05 p.m. PT. Probable starters are RHP Trent Thornton (1-0, 0.75) for Fresno and RHP Justin Masterson (2-1, 1.76) for Oklahoma City.