Grizzlies roar by Bumgarner to finish June 20-8
Kemp (2 RBI), Tucker (HR) and Garcia (2 doubles) collect three hits apiece in 8-7 win at Sacramento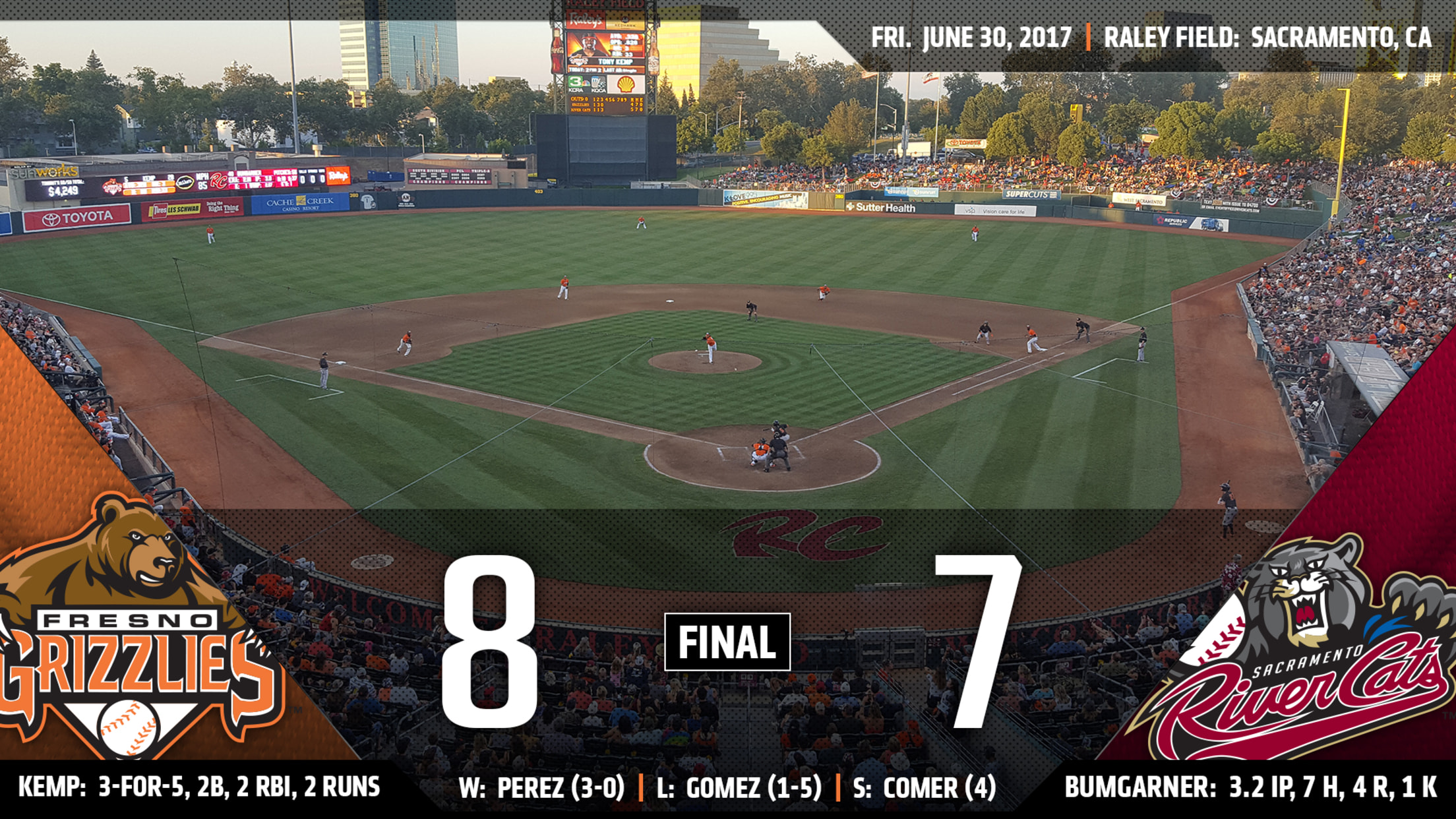 If the Fresno Grizzlies (43-38) wanted to extend their already-season-high win streak to eight Friday night at Sacramento in the series opener, it would be a tall task facing former Grizz Madison Bumgarner, on a rehab start. Undaunted, Fresno prevailed 8-7, improving to 9-4 against the River Cats (32-47) this
If the Fresno Grizzlies (43-38) wanted to extend their already-season-high win streak to eight Friday night at Sacramento in the series opener, it would be a tall task facing former Grizz Madison Bumgarner, on a rehab start. Undaunted, Fresno prevailed 8-7, improving to 9-4 against the River Cats (32-47) this season, and 4-1 in the State Capital. The Grizzlies have now won 17 of 21 games at Raley Field since affiliating with the Houston Astros for the 2015 season and are 31-14 against Sacramento overall in that time. Fresno, averaging just over six runs a game, have scored six or more in 19 of their last 22 games (16-6), while improving to 25-9 in their last 34 contests.
Bumgarner made his Triple-A debut with Fresno in 2010, making 14 starts for the Grizzlies before ascending to the Giants' roster permanently. The left-hander posted a 3.16 ERA in 82.2 innings for Fresno that season, and Friday was his first Triple-A action since a start on June 20, 2010 at Chukchansi Park against Reno. Since June 12 of last season, the Grizzlies are 3-0 against a trio of former Grizzlies making rehab starts for either Salt Lake or Sacramento; Tim Lincecum, Matt Cain and Bumgarner.
The 2014 World Series MVP struggled to throw strikes in the first inning, loading the bases by hitting Tyler White and walking Teoscar Hernández, which moved Tony Kemp to third base after he led off the game with a second-pitch double to the right field gap. Kemp trotted home for a 1-0 lead on a Colin Moran sac fly to left field. The game was quickly tied in the first when Orlando Calixte led off the home half with a homer to left, his ninth of the season. Moran's 59 RBI lead Fresno, ranking fourth in the PCL.
Fresno jumped on Bumgarner again in the second, with four hits. A.J. Reed's one out single moved to third on an Alejandro Garcia double to the left field corner, and Reed scored on a Kemp RBI single to right. Garcia scored on a White sac fly to center. Kemp scored standing up from first when Derek Fisher crushed a double over everyone's head to the wall in center, for a 4-1 Grizzlies lead. It was 4-2 when Carlos Moncrief doubled and scored on a Juan Ciriaco RBI single in the second for Sacramento.
Sacramento took their first lead with a three-run third, with run-scoring hits by Mac Williamson and Moncrief (2 RBI). The Grizzlies re-tied it with a Max Stassi two-out RBI double to the wall in right field in the fifth, scoring Moran from second after a walk, knotting the score 5-5.
Bumgarner's final line (62 pitches) was 3.2 IP with four (earned) runs on seven hits and a walk with a strikeout. Fresno starter Casey Coleman went 5.2 innings, allowing six (earned) runs on 11 hits with a walk and four strikeouts. Neither starter factored into the decision.
After collecting two hits apiece off Bumgarner, Garcia and Kemp each picked up their third hits of the night in the sixth off reliever Roberto Gomez when Garcia led off with a double into the right field corner and scored on Kemp's RBI single. Kemp enjoyed his 31st multi-hit game this season on Friday, and his second consecutive three-hit game. Kemp has recorded two or more hits in 48% of his games played this season (64 starts). His nine-game hit streak is the current Fresno club-high, and he's hit safely in 19 of his last 20 games.
An Ali Castillo sac fly for SAC in the sixth tied the game once again, but that tie was also short-lived when Preston Tucker led off the seventh with his 13th homer of the season, a solo-shot to left for a 7-6 Grizz advantage.
White's 13th homer, a solo shot to left field in the eighth proved to be a valuable insurance run, and the difference. Leading 8-6, a Calixte RBI infield single tightened things up 8-7 in the home half of the inning, before Kevin Comer secured the final out of the eighth and struck out a pair in the ninth for his fourth save. Gomez (1-5) took the loss in relief, with Tyson Perez improving to 3-0 in two innings of work as a bridge from Coleman to Comer.
With the win the Grizzlies improved to 11-7 this season in one-run games and have trimmed Reno's once double-digit division lead to six games with 61 games to play, including six head-to-head. The four-game series will continue Saturday at Raley Field with probable starters Dean Deetz (0-2, 13.00) for Fresno and Tyler Beede (4-5, 5.11) for Sacramento, a 7:05 p.m. first pitch.