Grizzlies ruff up Chihuahuas 11-2 on Monday
Kyle Tucker (3-for-3) reaches base five times, drives in four runs and scores twice; Jon Kemmer (3 RBI) and A.J. Reed (2 RBI) add two doubles apiece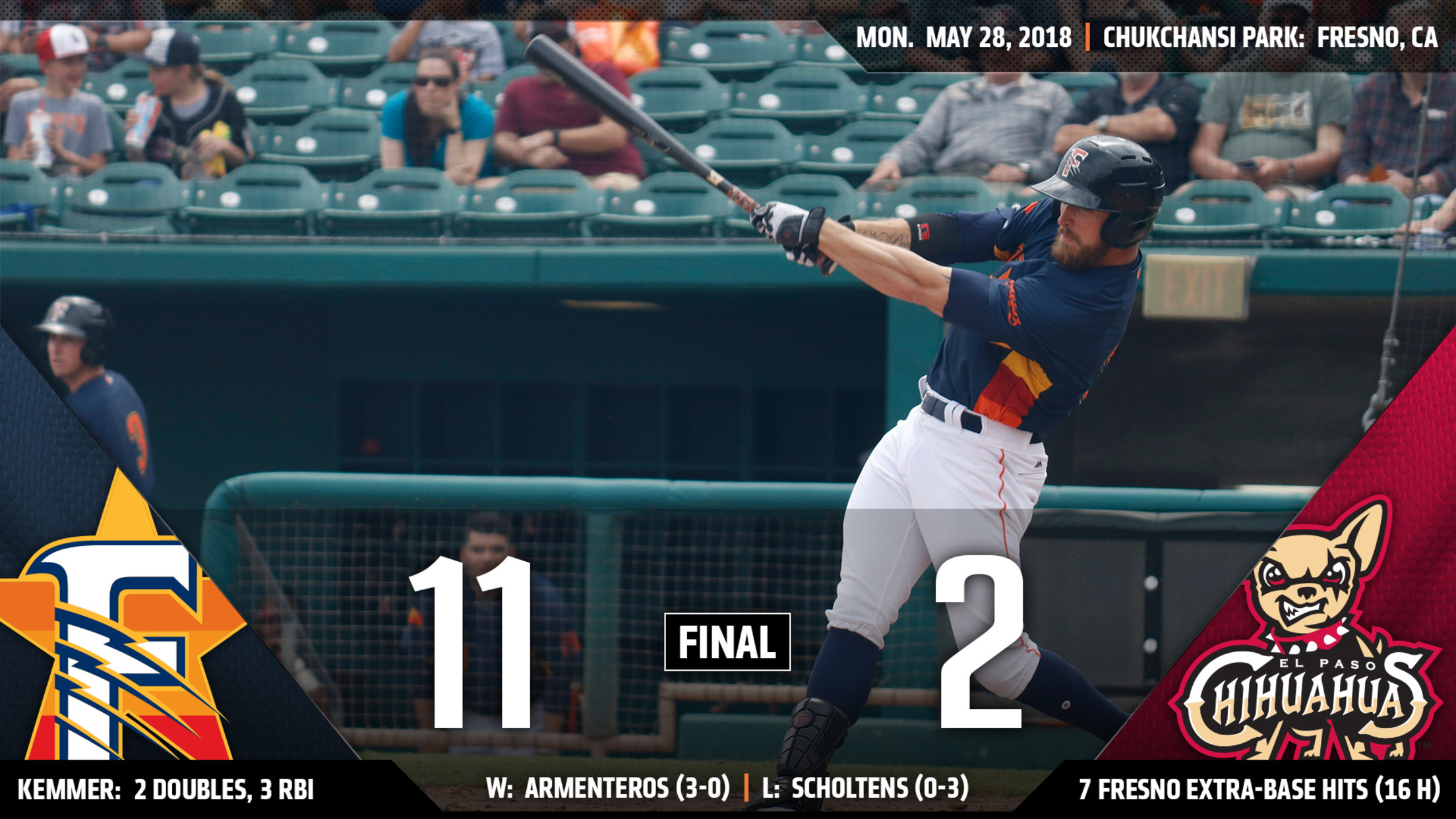 It was an offensive showing for the Fresno Grizzlies (30-22) Monday afternoon from Chukchansi Park, as they crushed the El Paso Chihuahuas (26-26) 11-2. Fresno notched 16 hits in the effort, with seven going for extra-bases. Five Grizzlies picked up multi-hits, including catcher Eduardo de Oleo (3-for-5), who did it
It was an offensive showing for the Fresno Grizzlies (30-22) Monday afternoon from Chukchansi Park, as they crushed the El Paso Chihuahuas (26-26) 11-2. Fresno notched 16 hits in the effort, with seven going for extra-bases. Five Grizzlies picked up multi-hits, including catcher Eduardo de Oleo (3-for-5), who did it for the first time this season.
In the bottom of the first, Fresno scratched across three runs. First, AJ Reed (3-for-4) hit a sacrifice fly to center. Then, Jon Kemmer (2-for-5) roped a double to left field, knocking in a pair.
El Paso cut the deficit to 3-2 in the next half frame after an error and groundout.
The Grizzlies exploded for five more runs in the bottom of the second. After three consecutive singles loaded the bases, Kyle Tucker (3-for-3) unloaded them with a double to center field. Tucker would advance to third on an error during the play and score later on a sacrifice fly. Finally, Kemmer uncorked his second double of the game, plating Reed.
An 8-2 lead by Fresno ended the afternoon for Chihuahuas' starter Jesse Scholtens (0-3, loss). He lasted two innings, allowing 10 hits and eight runs (earned).
Tucker walloped his second double of the game in the bottom of the third, netting another RBI. The advantage expanded to 10-2 when Reed singled home Derek Fisher (2-for-4, MLB rehab). A double play in the bottom of the fifth made it 11-2 Grizzlies.
Fresno starter Rogelio Armenteros (3-0) enjoyed the support, earning the win. He went six frames, scattering four hits, two runs (one earned), while striking out three. The Grizzlies are 17-2 in his starts dating back to 2017. Reymin Guduan, Andrew Thome and James Hoyt finished the game with three shutout innings, fanning four.
Both teams finish the five-game series Tuesday morning from Chukchansi Park. First pitch is scheduled for 11:05 a.m. PT with pre-game starting at 10:45 a.m. PT on milb.streamguys1.com/fresnogrizzlies. Fresno RHP Josh James (0-2, 4.40) and El Paso LHP Dillon Overton (1-1, 3.54) square-off.