Grizzlies sting Bees in series opener
Tucker and Ferguson go deep in 5-2 win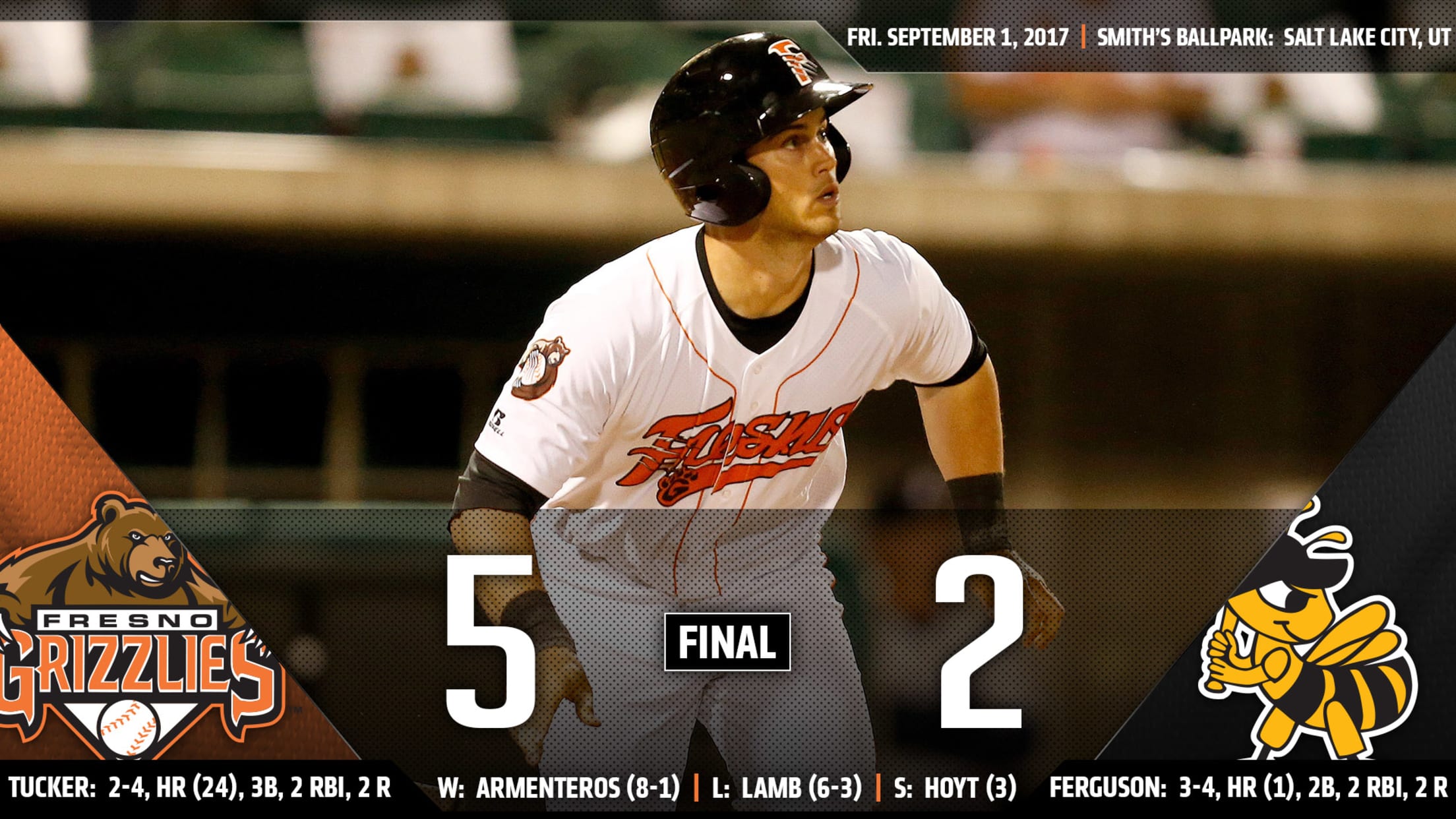 The Fresno Grizzlies (75-64) defeated the Salt Lake Bees (71-68) by a score of 5-2 on Friday night at Smith's Ballpark. It was the first of four in Fresno's final series of 2017, and they ended the season 17-19 in series openers. The Grizzlies smacked two homers to increase their
The Fresno Grizzlies (75-64) defeated the Salt Lake Bees (71-68) by a score of 5-2 on Friday night at Smith's Ballpark. It was the first of four in Fresno's final series of 2017, and they ended the season 17-19 in series openers. The Grizzlies smacked two homers to increase their Minor League Baseball-leading home run total to 199.
The Grizzlies opened the scoring in the first when Preston Tucker (2-for-4) drilled his 24th homer of the season. It was a two-run shot to right center and scored A.J. Reed who walked to get on to give Fresno a 2-0 lead. Tucker is one home run shy of tying Brett Pill (25 in 2011) for the 10th highest single-season total in Grizzlies' history.
Salt Lake got on the board in the bottom of the first when a Shane Robinson sacrifice fly scored Michael Hermosillo who walked to get on. They then tied the game 2-2 with a Sherman Johnson (2-for-4) RBI single in the fourth that scored Dustin Ackley who doubled to get on.
Fresno took back the lead in the sixth when Drew Ferguson (3-for-4) crushed his first career Triple-A home run to left field. Tucker led off the inning with a triple and scored on the two-run bomb. They increased their lead to a 5-2 final in the eighth when Ferguson scored on an Alejandro Garcia RBI single. Ferguson ended the night a triple away from the cycle.
Grizzlies starter Rogelio Armenteros (8-1) earned the win in his 10th and final start of the season. He allowed the two runs on five hits and two walks with four strikeouts through five innings. Reliever James Hoyt picked up his third save of the season in a scoreless ninth. For the Bees, starter John Lamb (6-3) took the loos through six innings allowing four runs on six hits and five walks with six strikeouts.
The four-game series at Smith's Ballpark continues on Saturday night. RHP Trent Thornton (7-4, 5.30) will be on the mound for the Grizzlies, while Salt Lake's starter is TBA. First pitch is set for 6:05 p.m. PT.