Grizzlies storm past Chasers in eighth, win 6-4
Fresno finishes July with a 22-6 record, have won 14 of last 16 on the road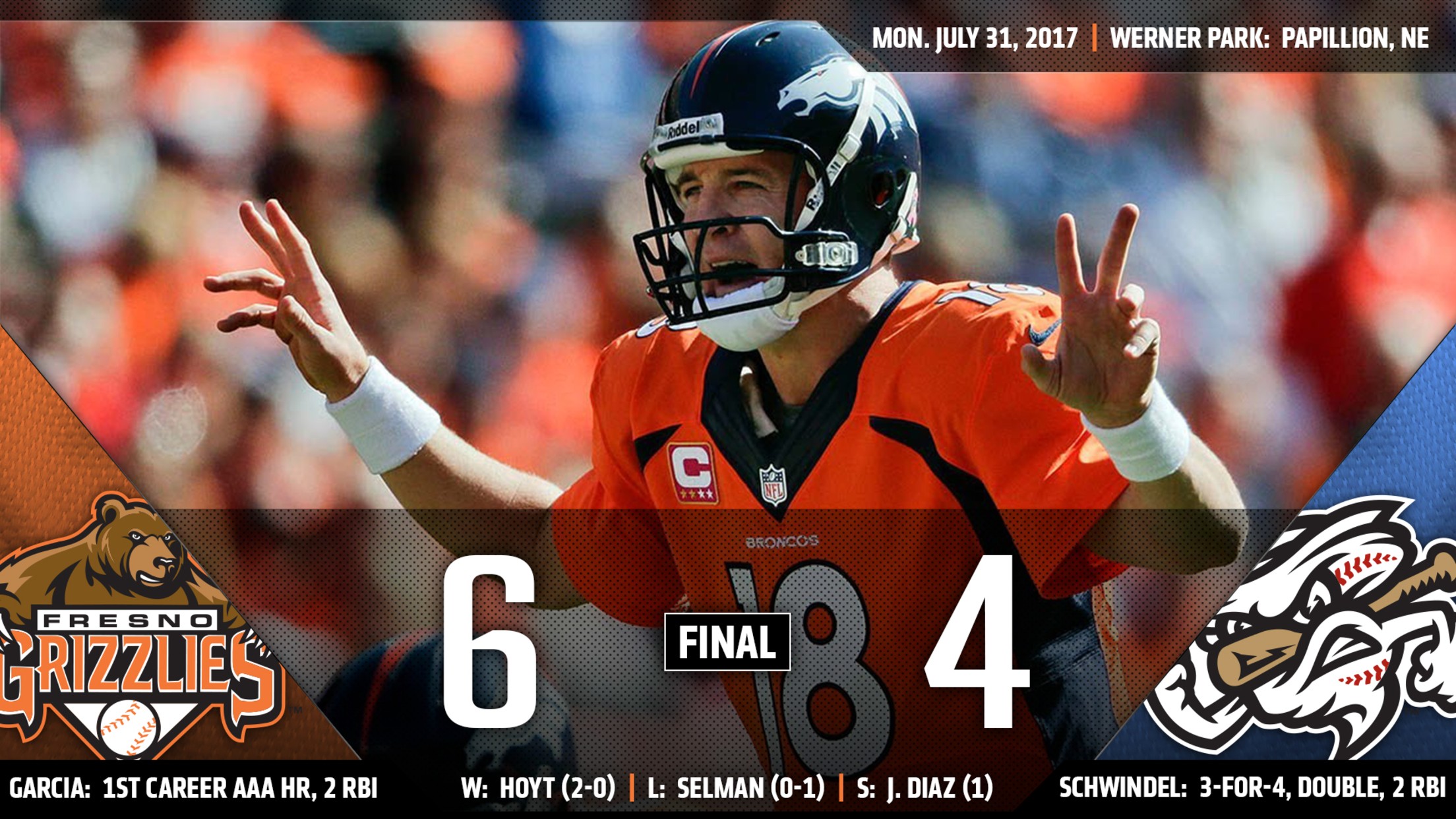 Winners of 18 of their last 21 and 16-3 since the All-Star Break, the Fresno Grizzlies (65-44) held onto their first place lead over Reno by at least a game in the standings Monday night, with a 6-4 win over the Omaha Storm Chasers (49-58) in Papillion, Nebraska. Fresno finished
Winners of 18 of their last 21 and 16-3 since the All-Star Break, the Fresno Grizzlies (65-44) held onto their first place lead over Reno by at least a game in the standings Monday night, with a 6-4 win over the Omaha Storm Chasers (49-58) in Papillion, Nebraska. Fresno finished July with a 22-6 record, and has won 14 of their last 16 road games.
After managing just three hits on Sunday afternoon, the Grizzlies enjoyed a fast start in the first. Preston Tucker scored on a two-out walk, when J.D. Davis lifted a RBI double to the warning track in centerfield. It was a 2-0 Fresno lead after an inning, when Jon Kemmer singled to right field, bringing home Davis. Omaha quickly struck back in the home half of the first. A Billy Burns (2-for-4) single and a Dean Anna (2-for-3) ground rule double set the table for a two-out Frank Schwindel (3-for-4) two-RBI single to left, knotting the score 2-2. Schwindel is now on a 17-game hit streak.
In the second Alejandro Garcia clubbed his first home run of the season in Triple-A, after hitting three earlier this year for Double-A Corpus Christi. Max Stassi led the inning with a single to make it a two-run shot, and it was 4-2 Fresno. The Storm Chasers again held serve in the home half of the second, when Corey Toups hit a solo homer (4) to left, making it a 4-3 game.
The action would remain scoreless until the sixth, when Omaha tied the game for a second time. Logan Moon (2-for-4) doubled to the gap in right, scoring Schwindel from first after a one-out line-drive single.
Grizz starter Trent Thornton tossed six innings, allowing four (earned) runs on nine hits. He walked just one and struck out seven. Chasers' starter Eric Skoglund lasted just four innings, surrendering four (earned) runs on five hits, with four walks and two strikeouts. Neither starter factored into the decision, but the Grizzlies improved to 10-5 in Thornton's starts this season.
In the eighth, Fresno took the lead after Reid Brignac worked a one-out walk, and Juan Centeno ripped a two-out double to center, scoring Bringac all the way from first. Still leading 5-4 in the ninth, the Grizzlies tacked on an insurance run on consecutive doubles by Tony Kemp and Jack Mayfield; Kemp scored from third following his team-leading 19th stolen base, and his second of the game. Kemp's two knocks made for his team-leading 41st multi-hit game.
Right-hander Jumbo Díaz, a veteran of 173 Major League appearances with Cincinnati and Tampa Bay, earned the save in his first action with Fresno. Diaz, who signed with the Houston Astros as a minor league free agent over the weekend, worked around a pair of one-out walks to preserve the win. Tossing a scoreless seventh and eighth with four strikeouts, James Hoyt (2-0) picked up the win in his first multiple-inning appearance for the Grizzlies this season. Sam Selman (0-1) pitched the eighth and ninth and was saddled with the loss for the Storm Chasers.
The series finale on Tuesday will be a morning start on the West Coast, a 10 a.m. PT / Noon CT first pitch at Werner Park. LHP Kent Emanuel (1-0, 4.61) will start for Fresno opposite RHP Jake Junis (2-5, 3.05) for Omaha.