Grizzlies suffer series sweep from El Paso
Fresno eliminated from playoff contention with 5-1 loss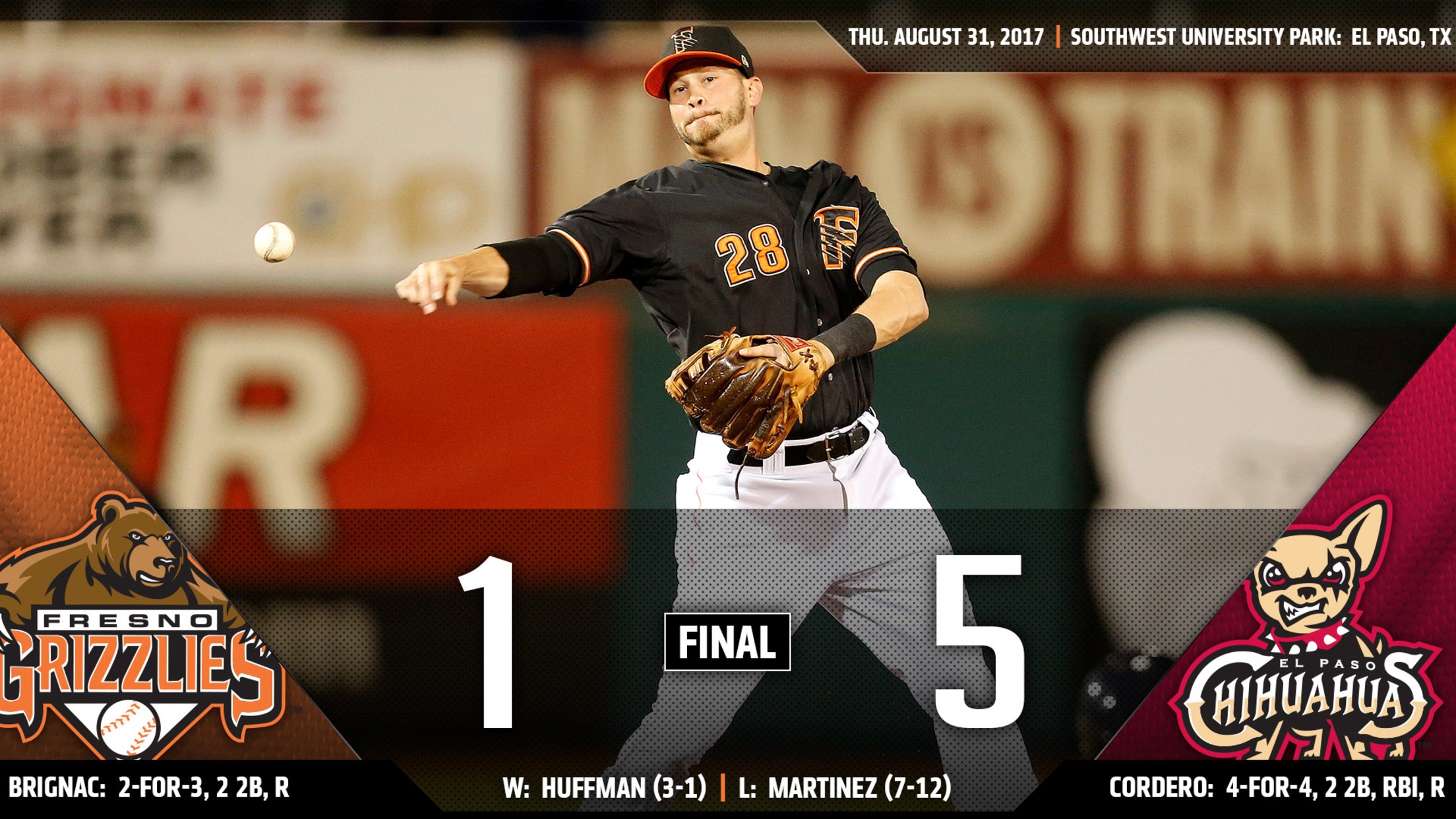 The Fresno Grizzlies (74-64) fell 5-1 in the series finale against the El Paso Chihuahuas (71-67) on Thursday night at Southwest University Park. The Grizzlies were swept in the four-game set for the first time since they were swept by the Colorado Springs Sky Sox on May 6-9. With the
The Fresno Grizzlies (74-64) fell 5-1 in the series finale against the El Paso Chihuahuas (71-67) on Thursday night at Southwest University Park. The Grizzlies were swept in the four-game set for the first time since they were swept by the Colorado Springs Sky Sox on May 6-9. With the loss, Fresno was officially eliminated from playoff contention.
Nick Buss (2-for-3) hit a solo home run to right center for the Chihuahuas in the second to open the scoring. It was his 11th homer of the season. The Grizzlies tied the game in the third with their lone run of the contest. A Tony Kemp sacrifice fly scored Reid Brignac (2-for-3) who doubled to get on. Brignac doubled twice in the game and had the only Fresno multi-hit night.
The Chihuahuas took a 3-1 lead in the bottom of the third on a Chase d'Arnaud RBI double that scored Travis Jankowski who singled to get on and a Franchy Cordero (4-for-4) RBI double that scored d'Arnaud. In the seventh, d'Arnaud (fielder's choice) and Cordero (single) scored on a Rafael Ortega (2-for-4) two-run double to make the score a 5-1 final.
El Paso starter Chris Huffman (3-1) earned the win with a quality start through six innings. He allowed the one run on four hits and two walks with four strikeouts. David Martinez (7-12) suffered the loss in the start for Fresno, allowing three runs on seven hits and a walk with five strikeouts through four innings.
The Grizzlies head to Salt Lake on Friday for their final series of the season, a four-game set against the Bees. Probable starters are RHP Rogelio Armenteros (7-1, 2.03) for Fresno and LHP John Lamb (6-2, 5.32) for Salt Lake. First pitch at Smith's Ballpark is set for 5:35 p.m. PT.