Grizzlies wallop 51s 14-4 behind offensive juggernaut
Tyler White 4-for-6 (4 RBI and 4 R); J.D. Davis 12-game hit streak (4-for-5), Tony Kemp extends hitting streak to 15 games, ties Linden for franchise triples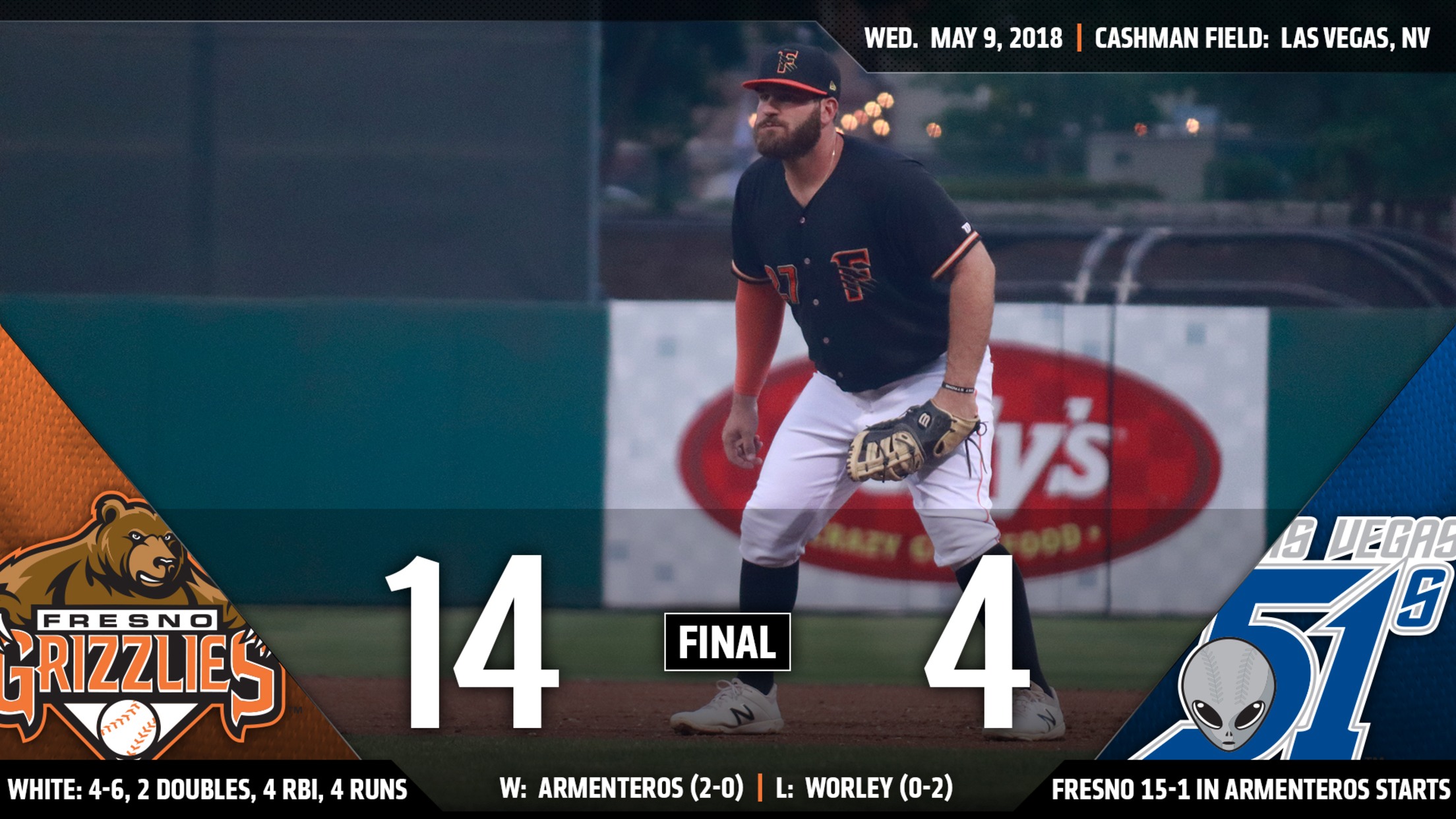 For the second straight game, the Fresno Grizzlies (21-13) put on a hitting clinic Wednesday night at Cashman Field, beating the Las Vegas 51s (12-22) 14-4. Fresno recorded their 12th game with double-digit runs and hung 20 hits on the Las Vegas staff. Tyler White (4-for-6) led the charge with
For the second straight game, the Fresno Grizzlies (21-13) put on a hitting clinic Wednesday night at Cashman Field, beating the Las Vegas 51s (12-22) 14-4. Fresno recorded their 12th game with double-digit runs and hung 20 hits on the Las Vegas staff. Tyler White (4-for-6) led the charge with four RBI and four runs. J.D. Davis (4-for-5) pushed his hit streak to 12 games and Tony Kemp (2-for-6) extended his to a team-high 15 games. In the process, Kemp yanked a triple, tying the franchise-record of 20.
Fresno jumped out to a 3-0 lead in the top of the second. AJ Reed (1-for-2) blasted a two-run shot to right, his fourth homer of the season. Then, Antonio Nunez grounded into a force out, allowing Kyle Tucker (2-for-4) to cross the plate.
The advantage expanded to 6-0 in the top of the third. Garrett Stubbs (2-for-5) tripled and galloped home on an error. Then, Davis mashed a double to left, scoring White. Finally, Tucker singled home Davis for the sixth run.
For the third consecutive inning, Fresno tallied three more runs on the scoreboard. Back-to-back RBI doubles by White and Tim Federowicz (2-for-4) plated a pair. Then, Davis spanked a RBI single, making it 9-0.
Jon Kemmer (2-for-5) bumped the advantage to 10-0 in the top of the seventh when he grounded out to second, knocking in Federowicz.
After a home run by the 51s, White and Tucker roped RBI singles, tallying three more runs in the top of the eighth.
Las Vegas cut the deficit to 13-3 heading to the ninth, but Fresno wasn't done. Drew Ferguson softly singled to right, plating Kemp after his triple.
The 51s quietly scored again in the last frame, falling 14-4.
Rogelio Armenteros (2-0, win) enjoyed the support, hurling five scoreless innings. He scattered six hits and one walk. Vance Worley (0-2, loss) surrendered nine runs (seven earned) on 10 hits in five frames.
Both teams are back at it Thursday night for game three of the four-game set. First pitch is scheduled for 7:05 PT from Cashman Field. Fresno RHP Josh James (0-0, 0.00) makes his Triple-A debut while Las Vegas has yet to name a probable starter.