Half-price White Claw to close out summer, baby
Half-Price Happy Hour (6-8 p.m.) every remaining home game on days that end with Y, starting Friday, Aug.16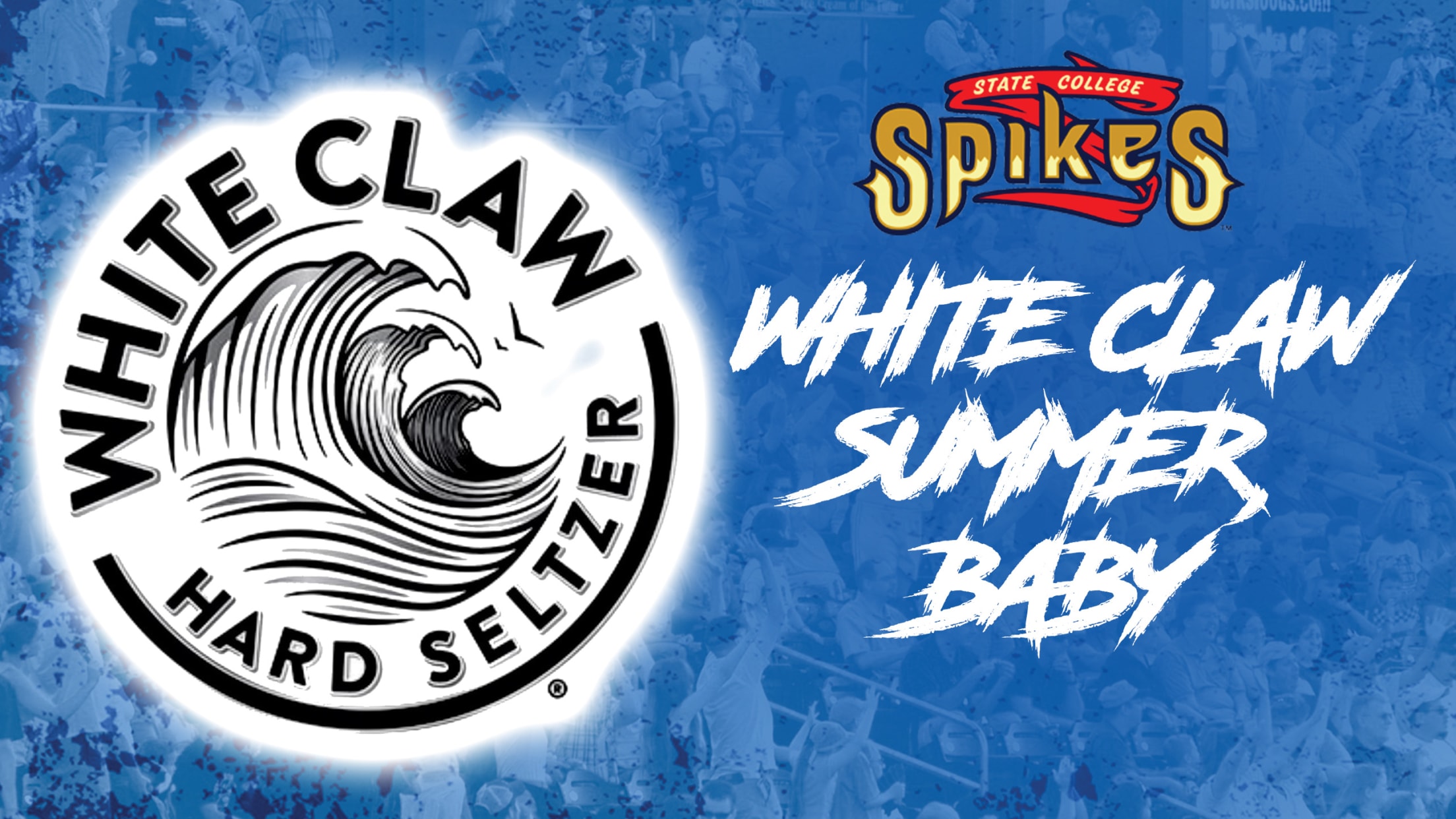 Pitch those glasses, because "White Claw Summer, Baby" hits Central PA for every remaining State College Spikes home game starting on Friday, August 16. Fans of age can enjoy half-price White Claw Hard Seltzer from 6-8 p.m. while supplies last, but only on days that end with Y - that's
Pitch those glasses, because "White Claw Summer, Baby" hits Central PA for every remaining State College Spikes home game starting on Friday, August 16. Fans of age can enjoy half-price White Claw Hard Seltzer from 6-8 p.m. while supplies last, but only on days that end with Y - that's all of them, Margaret.
Fans won't just be "Weekend Legends," either, because every game will give them the chance to head to the WR Hickey portable on the third-base side of the field for a $3 can, or a cup from the White Claw Waterfall on the concourse thanks to Best Event Rental. In addition, fans can play the White Claw Arcade Claw Machine from Jack Houser Amusements for $1 a turn with the chance to grab cans of White Claw as well as White Claw koozies, T-shirts, can coolers, and more prizes.
Plus, while The Chainsmokers haven't made that White Claw song (yet), Spikes fans can enter to win tickets to their September 29 concert at the Bryce Jordan Center at every home game left on the regular season slate.
Your body and your wallet will thank you, too, with $3 off your ticket purchase by wearing a surfer shirt, along with the chance to get barreled in a "stadium wave" during an inning break at each remaining home game.
Finally, gluten free water will be available at all Spikes concessions stands, and anyone named Margaret will receive $3 off their ticket for any remaining home game.
"We're looking forward to the sound of crackling jewels filling the ballpark at each of our remaining home games," said Spikes General Manager Scott Walker. "We know Spikes fans are going to give applause to the Claws at the ballpark, baby, and I know I've got my pastels and Birkenstocks ready to match the cans."
Spikes fans should be aware, though, that while White Claw Summer will be in full effect, baby, all ballpark "laws" are still in force when drinking White Claws.
Tickets for every remaining game on the 2019 Spikes home schedule are currently on sale through the Spikes Ticket Office. Tickets can be purchased by calling (814) 272-1711 or by visiting the Ticket Office in person from 9 a.m. to the end of the game on gamedays Monday through Friday, 10 a.m. to the end of the game on gamedays Saturday and Sunday, and 9 a.m. to 5 p.m. on non-gamedays Monday through Friday. Fans can also buy and download tickets 24/7 here at StateCollegeSpikes.com.
Flex Books, Value Plans and an array of group and hospitality options for the 2019 season are currently on sale by calling the Spikes at (814) 272-1711. Click here for additional information on all club ticketing options.