Yard Goats' Howard tosses one-hit shutout
Rockies No. 18 prospect drops ERA to 1.76 with seven-inning gem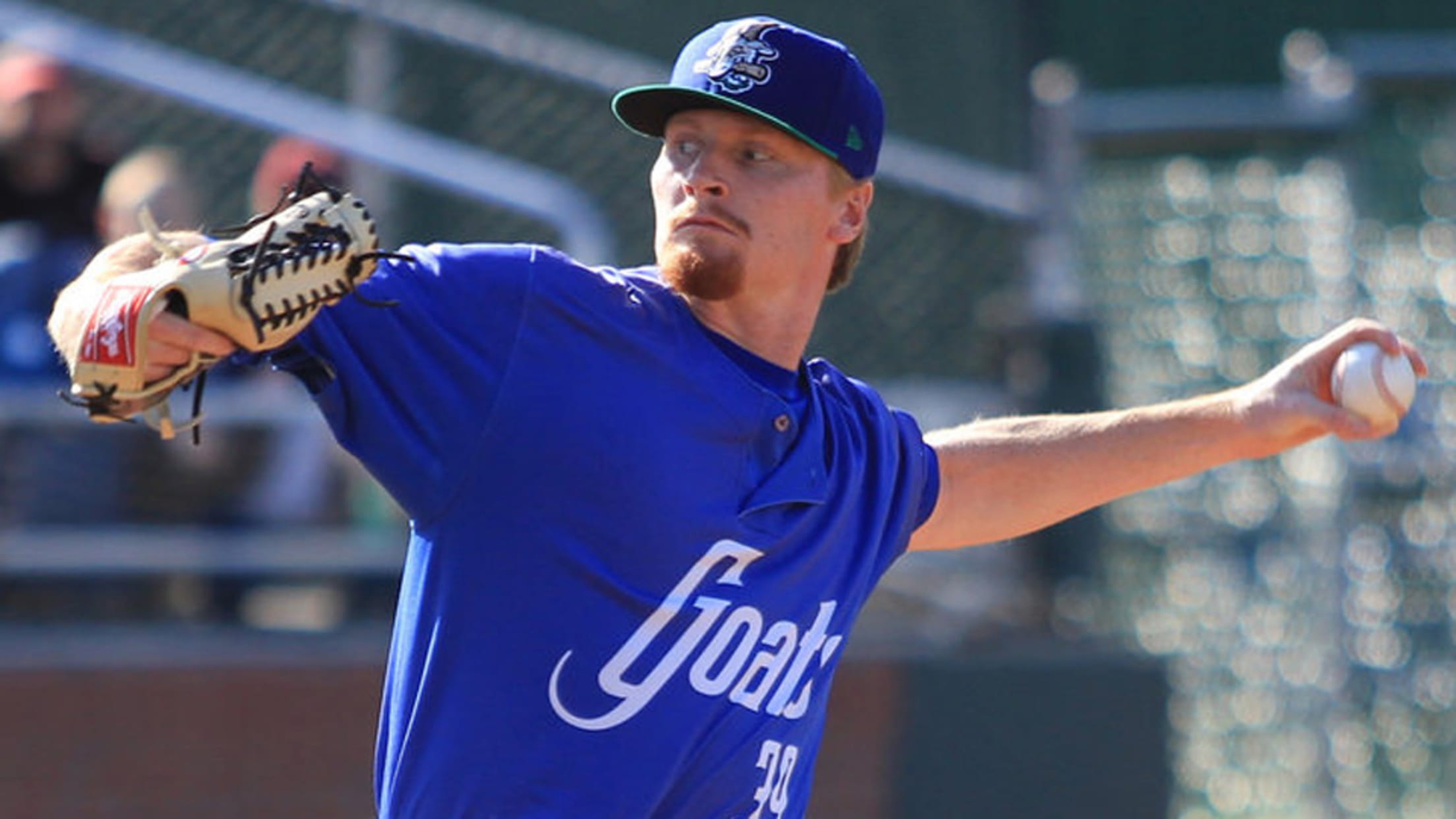 Sam Howard has held opponents to a .150 average in six starts across two levels this season. (Lynn Chadwick/MiLB.com)
Warming up before the first game of Tuesday's doubleheader, Sam Howard was not feeling good about his stuff."We had an off day yesterday and I hate pitching after an off day of not doing anything," he said. "The day after an off day, you feel kind of achy and everything
Warming up before the first game of Tuesday's doubleheader, Sam Howard was not feeling good about his stuff.
"We had an off day yesterday and I hate pitching after an off day of not doing anything," he said. "The day after an off day, you feel kind of achy and everything seems like it's out of rhythm. And that's how it feels for me every time after an off day, so I really had to battle."
Gameday box score
It didn't look like much of a battle as Howard produced one of the best starts of his career. The Rockies' No. 18 prospect spun a seven-inning one-hitter for his second professional shutout as Double-A Hartford blanked Portland, 3-0, at Hadlock Field.
"I learned a lot," he said. "When you don't feel your best, you can still sometimes throw your best because you really just have to focus on pitching."
Feeling like his delivery "wasn't on time," Howard (1-3) issued a two-out walk in the first to top Red Sox prospect Rafael Devers, then plunked Mike Olt. The third inning had a similar feel with Josh Tobias knocking a two-out single and taking second on a wild pitch. Howard escaped both jams, but there was still something off and pitching coach Dave Burba took notice.
"He came down to me in the dugout and was asking what was going on," the 24-year-old said. "I told him I really wasn't feeling good and everything felt a little out of whack."
Howard worked with catcher Dom Nunez to figure out how to get back on track. And in the fourth, something clicked. The southpaw said he could feel his delivery again and all of his pitches were what he wanted.
With help from his batterymate, Howard retired the final 13 batters, recording his first shutout since a nine-inning gem for Class A Asheville on July 27, 2015.
"He does a good job pitch-calling and reading a hitter's swing after a pitch," Howard said of Nunez. "Really, I was just trying to pound the strike zone and work with him on what he called and throw all my pitches for strikes. And if I was ahead, just try to throw a pitch that started as a strike and ended as a ball that they would chase or they'd get weak contact on."
While Howard has been pitching well this season -- he has a 1.76 ERA and 27 strikeouts against six walks over 30 2/3 innings in six starts between Hartford and Triple-A Albuquerque -- he had yet to record his first win. And even though he hadn't allowed more than two runs in any start, the Georgia Southern product was on a three-game losing streak.
"When Dom came out to me after we got the last out in the seventh, he said, 'Finally, you got that win,'" Howard said laughing. "Some of the players have been messing with me about it, that I kept getting the loss, but it's just part of the game. So it felt good to finally get the win."
The first win was a long time coming, given that Howard wasn't pitching five weeks ago. After his arm was feeling sore and achy in Spring Training, the left-hander was shut down and opened the in extended spring training. He made a three-inning rehab start for Albuquerque on April 14 and yielded a run on three hits with three strikeouts over 2 2/3 innings in his Triple-A debut. The 2014 third-round pick joined the Yard Goats and has a 1.61 ERA in five Eastern League starts.
"To be honest, my shoulder hasn't felt this good in a few years. It's been a long buildup of getting sore after my starts and my arm not recovering as fast as it usually does," Howard said. "After what the trainers did with me when I got shut down in Spring Training and the process and the rehab they took me through, I haven't felt this good in years.
"I think it's just a combination of that and on my off-speed pitches, I don't feel like I have to do extra to get them to do what they're supposed to do since my arm's feeling so good."
First baseman Correlle Prime led the Hartford offense with a two-run homer, his first of the season.
The Sea Dogs salvaged a split of the doubleheader with an 8-1 victory in the nightcap. Devers went 3-for-4 with two doubles and two RBIs, while Olt homered, doubled and drove in four runs.
Kelsie Heneghan is a contributor to MiLB.com. Follow her on Twitter @Kelsie_Heneghan.