Hernandez and the Staff Blank the Pelicans
Nine more strikeouts from the arms continue to lead the league in K's for August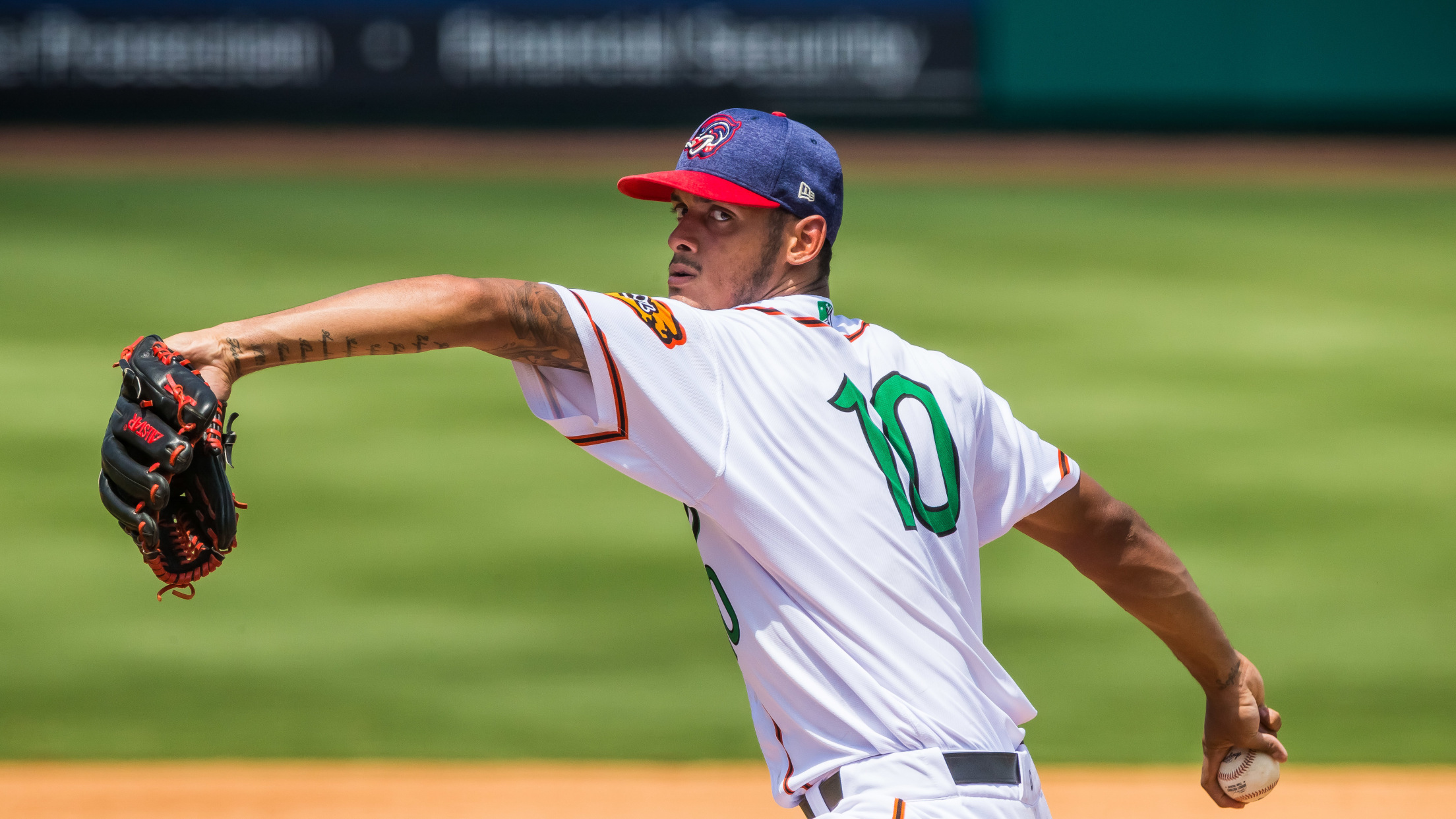 (Rob Goldberg Jr.)
MYRTLE BEACH, SC - The tenth Down East (30-29, 54-74) shutout of the year set up a 2-0 victory over Myrtle Beach (26-33, 69-60). Jonathan Hernández worked a season-high seven and one-third innings with seven strikeouts before giving way to the bullpen effort of Jeffrey Springs and Adam Choplick to
MYRTLE BEACH, SC - The tenth Down East (30-29, 54-74) shutout of the year set up a 2-0 victory over Myrtle Beach (26-33, 69-60). Jonathan Hernández worked a season-high seven and one-third innings with seven strikeouts before giving way to the bullpen effort of Jeffrey Springs and Adam Choplick to claim the win.
Offensively, Luis La O was involved with both runs for the Wood Ducks. In the first, he plated Josh Morgan with a sacrifice fly to center and then in the fourth he scored on a wild pitch to lead 2-0.
Three different Woodies had multi-hit nights as Morgan, Carlos Garay, and Josh Altmann each had a pair of singles. All 11 hits on the night for the Wood Ducks were singles.
Hernandez overcame four walks in his start thanks to his defense. Three inning-ending double plays were turned behind him - including a 6-4-3 grounder in the third with the bases loaded. His 99 pitches were also a season-high on the mound.
Down East's offense was cold initially against the bullpen effort from the Pelicans. In the ninth, Garay was thrown out at home on a throw from center fielder Connor Myers in an attempt to add insurance.
Springs collected his second hold in the bullpen and division-leading 136th strikeout in the eighth inning. He gave way for Choplick in the ninth for his eighth save of the year. The Texan worked a 1-2-3 final frame to seal the shutout.
Wednesday marks the third time this season the Woodies have blanked the Pelicans - including twice in Myrtle Beach. However, Buies Creek was also victorious against Lynchburg - so Down East remains 4.5 games back in the half race with 11 games to go.
The finale of the season-series with the Pelicans is slated for 7:05 p.m. on Thursday. Right-hander Adrian Sampson will throw for the Woodies against top-Cubs prospect Oscar De La Cruz, also a righty. You can listen to every pitch of the 2017 season live on Sports/Talk 960 The Bull or streamed live on the TuneIn radio app.