Holton Shines En Route To First Double-A Win
Garrett, Herrera, and De La Cruz All Extend Hit Streaks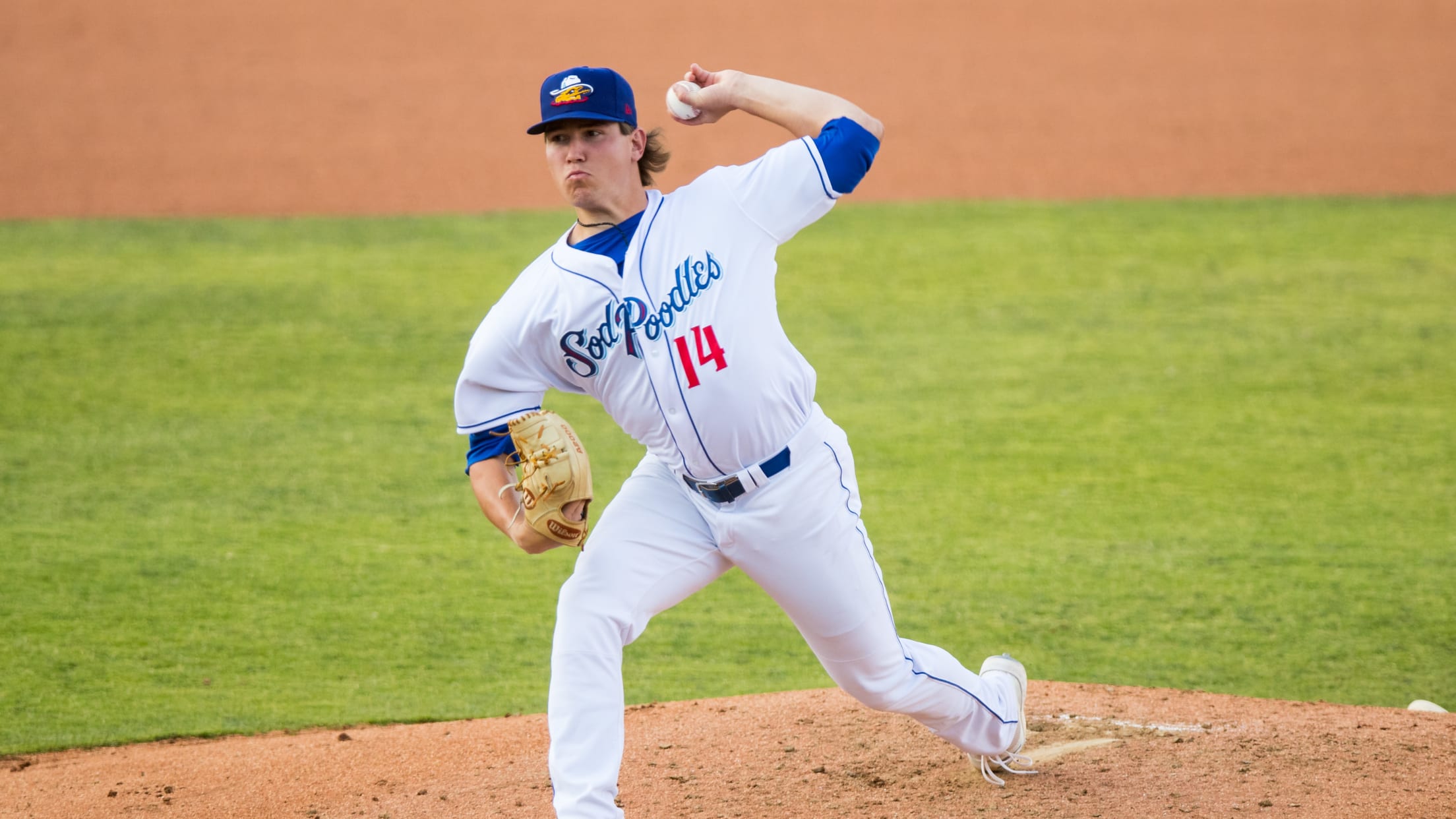 (John Moore)
Amarillo, Texas — Amarillo knotted the series at two games a piece after exploding for eight runs on seven extra base hits to take game four 8-2 Friday night at HODGETOWN in front of a near sellout crowd of 6,184. Starting pitching lead the way for the Sod Poodles who
Amarillo, Texas — Amarillo knotted the series at two games a piece after exploding for eight runs on seven extra base hits to take game four 8-2 Friday night at HODGETOWN in front of a near sellout crowd of 6,184. Starting pitching lead the way for the Sod Poodles who improved to 18-22 with the win.
Scoring Summary: Midland struck first with a home run for the third consecutive game to take a 1-0 in the first. After that, Amarillo settled into a groove and took 3-1 lead in the bottom of the second thanks to back-to-back doubles from Luis Basabe and Jose Herrera. In total, the Sod Poodles had four hits to plate their three runs in the inning. Another pair of doubles from Stone Garrett and Michael De La Cruz to leadoff the home half of the fourth made it 4-1 Amarillo. They would add another run in the bottom of the fifth on a wild pitch that scored Garrett after his singled and made his way to third on ground out and stolen base.Midland added a run in the top of the sixth inning after stringing together three consecutive hits to load the bases allowing a run to score on a ground out. The Soddies tacked on some insurance runs in the later innings. Jake McCarthy led off the seventh inning with his second triple in two games before scoring on a sac fly by Garrett. Amarillo concluded the night's scoring in the eighth inning as Dominic Miroglio walked and was moved to third on a Geraldo Perdomo double down the right field line. A wild pitch brought Miroglio home and gave the Soddies the 8-2 win.
Soddies Stats: Tyler Holton picked up his first Double-A win after tossing a marvelous six innings of work. After a solo home run in the first inning and a leadoff single in the second, Holton retired the next 11 in a row with four strikeouts.
Midland Moments: Jeremy Eierman has hit a home run in back-to-back nights for the RockHounds. He hit a three-run homer in the eighth inning last night and began the scoring with his solo home run in the first tonight.
Tomorrow's Tidbits: The Sod Poodles and RockHounds will continue this series from HODGETOWN tomorrow night. The Sod Poodles will be hosting their first ever Luau Night at the ballpark with special Luau themed jerseys and drinks. There will be luau dancers on the concourse and a special Hawaiian BBQ ticket package available for purchase at www.sodpoodles.com under Tickets. The player-worn jerseys will be signed and auctioned off postgame with all proceeds benefiting ADVO Companies.
Notes:
Quality Stuff: After not having a quality start from their starters since LHP Tommy Henry tossed six innings where he allowed two runs on May 28th at Corpus Christi, the Sod Poodles have now had one in back-to-back nights. Tabor went six innings and tied a career-high with 10 strikeouts last night and Holton tied a career-high with six innings pitched and allowed just two runs as he picked up his first Double-A win this evening.
The Streaks Live On: Stone Garrett doubled in the bottom of the third inning to extend his hit streak to 11 games. In this current streak, he is 22-for-47 (.468) with five home runs, four doubles, and 17 RBI. Jose Herrera went 1-for-4, extending his hit streak to eight games and is 13-for-30 with three doubles, a triple, two home runs, and 11 RBI. Michael De La Cruz has now hit safely in his last six games, going 8-for-22 with two doubles, a triple, and three RBI.
Extra, Extra: The Sod Poodles slugged their way to the 8-2 victory. The team had seven extra base with SIX doubles and a triple. McCarthy hit triples in back-to-back games and got doubles from Basabe, Herrera, Garrett, De La Cruz, Thomas, and Perdomo.
Triple Double: The Sod Poodles tied a single-game high by turning three triple plays in the win. The set that mark just last saturday in their 7-5 win over Corpus Christi.
Multiplied: The team had four players record multi-hit outings highlighted by a couple of D-backs' top prospects. Outfielder Alek Thomas went 2-for-4 with a RBI and walk. Geraldo Perdomo also went 2-for-4 with a run scored. This was Perdomo's sixth multi-hit game of the year.
Chase For The Oil Pan Cup:The chase for the Oil-Pan cup continues in 2021 after the Sod Poodles took the inaugural 2019 season race 17-12. The Oil-Pan Cup is a season-long rivalry between Amarillo and Midland. With their win tonight, Amarillo has tied the season series at 5-5.