Hooks Battle Back to Secure Series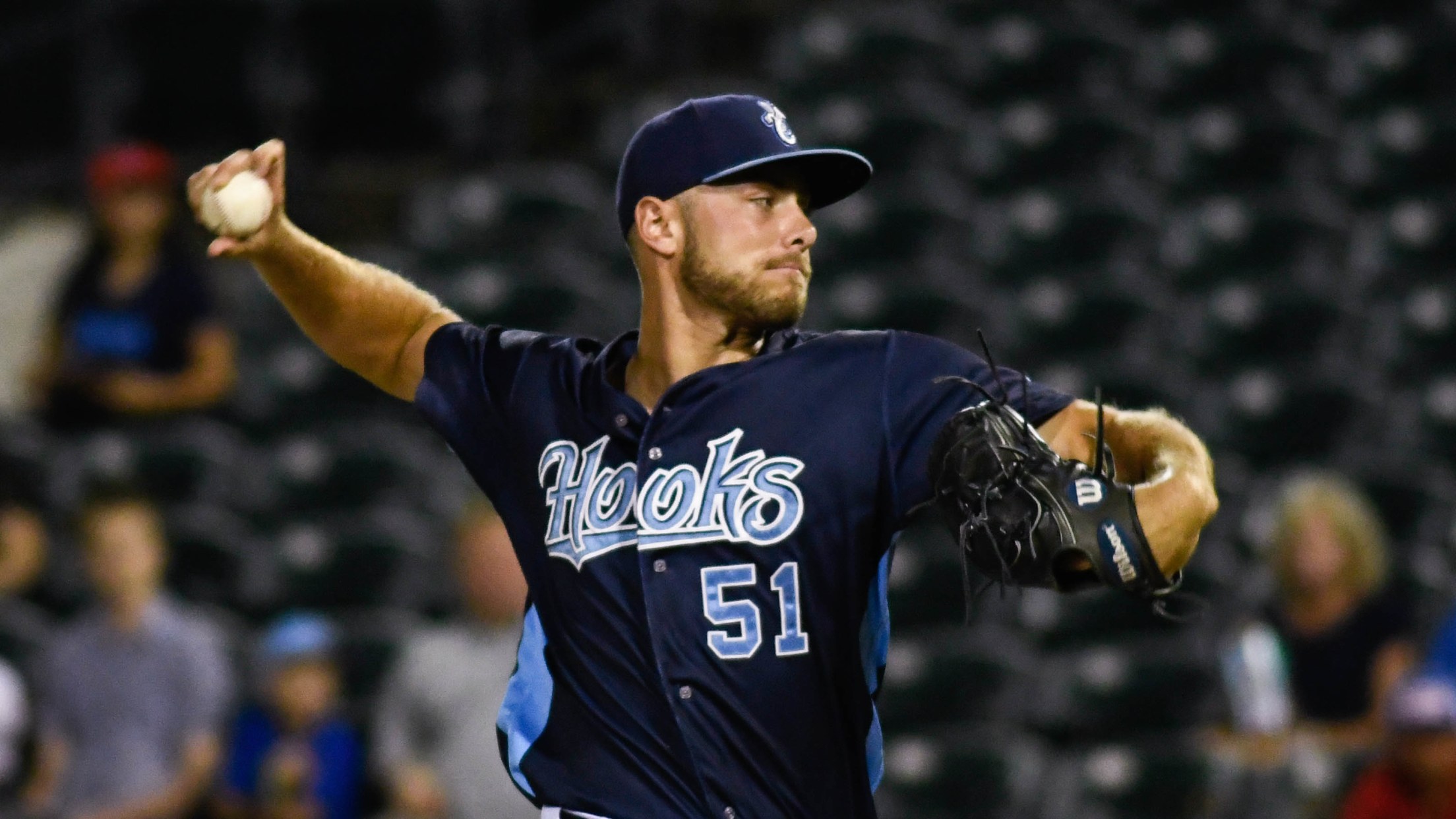 (Charlie Blalock)
CORPUS CHRISTI - Corbin Martin carried a perfect game into the seventh Tuesday night, while his Hooks engineered a two-out eighth inning rally to beat the Missions, 5-4, securing a series win at Whataburger Field.Corpus Christi (24-15, 67-41) has won four in a row.Following an hour-and-45-minute rain delay, Martin retired
CORPUS CHRISTI - Corbin Martin carried a perfect game into the seventh Tuesday night, while his Hooks engineered a two-out eighth inning rally to beat the Missions, 5-4, securing a series win at Whataburger Field.
Corpus Christi (24-15, 67-41) has won four in a row.
Following an hour-and-45-minute rain delay, Martin retired the first 20 San Antonio hitters before Ty France sent a 2-2 pitch into left field for a two-out single in the seventh. The Texas A&M product dispatched the next batter to finish his night.
Martin fanned eight, throwing 66 of 93 pitches for strikes.
The Hooks pushed a run across against Chris Paddack in the first. Ronnie Dawson, making his Double-A debut, stroked a double down the right-field line to begin the frame. Dawson advanced to second on a groundout and scored on Randy César's infield single.
Paddack, out of Cedar Park, TX, permitted just two more baserunners through his exit after the fifth.
Chris Huffman worked two scoreless innings out of the San Antonio (21-17, 63-45) bullpen.
The Missions, facing Erasmo Pinales, took the lead in the eighth on a two-out, three-run home run by Taylor Kohlwey.
Trailing 3-1 in the home half, Alex De Goti lined a one-out single over the head of a leaping shortstop, River Stevens. De Goti moved into scoring position on a groundout, and then scampered home on Eduardo de Oleo's soft liner into center.
Eric Yardley was replaced by flame-throwing 19-year-old Andres Munoz, who had worked 10 scoreless appearances to begin his Texas League tenure.
Munoz, who hit 101 mph on the Whataburger Field radar gun, issued a four-pitch walk to Dawson, putting a pair on base for Stephen Wrenn. Wrenn lined a 1-2 pitch into left field to level the score at 3. Cesar was next and sent a slider into center for the go-ahead two-run single.
France made it a one-run game in the ninth with a solo home run to right field off Ronel Blanco. Blanco retired the next two hitters to pick up his first Double-A save.
Corpus Christi shoots for the sweep Wednesday night with lefty Ryan Hartman (9-3, 2.89) on the hill. Cal Quantrill (6-5, 5.22) is scheduled to pitch for San Antonio. First pitch 7:05.