Hooks Gain Ground on SA
CC has won 14 of its last 19 & stands a season-best 15 games over .500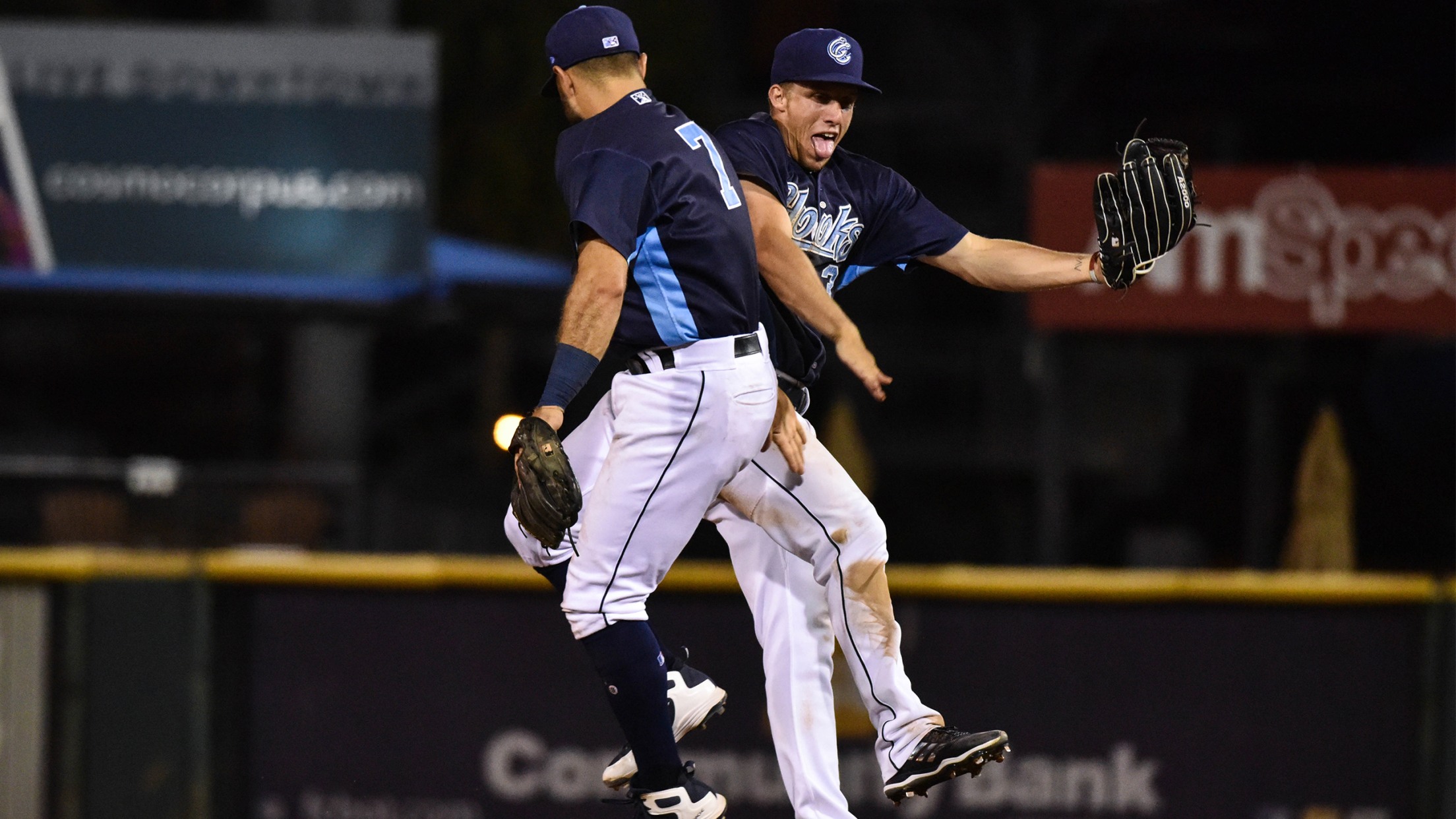 (Charlie Blalock)
MIDLAND - Corpus Christi secured a series victory in the Permian Basin Friday night, besting Midland, 6-2, before 4,471 fans at Security Bank Ballpark.With the win and Frisco's walk-off triumph over San Antonio, the Hooks (41-26) are one game back of the first-place Missions with three to play in the
MIDLAND - Corpus Christi secured a series victory in the Permian Basin Friday night, besting Midland, 6-2, before 4,471 fans at Security Bank Ballpark.
With the win and Frisco's walk-off triumph over San Antonio, the Hooks (41-26) are one game back of the first-place Missions with three to play in the Texas League South first-half race.
Following Saturday's series finale, Corpus Christi travels to San Antonio to decide the first-half title.
Corbin Martin picked up his third consecutive win, scattering four hits, one walk, and one run over 5 2/3 innings. Martin (4-1) struck out three and coaxed 10 groundouts.
The Texas A&M product received plenty of support.
Corpus Christi scored its first run in the third. Singles by Lorenzo Quintana and Myles Straw began the inning. Following a sac bunt by Josh Rojas, Taylor Jones chipped in with an RBI groundout.
In the fourth, Stephen Wrenn laced a triple into left-center, and came home on a base hit to right by Alex De Goti.
The Hooks knocked Midland starter Logan Shore (1-3) out of the game in the fifth, scoring four times on three hits and three walks. De Goti capped the outburst with a two-out, two-run double into the left-field corner. Wrenn and Jamie Ritchie pushed the first two across on RBI singles.
Martin ran with the 6-0 lead, permitting just three baserunners over the first five frames. He left the game with two on and two out in the sixth.
Seth Brown plated the first Midland marker on a softly-struck infield single off Justin Ferrell.
Ferrell responded by inducing a foul pop up to end the rally, leaving two on base.
The Hounds (32-35) made it a four-run game in the eighth, but their bid for more was thwarted by a 6-4-3 double play.
Alex Winkelman relieved Ferrell in the ninth and recorded the final three outs on nine pitches.
Corpus Christi seeks a sweep Saturday night with Jorge Alcala (0-0, 2.25) on the hill. Parker Dunshee is set to make his Double-A debut for Midland. First pitch 7 p.m.