Hooks Nail Naturals in Ninth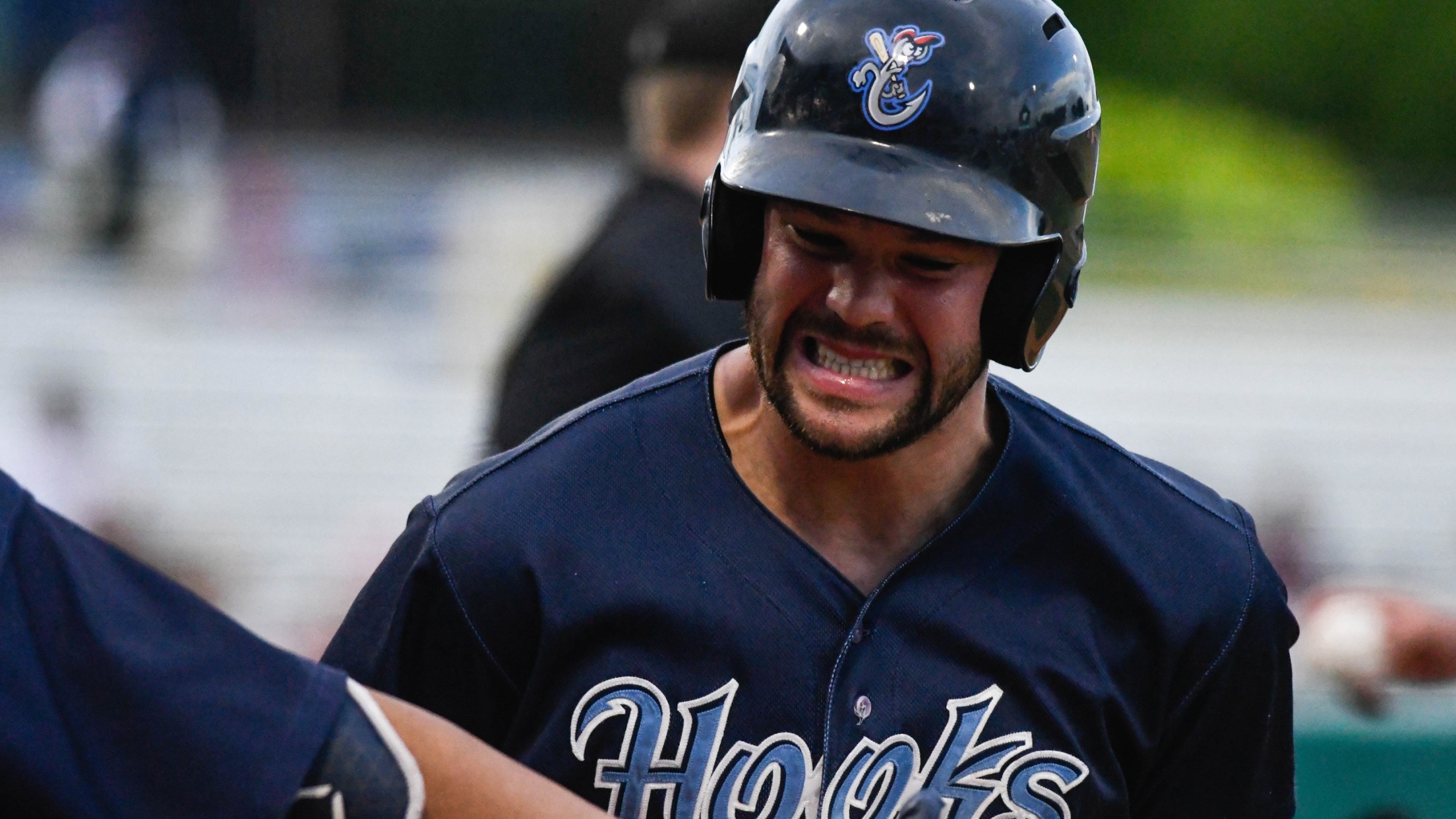 Chas McCormick tied the contest at 2 with a 9th-inning RBI single. (Charlie Blalock)
SPRINGDALE, AR - Back-to-back home runs by Yordan Alvarez and Lorenzo Quintana capped a six-run ninth inning Monday night as the Hooks roared to a 7-2 come-from-behind win over the Naturals at Arvest Ballpark.Corpus Christi (8-3, 51-29), now 3-2 on the road trip, will shoot for the series sweep Tuesday
SPRINGDALE, AR - Back-to-back home runs by Yordan Alvarez and Lorenzo Quintana capped a six-run ninth inning Monday night as the Hooks roared to a 7-2 come-from-behind win over the Naturals at Arvest Ballpark.
Corpus Christi (8-3, 51-29), now 3-2 on the road trip, will shoot for the series sweep Tuesday night.
The Hooks entered the ninth inning trailing 2-1. Alex De Goti cracked a lead-off double down the right-field line off Franco Terrero (2-4). Two batters later, Anibal Sierra reached on a throwing error by third baseman Kelvin Gutierrez. With men at the corners, Chas McCormick smacked a single up the middle to tie the game. Stephen Wrenn then beat the wrap on a double-play ball to put the Hooks in front, 3-2. Randy César was next and made it a two-run lead with his third hit of the night, an RBI single into right field.
Alvarez then smoked a 1-1- pitch from Bryan Brickhouse over the fence in right for his 12th home run of the year. Via a 2-2 offering, Quintana went deep to left field for his fourth round-tripper of 2018.
It marked the second time the Hooks hit back-to-back home runs this season.
Alvarez is batting .370 with five doubles, six home runs and 18 RBIs in 13 games since coming off the disabled list.
The Hooks were just 2-for-11 with runners in scoring position through the first eight innings.
Both Northwest Arkansas (2-7, 37-42) markers scored via Corpus Christi throwing errors.
Lefty Ryan Hartman lowered his season ERA to 2.96 by scattering seven hits (six singles) and one run over six innings of work. Hartman struck out eight and walked one.
Justin Ferrell (4-1) earned the win, permitting two hits while striking out four in the seventh and eighth.
Erasmo Pinales stranded a pair in the ninth to seal the victory.
Hooks hurlers own a 1.66 ERA thus far on the road trip.
Lefty Cionel Pérez (5-1, 2.20), who earned a Major League call-up on Sunday, is back with the Hooks, and will start Tuesday's series finale. Southpaw Foster Griffin (3-9, 6.38) is slated to pitch for the Naturals. First pitch 6:35.