Hooks Start Stand with a Bang
Cesar matches club record by extending hit streak to 27 games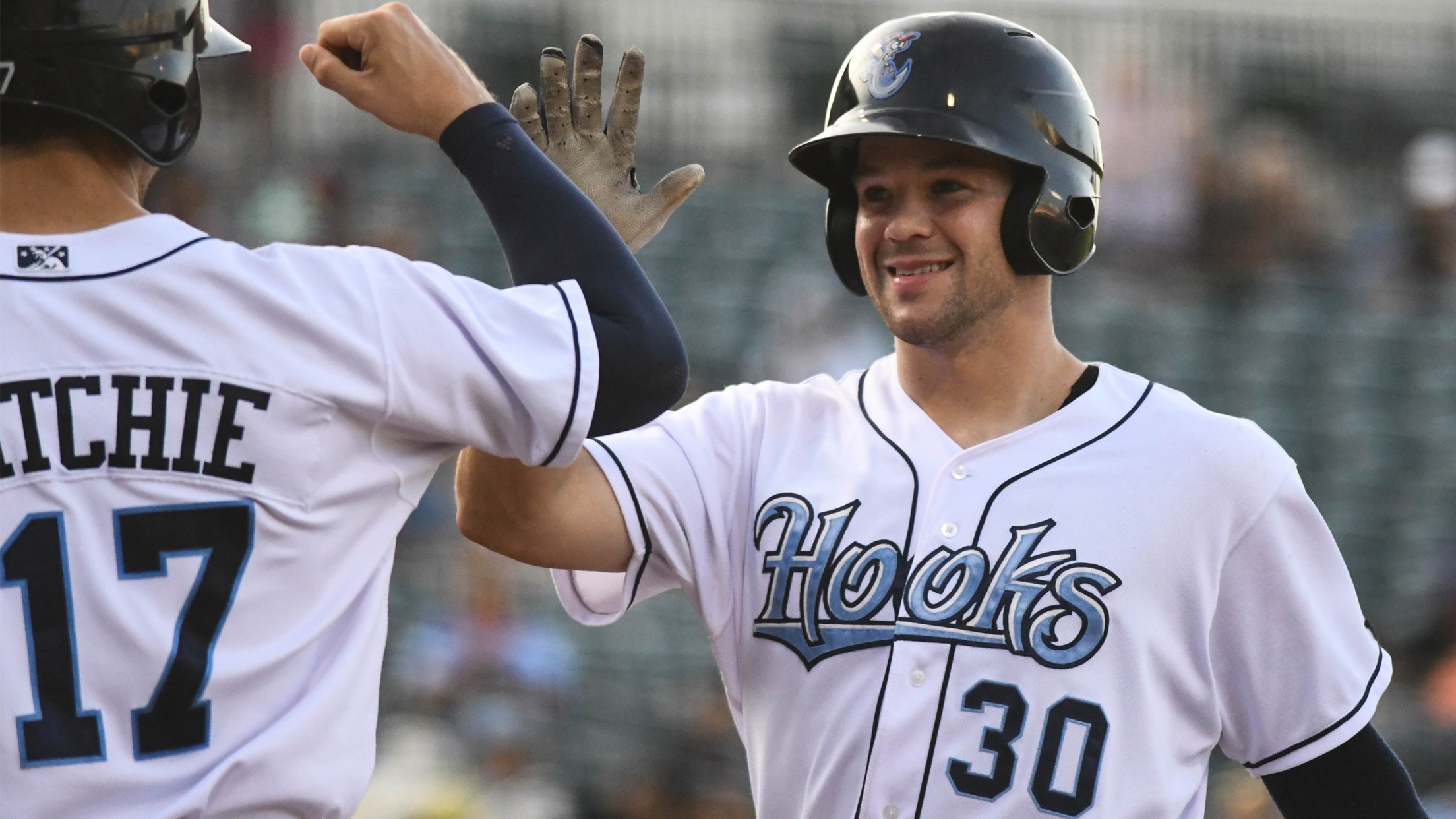 CORPUS CHRISTI - Chas McCormick belted a two-run home run in his first Double-A at-bat Tuesday night, and his club later engineered a six-run fourth inning as Corpus Christi cruised to a 9-2 victory over Frisco in the series opener at Whataburger Field.The Hooks (34-23) have won seven of their
CORPUS CHRISTI - Chas McCormick belted a two-run home run in his first Double-A at-bat Tuesday night, and his club later engineered a six-run fourth inning as Corpus Christi cruised to a 9-2 victory over Frisco in the series opener at Whataburger Field.
The Hooks (34-23) have won seven of their last nine games.
Corpus Christi starter Corbin Martin limited the RoughRiders (19-38) to one run, five hits, and one walk over five innings of work to earn the win. The only marker against him came on a two-out RBI single by Juremi Profar, which plated Michael O'Neil who doubled to open the second.
Martin recorded nine groundball outs, including a pair of double plays. The Texas A&M product has allowed just three earned runs over his last six appearances, spanning 29.0 innings.
In the home second, McCormick handed the Hooks a 2-1 lead by belting a 3-2 pitch from Pedro Payano onto the berm in left field.
Corpus Christi sent 10 men to bat in the fourth, upping its advantage to 8-1. Walks by Randy César and Josh Rojas started the inning. Jamie Ritchie singled into center and McCormick was struck by a 2-2 breaking ball for his 3rd RBI of the night. Alex De Goti was next and lined a sac fly into right field.
Anibal Sierra and Myles Straw contributed with back-to-back RBI singles, and then rehabbing Astros outfielder Josh Reddick capped the rally with an RBI double into right-center.
Reddick is 4-for-8 over two rehab games with the Hooks.
Jorge Alcala earned his first Double-A save by hurling four innings of one-run ball. Alcala dispatched 10 of the final 12 men he faced.
The Hooks notched three singles in the seventh against James Jones, including an RBI hit by Jamie Ritchie, who went 3-for-4 on the night.
Cesar, with his knock in the seventh, has now hit safely in 27 consecutive games, tying him with Jorge Cortes (2006) for the longest hitting streak in the 14-year history of the Hooks.
Corpus Christi is slated to send Akeem Bostick (0-1, 3.24) to the hill Wednesday night. Bostick will be opposed by Frisco lefty Brett Martin (1-5, 8.93). First pitch 7:05.