Hooks Walk-Off with Win No. 70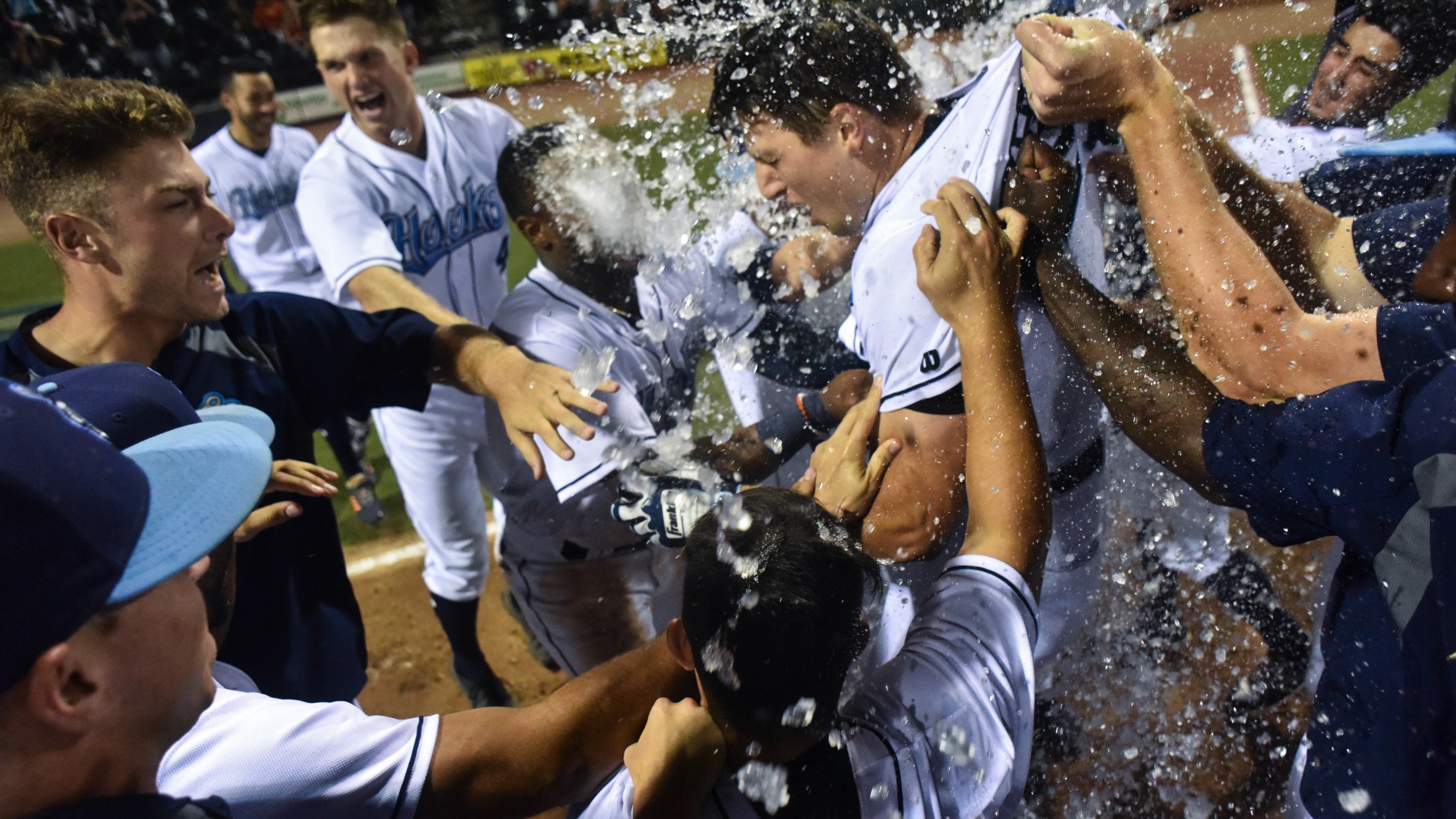 (Charlie Blalock)
A lead-off home run by Carmen Benedetti in the ninth inning Wednesday night vaulted the Hooks to a 3-2 walk-off win over Tulsa in front of 4,359 fans at Whataburger Field.Corpus Christi's seventh last-at bat victory of the year secured the series win.The Hooks (27-19, 70-45) were held to three
A lead-off home run by Carmen Benedetti in the ninth inning Wednesday night vaulted the Hooks to a 3-2 walk-off win over Tulsa in front of 4,359 fans at Whataburger Field.
Corpus Christi's seventh last-at bat victory of the year secured the series win.
The Hooks (27-19, 70-45) were held to three hits over the first eight innings, thanks to an impressive performance by 20-year-old right-hander Dustin May.
Lefty Michael Johnson, who recorded the final two outs in the eighth, returned for the ninth. Benedetti attacked the first pitch, sending a fastball into the Goodwill Zone in left field. The left-handed hitter from Grosse Pointe Farms, Michigan, sent the Hooks to their seventh walk-off win of the year with his seventh dinger of the season. It was Benedetti's first homer off a southpaw this season.
Corpus Christi established a 1-0 lead in the first. Lead-off hitter Ronnie Dawson was hit by a pitch. Dawson stole second and advanced to third on a wild pitch. Rehabbing Astro Carlos Correa pushed him across with a groundout to third.
May, a Fort Worth area product, retired the next 12 batters, striking out four.
Josh Rojas notched the first Hooks hit with a lead-off single in the fifth. Rojas later come home on an RBI triple by Ryne Birk. Birk has three hits and three RBIs in the first two games of this series.
The two Tulsa (26-19, 60-55) markers came on solo home runs by Logan Landon and Wes Darvill.
Hooks starter Brock Dykxhoorn worked the first 4 2/3 innings, scattering three walks and four hits, including the Landon fifth-inning homer.
Lefty Kit Scheetz was summed to face one batter in the fifth and struck out DJ Peters to leave two aboard.
After surrendering the Darvill homer in the sixth, Brandon Bailey sidestepped five singles and one walk through 3 2/3 innings. Bailey, making his Double-A debut, struck out six.
Alex Winkelman recorded the final out in the ninth to earn the victory.
Correa played eight innings at shortstop, in what was his fifth rehab game with the Hooks.
Corpus Christi takes aim at a series sweep Thursday night with Brandon Bielak on the mound. The Drillers are scheduled to pitch lefty Ben Holmes.