Hitters club 3 HRs, pitchers strike out 18 in Hoppers' victory
Jared Triolo and Matt Gorski hit back-to-back homers, and four pitchers combine on 18 Ks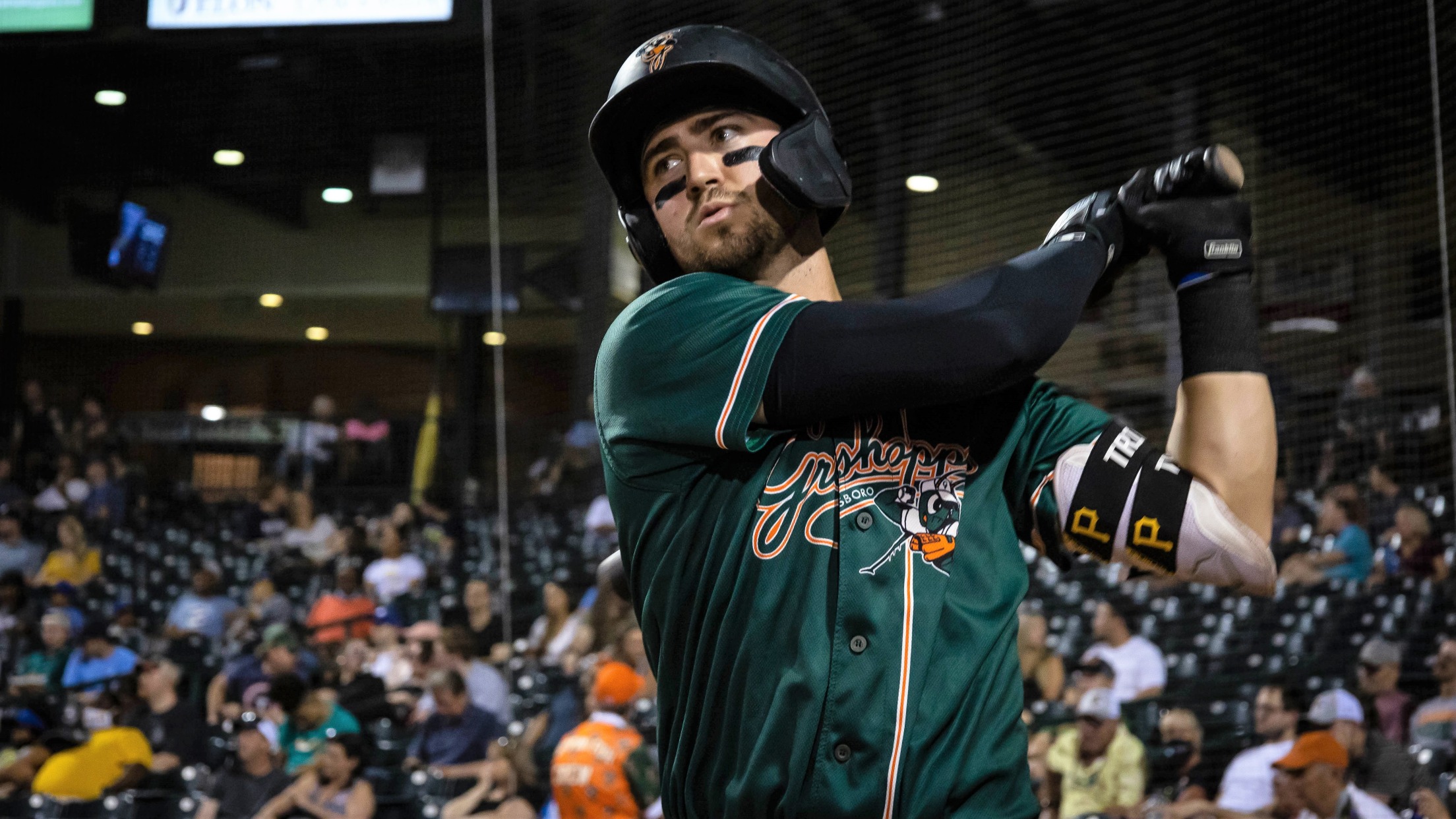 Greensboro Grasshoppers third baseman Jared Triolo was the 72nd overall pick in the 2019 draft. (Jak Kerley/Greensboro Grasshoppers)
GREENSBORO ― Jared Triolo and Matt Gorski hit back-to-back home runs deep over the center field fence, and four Greensboro pitchers combined for 18 strikeouts as the Grasshoppers beat the Asheville Tourists 4-2 before a fireworks night crowd of 5,722 Friday at First National Bank Field. Lolo Sanchez also hit
GREENSBORO ― Jared Triolo and Matt Gorski hit back-to-back home runs deep over the center field fence, and four Greensboro pitchers combined for 18 strikeouts as the Grasshoppers beat the Asheville Tourists 4-2 before a fireworks night crowd of 5,722 Friday at First National Bank Field.
Lolo Sanchez also hit a solo homer for the Hoppers, and Gorski finished 2-for-4 with two RBIs.
The Hoppers (34-24) have won five of their last six games and are 3 1/2 games behind the first-place Bowling Green Hot Rods (37-20) in the High-A East's South Division standings.
Greensboro lead-off hitter Matthew Fraizer returned from a night off and went 1-for-3 to extend his hitting streak to eight games. Fraizer is 17-for-35 (.486) during the hitting streak, and he has hit safely in 12 of his last 13 games.
Four Hoppers right-handers kept Asheville's offense in check.
Reliever Bear Bellomy (6-2, 3.27) ERA picked up the win, facing one batter over the minimum and striking out five in two scoreless innings. Oliver Garcia notched his sixth save, striking out four in the last two innings.
Grant Ford got the spot start, his second of the season in 14 appearances, and he stranded eight baserunners in three scoreless innings. Ford walked four and struck out six.
Cameron Junker made his Greensboro debut, joining the team in the dugout in the middle of the first inning. Junker, who pitched Wednesday for Low-A Bradenton, got into Friday's game in the sixth inning and gave up a two-run homer, but he also struck out three in two solid innings.
Sanchez got Greensboro's first hit off right-hander Danny Cody (1-3), swatting an oppositive-field homer over the wall in right in the third inning.
Triolo led off the fifth with a towering 420-foot blast off the batter's eye beyond the center field fence. Gorski followed with his own 400-plus-foot homer just to the right of the clock in center field.
Triolo scored a hustling run in the sixth. He drew a two-out walk, and was off on contact when Gorski blooped a soft single into center field. Triolo scored all the way from first on the play.
Asheville threatened in the ninth, and Triolo saved a run with a two-out diving stop on the third base line, holding Matt Barefoot to a single and keeping baserunner Zach Biermann at second. Garcia got the final out when Emmanuel Valdez grounded out to Triolo.
The Hoppers and Tourists play again at 6:30 p.m. Saturday, with a fireworks show set for after the game.
NOTES: Fraizer leads the High-A East in batting average (.327), hits (72) and runs scored (41). He ranks second with 14 home runs, fourth with a .399 on-base percentage and eighth with 36 RBIs. ... Junker is 7-0 with a 2.40 ERA in 34 minor-league games. The 23-year-old from Notre Dame was 2-0 with a 3.00 ERA and one save in 30 innings for the Bradenton Marauders before his promotion. ... Junker wore No. 43 Friday, which was Steven Jennings' uniform number. Jennings, a 22-year-old right-hander, was promoted to the Class-AA Altoona Curve after going 3-0 with a 3.20 ERA in eight relief appearances for the Hoppers. ... Fabricio Macias, who batted .316 with 38 RBIs in 44 games for Greensboro, has gone 5-for-12 (.417) in four games for the Class-AAA Indianapolis Indians since his promotion over the weekend.
In his career at the News & Record, journalist Jeff Mills won 10 national and 12 state writing awards from the Associated Press Sports Editors, the Society for Features Journalism, and the N.C. Press Association.