Hoppers hit 7 doubles, split series with Hot Rods
Will Matthiessen goes 8-for-17 with 4 doubles and HR on road trip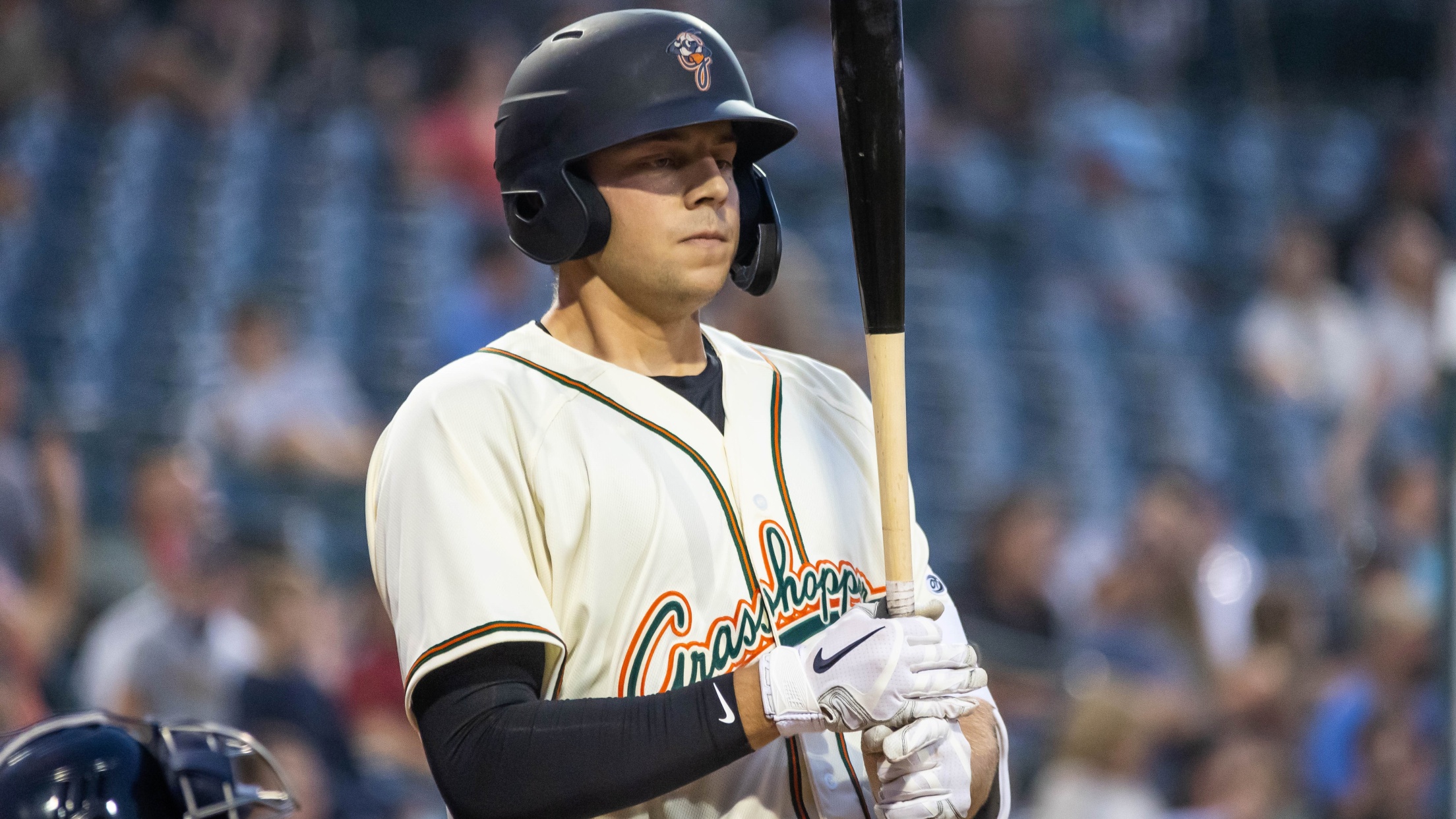 Greensboro's Will Matthiessen has gone 11-for-22 with five doubles, a home run and nine RBIs in games against the Bowling Green Hot Rods this season. (Jak Kerley/Greensboro Grasshoppers)
BOWLING GREEN, Ky. ― Red-hot Will Matthiessen hit two more doubles, and Greensboro finished with seven doubles in all as the Grasshoppers clobbered host Bowling Green 13-5 Sunday evening to split their six-game series with the Hot Rods. Greensboro scored its 13 runs on 13 hits ― seven doubles and
BOWLING GREEN, Ky. ― Red-hot Will Matthiessen hit two more doubles, and Greensboro finished with seven doubles in all as the Grasshoppers clobbered host Bowling Green 13-5 Sunday evening to split their six-game series with the Hot Rods.
Greensboro scored its 13 runs on 13 hits ― seven doubles and six singles. All nine batters in the Hoppers lineup had at least one hit, and eight drove in runs.
Matthiessen led the way, going 2-for-5 with two doubles and two RBIs. The 6-foot-7 first baseman ― who starred as a hitter and pitcher at Stanford ― batted just .185 (20-for-108) in the first two months of the season, but he went 8-for-17 (.471) with four doubles, a home run and seven RBIs on the road trip to Bowling Green.
Lead-off hitter Matthew Fraizer went 2-for-6 with a double and two RBIs for the Hoppers, and Fabricio Macias was 2-for-5 with an RBI. Both outfielders have been hot since early June, and both rank among the top hitters in the High-A East.
Fraizer comes home to Greensboro batting .317, third-best in the league, just ahead of fourth-place Macias at .316. Fraizer leads the league with 66 hits and ranks third with 37 runs scored, while Macias ranks fourth with 38 RBIs.
Left fielder Lolo Sanchez went 2-for-2 with a double, a single and two walks. He scored five runs and now ranks second in the league with 38 runs.
Hoppers starter J.C. Flowers (3-0, 1.50 ERA) worked six strong innings to get the win. The 23-year-old right-hander gave up a run on three hits, striking out seven.
Liover Peguero, Matt Gorski and Dylan Shockley all had doubles and RBIs for the Hoppers.
Greensboro (31-23) holds onto second place in the High-A East's South Division, four games behind first-place Bowling Green (34-18).
The Hoppers open a six-game series against Asheville (24-29) at 6:30 p.m. Tuesday at First National Bank Field.