Pitchers help Hoppers to 2-1 win over Greenville
Ashcraft, Jennings combine for seven strong innings in pitchers' duel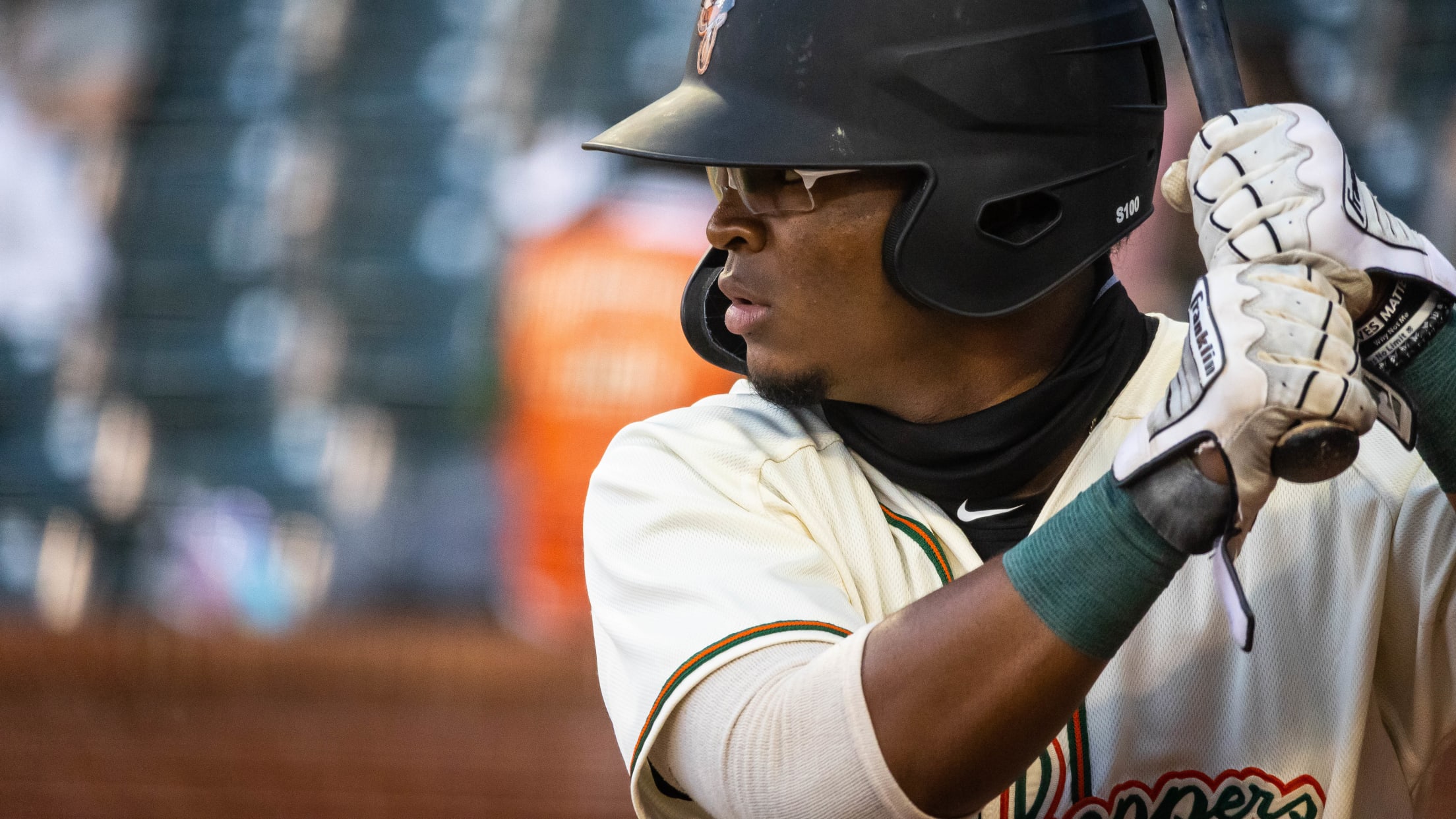 Greensboro outfielder Matt Fraizer has settled in as the Hoppers' lead-off hitter (Jak Kerley/Greensboro Grasshoppers)
GREENSBORO ― Matthew Fraizer hit an RBI single, Fabricio Macias scored on the back end of a double steal and four Greensboro pitchers combined to give up just four hits as the Grasshoppers beat the Greensville Drive 2-1 on Friday night at First National Bank Field. The Hoppers (26-20) have
GREENSBORO ― Matthew Fraizer hit an RBI single, Fabricio Macias scored on the back end of a double steal and four Greensboro pitchers combined to give up just four hits as the Grasshoppers beat the Greensville Drive 2-1 on Friday night at First National Bank Field.
The Hoppers (26-20) have won three of the first four games in their series with the Drive (24-22) this week, and they've won 14 of their last 19 over the last three weeks.
Right-hander Braxton Ashcraft, a 21-year-old rated by MLB Pipeline as the No. 21 prospect in Pittsburgh's farm system, made his first start since June 2 and was brilliant in a short outing.
Ashcraft allowed one hit and struck out two in three scoreless innings. He faced one batter over the minimum and was lifted after throwing just 34 pitches, as the team eases him back into the starting rotation.
"(Ashcraft) had some right-hand discomfort," Hoppers manager Kieran Mattison said. "It's something he had been pitching through off and on since spring training, something that was consistently bothering him. So we decided to shut him down for a little while to get to the bottom of it, and he did. And, man, kudos to Braxton for being so sharp after not pitching for three weeks and one day.
"But you know what? Physically he wasn't out there pitching for those three weeks, but mentally he was pitching. He was watching and asking a lot of questions every game. And he wasn't just asking about pitching. He was asking about situations and base-running. He really is a student of the game. He paid attention to what his teammates were doing and stayed very involved. He was productive mentally, staying engaged when he was down."
Fraizer drove in the game's first run in the bottom of the third. Francisco Acuna led off with an opposite-field double to right, and he scored when Fraizer lined a 1-2 pitch into center field for a single.
Winning pitcher Steven Jennings (2-0, 3.29 ERA) gave up a solo home run on the third pitch he threw in relief of Ashcraft. Greenville's Cameron Cannon hit a line drive that hit the top of the left-field wall and bounced over.
After that, Jennings was terrific. He gave up two more hits, but walked none and struck out two.
In 2019, Jennings was the opening-day starter for the Hoppers, going 7-12 with a 4.71 ERA in 27 starts. He's been very effective in 12 relief appearances this year, six each at Low-A Bradenton and at Greensboro.
"It's maturation," Mattison says. "He understands who he is and what he can do. There was no panic when he gave up the home run tonight. His demeanor didn't change, even after the next guy got a base hit, too.
"To me, that was the key moment of the game. He kept his poise and continued to pitch. It was damage control, and it put us in position to be able win the game. That's who Jennings has been since spring training. He's not fazed by a whole lot. He just pitches, and he doesn't fall into the trap of trying to be more than who he is. He knows how to locate and execute his pitches, and that's why you've seen the consistency from Jennings this year."
The Hoppers manufactured what proved to be the winning run in the bottom of the fourth.
Macias hit a one-out single, and he went from first to third on Jared Triolo's base hit. Triolo was thrown out trying to steal second base, but Macias scored on the play, a delayed steal of home when the throw went to second.
"We take a lot of pride in what we do on the bases," Mattison said. "Outs are precious, and to win games you have to score. We do a lot of detail work on a day-to-day basis, and we also give guys a lot of freedom on the bases to make decisions in certain situations. In that situation, I let Macias know that if he saw an opportunity on the throw down to second, go for it."
The bullpen made the lead stand up. Will Kobos pitched a 1-2-3 eighth inning, and Oliver Garcia retired the side in order in the ninth for his fourth save.
Aaron Shackelford went 2-for-3 for the Hoppers, and Macias extended his hitting streak to eight games.
Macias is batting .485 (16-for-33) during the streak. The 23-year-old outfielder from Mexico has hit safely in 16 of his last 18 games, with 11 mutli-hit games during that stretch, and his .336 season batting average ranks second in the High-A East.
Tyreque Reed went 2-for-4 to account for half of Greenville's hits.
The two teams play again at 6:30 p.m. Saturday, with a fireworks show set for after the game.
NOTES: Ashcraft got the start in place of left-hander Omar Cruz, who was promoted to Class-AA Altoona this week. ... Cruz made a spot-start for Altoona in place of Osvaldo Bido, who was pitching for the Dominican Republic's national team in and Olympics qualifier. Mattison expects Cruz to return to Greensboro after Bido rejoins Altoona. ... Bido went 11-5 with a 3.55 ERA in 20 starts for Greensboro in 2019.
In his career at the News & Record, journalist Jeff Mills won 10 national and 12 state writing awards from the Associated Press Sports Editors, the Society for Features Journalism, and the N.C. Press Association.